If the instances of tripping on the shoes in your house are increasing then it's time to focus on smart and functional storage solutions. With these 22 Easy DIY Shoe Rack Plans For Small Space, you don't have to spend a big fortune on IKEA or Walmart shoe rack purchases. These ideas are so much fun, easy, and totally budget controlled to bring shoe elegance and storage into your spaces.
Those shoe piles in the closet or the long shoe rows in the entrance can look so unpleasant for your home's beauty and décor. A well-organized footwear collection is so satisfactory so grab on these amazing DIY Shoe Rack Ideas to cut the clutter of your shoes. Not only these handmade shoe racks are functional enough for the complete shoe organization but also decorative to add to the charm and style of your spaces too. So, no matter how many loafers, clogs, heels, and boots you have in your collection, these DIY shoe rack ideas can cater to all your needs.
The list comprises super creative and fun ideas to work on and that too with most of the supplies lying right in your storeroom. You would love to make the shoe rack with left-out pieces of wood, pallets, or even PVC pipes. Also, these DIY shoe rack ideas are quite versatile having a wide range of styles and designs to perfectly fit your spaces and themes.
1. DIY Industrial Shoe Rack With Pipe And Wood: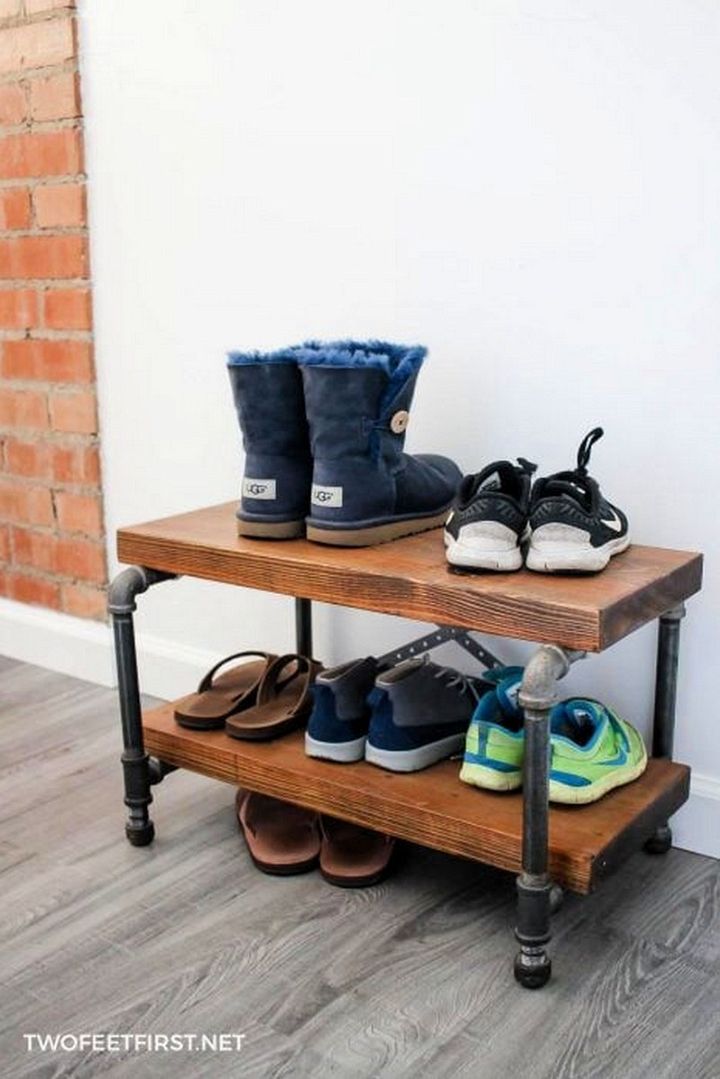 Make the sturdiest and the shabby chic-styled DIY industrial shoe rack with pipe and wood to bring shoe storage in your foyer spaces. This two-tiered shoe rack has a lot of space to hold the shoes of the whole family. The rack is made out of the two wooden boards of the size 2X10 inches and then 4,4 pieces of the pipes, pipe nipples, elbows, and flanges. Check out the whole plan here!
2. DIY Ladder Shelf Shoe Storage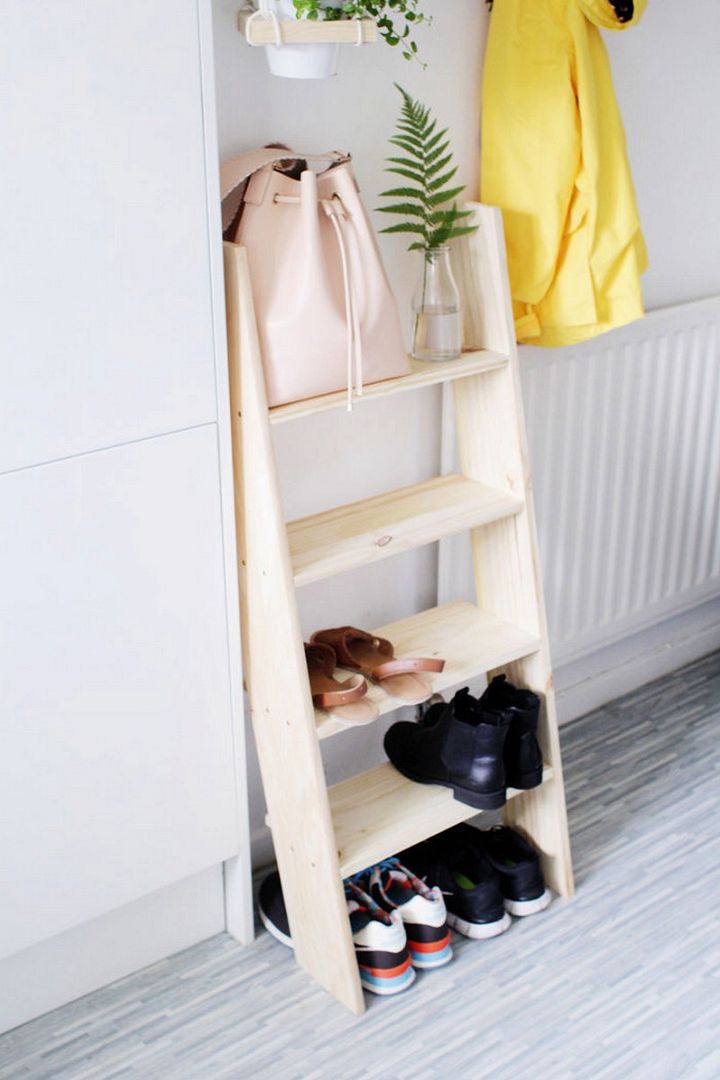 The ladder style is the perfectly classy and stylish to never go out of fashion for your home decor. So get your hands on some wooden boards to shape up this uber cute and elegant ladder shelf shoe storage to organize your shoes in apple order on it. The ladder shelf storage is made with pine wood boards with four tiers which can be totally customized. Check out the details here!
3. DIY Shoe Storage For The Front Door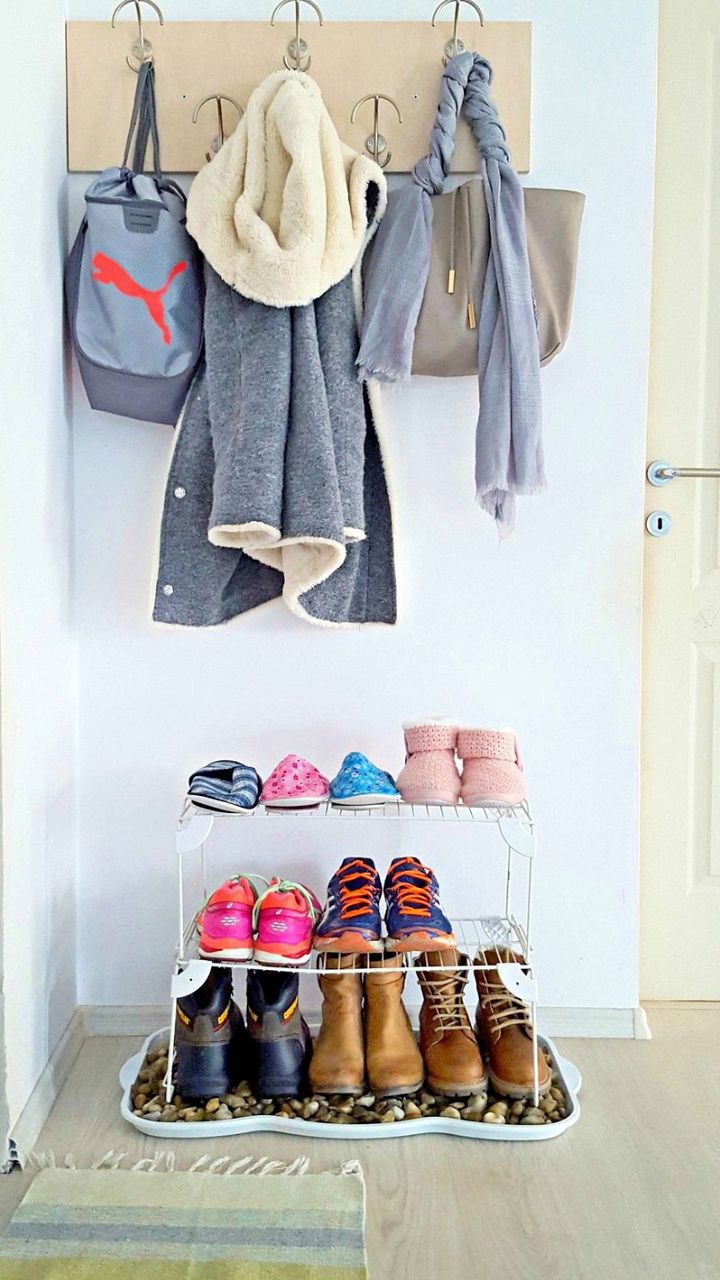 Even the metal shoe racks can be customized to look just perfect for your decor and here is the plan. Here is this pretty DIY shoe storage for the front door with such a chic and cool look with the boot tray being filled with the stones and holding the metal shoe rack on top of it. Follow the easy and fun details of the idea right here!
4. PVC Pipe Shoe Organizer How-To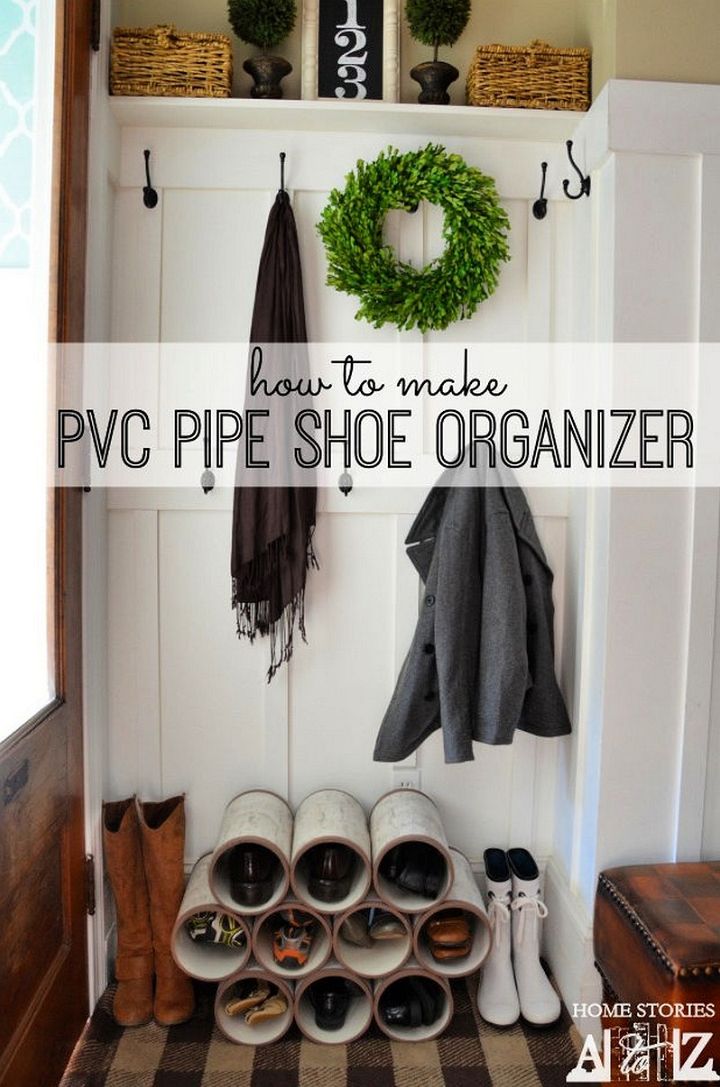 PVC pipes can be of great value for a lot of home crafty projects just like this PVC pipe shoe organizer how to. The shoe organizer is made out of the 9 pieces of the PVC pipes being nicely arranged on each other. Tuck your pair of shoes inside the pipes and you have the most quirky and cute organizer ever. To make them look like the Birchwood the edges of the organizers have been painted brown. Details here!
5. DIY Built In Shoe Shelves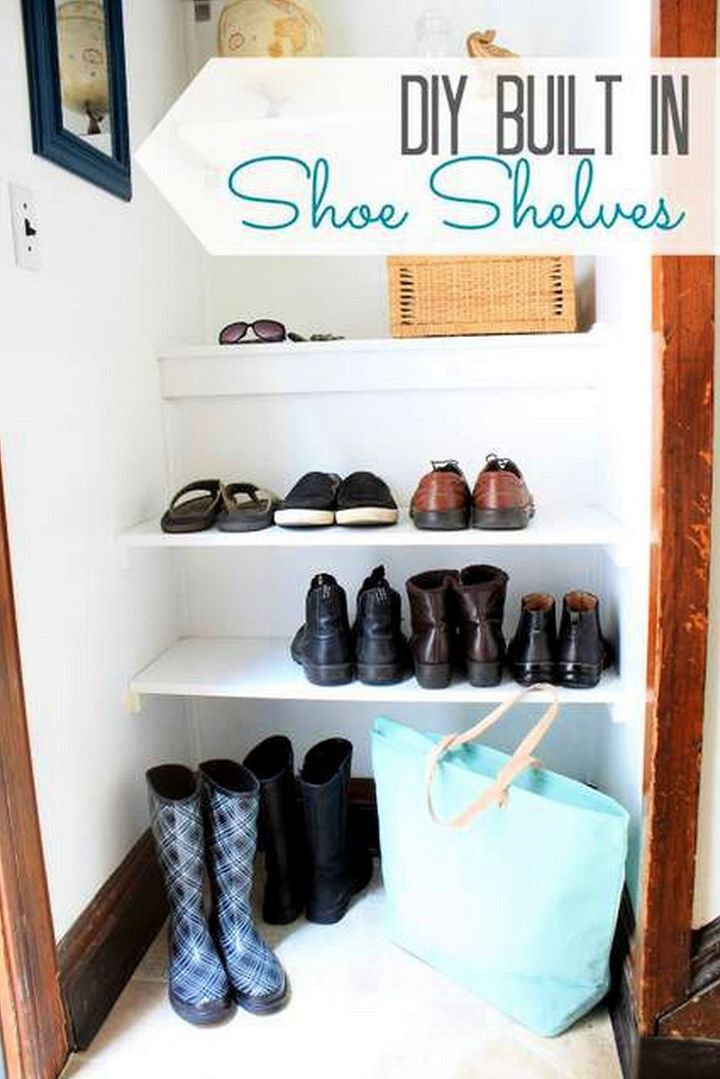 If you have some space in your foyer or the hall corner then make the most out of this space with this DIY built in shoes shelves. Using the MDF pine boards and the wooden board support you can easily build these shelves to organize your lovely shoes on. Also you can customize the size and the number of shelves per your needs. Check out the details here!
6. Make This Easy DIY Shoe Rack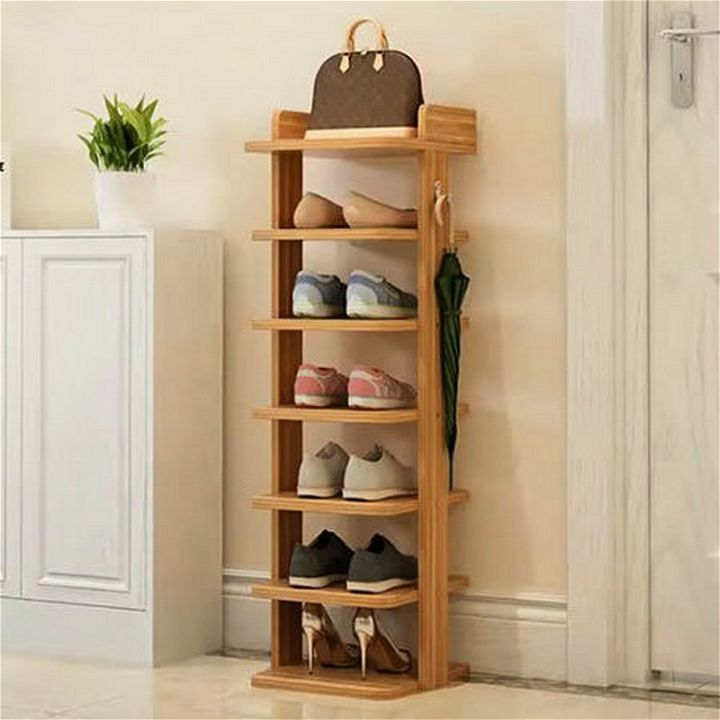 This gorgeously handmade DIY shoe rack seems to come out of a fancy funirture brand store but surpisngly it is home and handmade. To own this super elegant and big DIY shoe rack you need a lot of wood being cut into the shape and size of the shelves, shelf uprights, sides, tops and the back. You can decrease the number of the shelves from this rack per your needs. Check out the details here!
7. Store Winter Footwear On An Indoor Boot Rack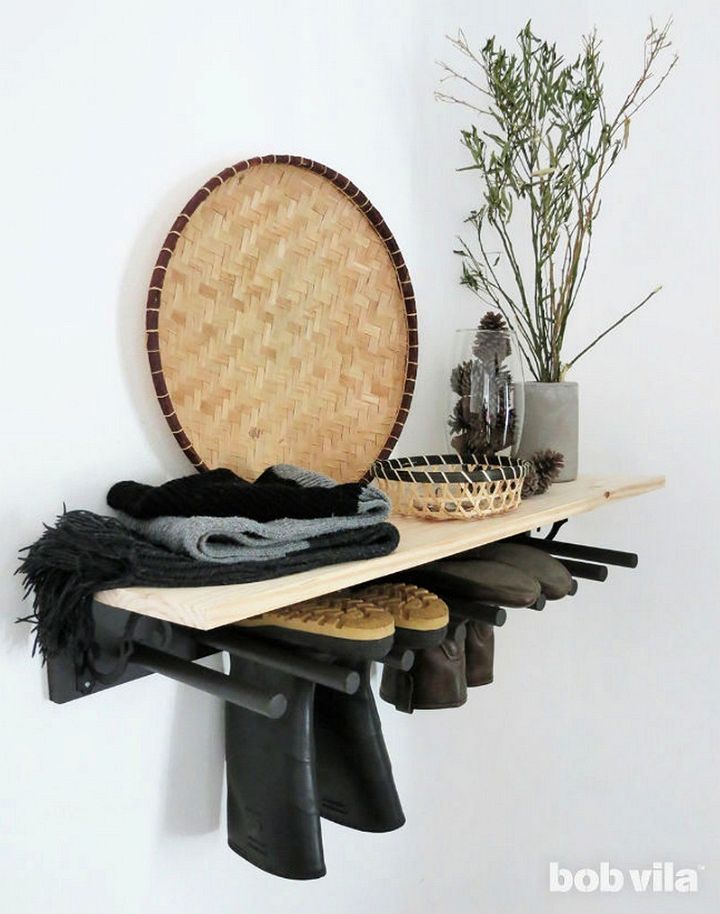 Disorganized things can totally damage the look of your clean and neat home so get a shoe rack. Here is this DIY indoor boot rack that you can easily make and bring a perfectly stylish and fun storage to your spaces. The wall mounted wooden footwear rack is made out of the wooden dowels and the pine wood board with a black stain finish. Follow the details here!
8. DIY Grid Shoe Storage Display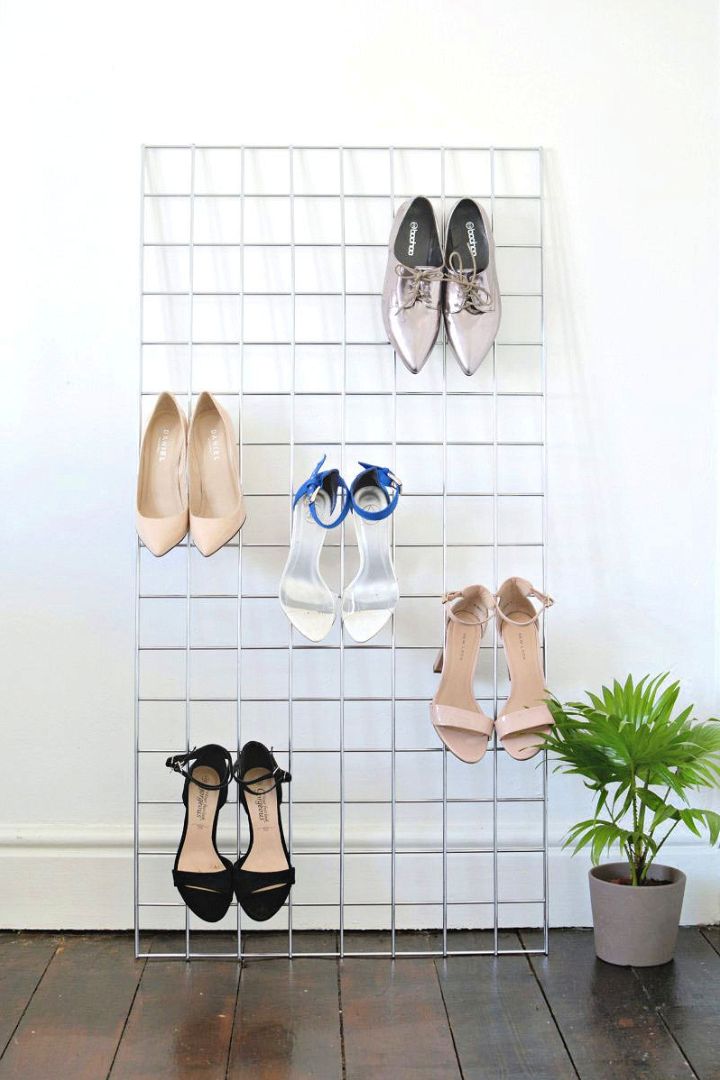 Make your gorgeous shoes proudly display in your spaces with this super chic and easy to make DIY grid shoe storage display. Just order a wire mesh and make it stand against your walls in the foyer or hall with your lovely shoes nicely put on all over it. Get the details of this super cool and funky shoe storage idea right here!
9. Copper Shoe Rack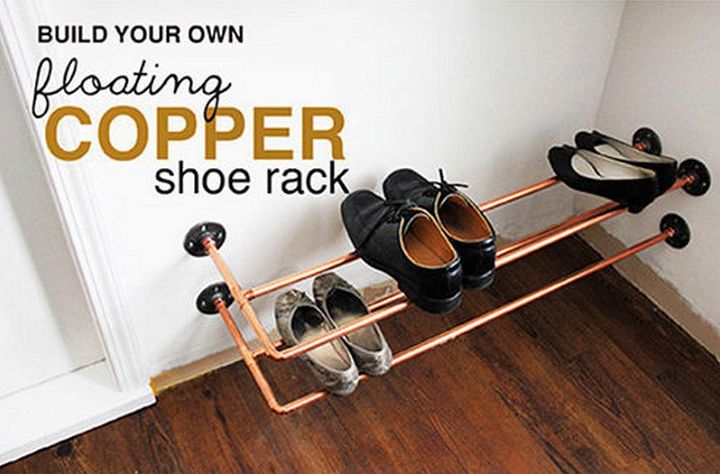 If you are left out with the copper pipes from your pipe work at home then here is the idea of creating this super shoe rack out of it. This floating shoe rack would hold your shoes so nicely and bring prefect storage around. Things in need are the pipe flanges, adaptors, fittings and wall anchors to work up this easy yet robust and totally functional shoe rack. Details here!
10. A Bench & Shoe Storage DIY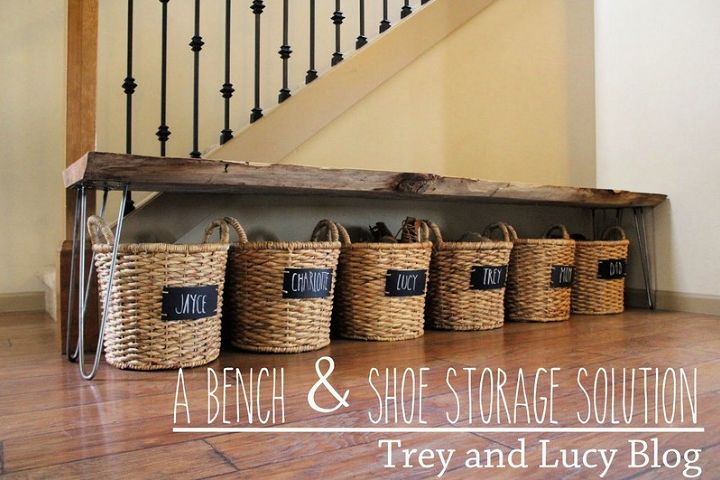 This two in one bench and shoe storage DIY is the best thing for a family who has a lot of shoes. This is a lovely and simple wooden top bench with hair pin legs and you can hide the storage baskets under each. Each basket is loaded with shoes and have chalkboard name written of each of the family member. Check out the details of the idea here!
11. DIY Shoe Rack For A Tight Space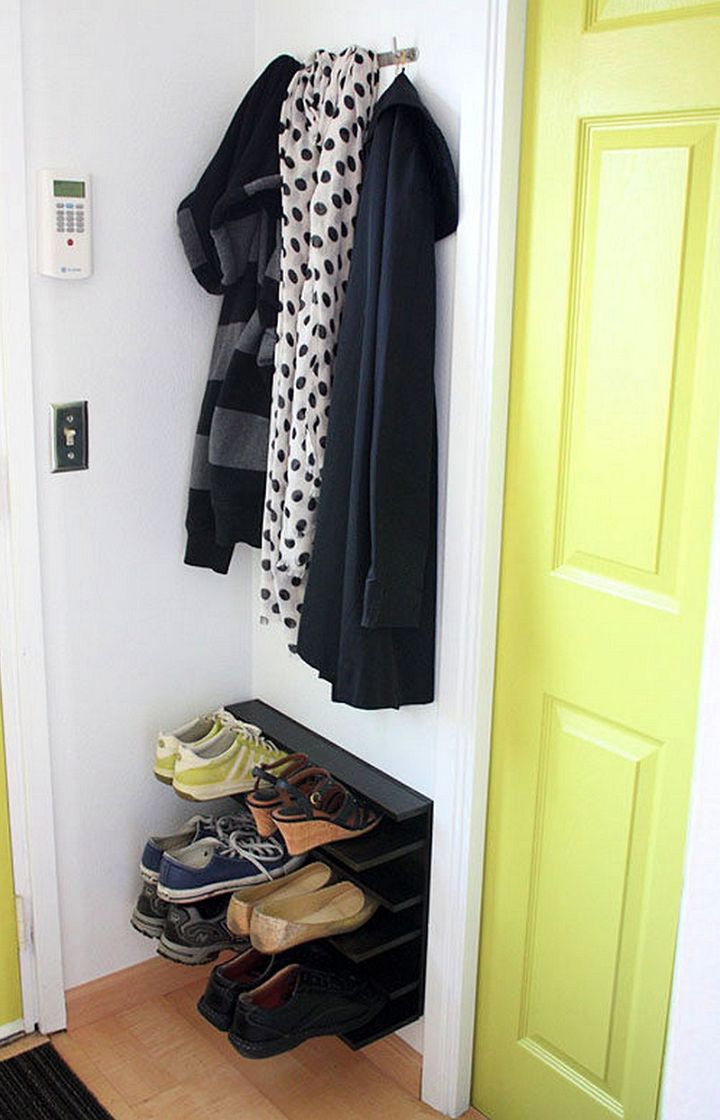 You can still manage to have a nice shoe rack in your entrance when there is no visible space to install the shoe rack on. The space under your coat rack can be used to install a custom and totally functional DIY shoe rack on budget. This multi tiered wooden shoe rack is build out of the plywood pieces with a lovely black finish to fit in your home decor. Check out the details here!
12. DIY Shoe Rack With a Shou Shugi Ban Finish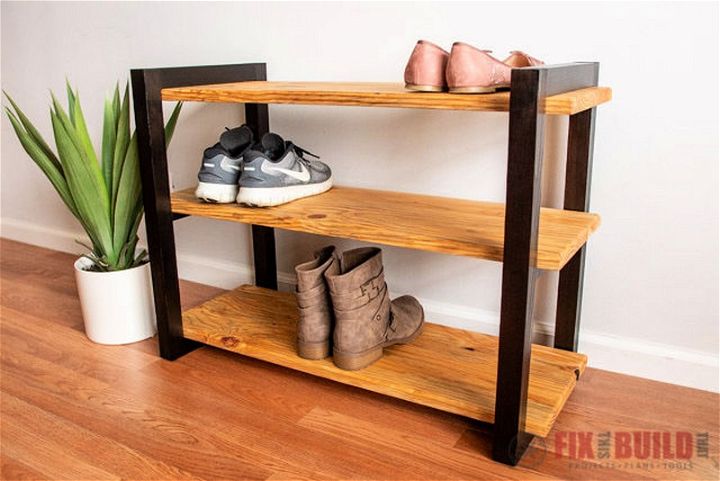 Its to take your wood craft art to the next level with this DIY shoe rack with show shugai ban finish. This finish is as cool and fun as it sounds and is done with the fire. So, this double shelved DIY shoe rack is not only going to organize your shoes but also going to bring so much charm and beauty to your spaces due to the unique and fun shou shugai finish. Follow the details of the idea here!
13. DIY Shoe Storage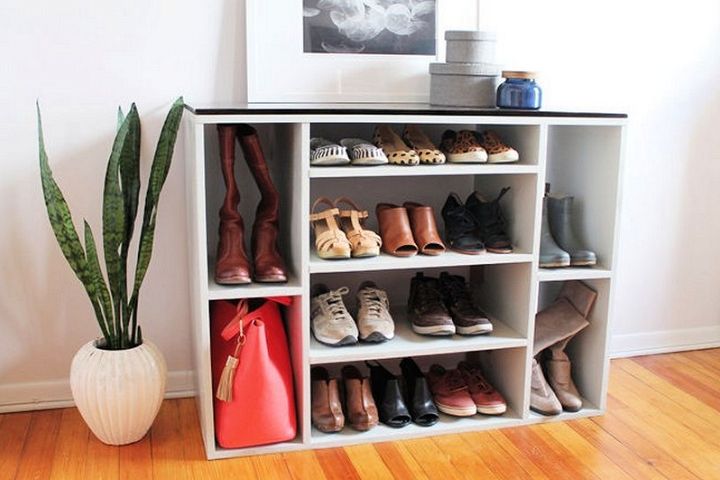 This chic and stylish IKEA like shoe storage is handmade and comes on budget to fit in your spaces. The shoe storage has shelves in the center and the shelving boxes on the sides to hold your long boots and the bags too. Using the MDF boards for the shelves, back and the sides you can easily work up this lovely storage for your foyer or the mud room. Check out the complete details of the idea here!
14. Hexagon DIY Shoe Rack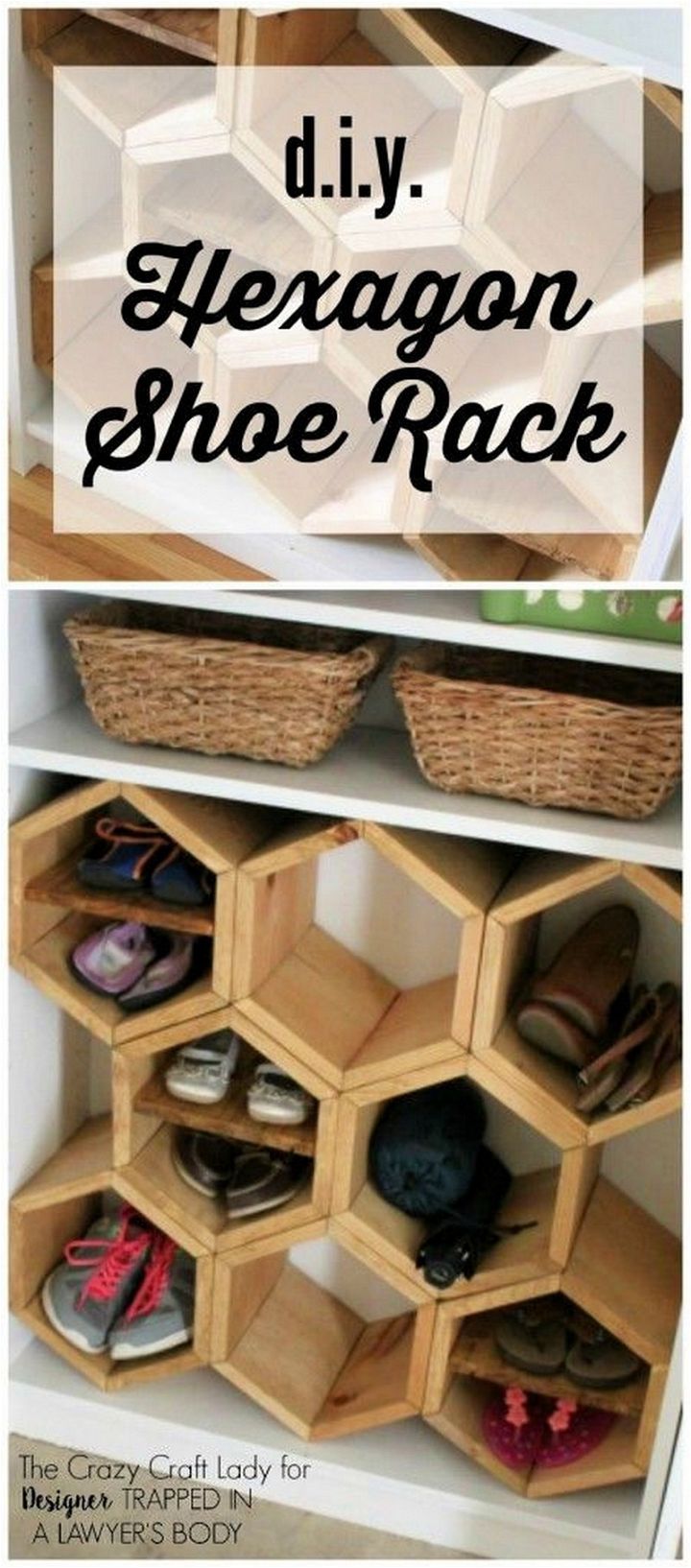 This gorgeous and perfectly elegant Hexagon shoe rack is so affordable and easy to build for your foyer, for kids room or the mud rooms. The shoe rack has three shelving units to hold a big bunch of the shoes in apple pie order. The gorgeous walnut finish is adding more oodles of charm to the rack. Check out the complete details of the idea here to make one for your spaces with the wood lengths of the size 1x10s of 6 feet. designertrapped
15. How to Build a Shoe Rack For Your Closet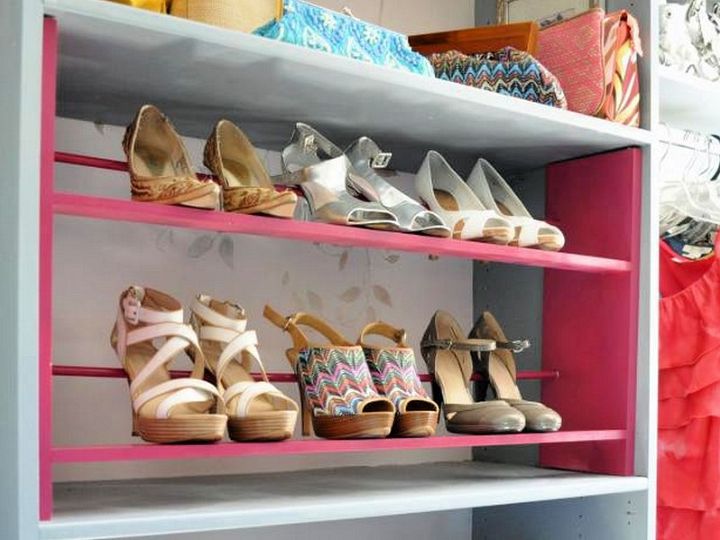 Do not hide your those beautiful pair of shoes of yours when you can not only organize them but put them to this gorgeous display in your spaces. Here is the idea of building this shoe rack for your closet to have a completely separate and functional section to be allotted to the shoe collection only. This would keep your shoes neat and tidy and also make easy for you to choose your shoes of the day. Details of the idea here!
16. How to Make a Shoe Storage Bench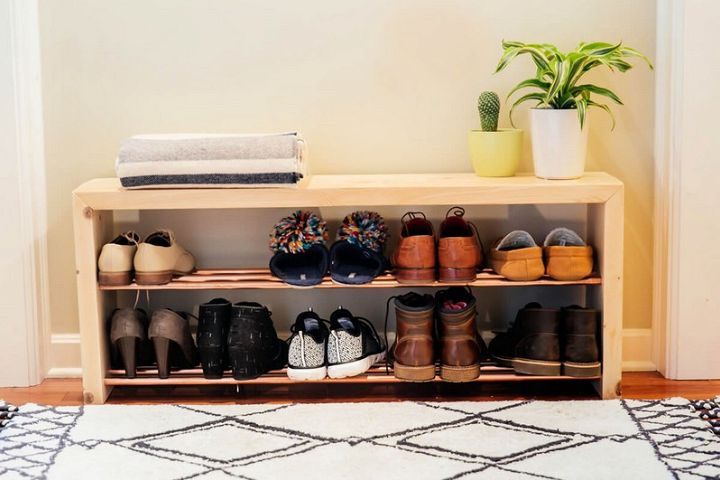 Now your morning routines for getting ready for the outside are going to be more fun and easy with this shoe storage bench. This lovely wooden bench has two shelving layers under the bench top to let your organize all your day to day shoes on. When the seating is not in use you can hold your pretty pots and blankets on it too. Check out the complete tutorial of it here!
17. How To Make Shoe Rack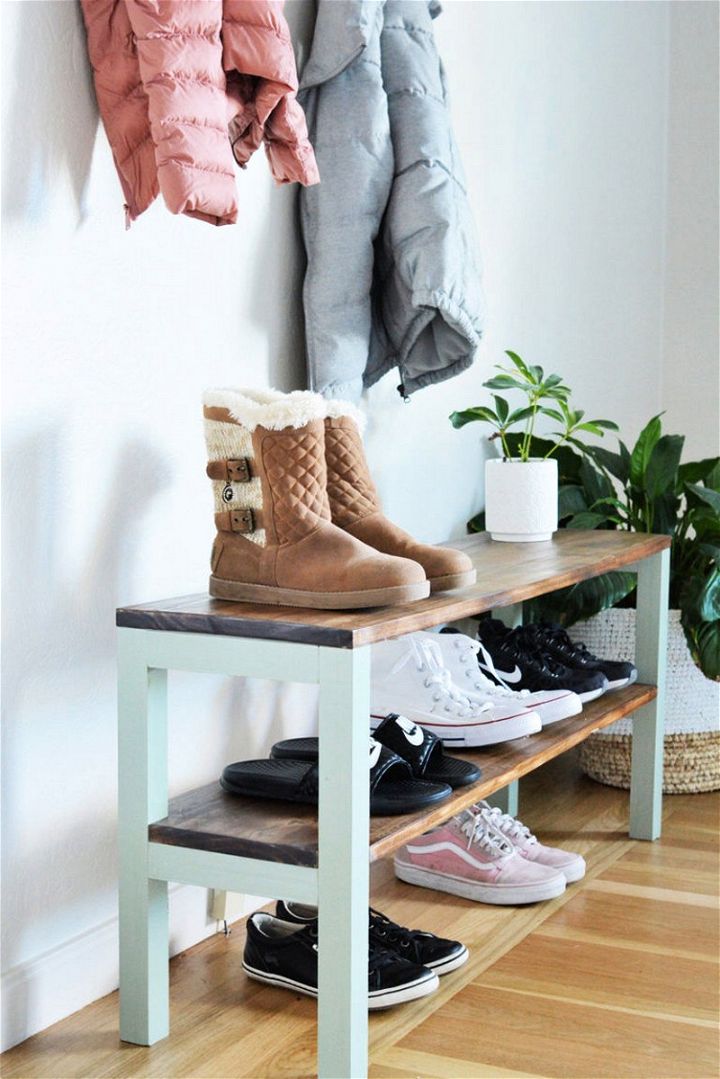 Here is how you can organize you foyer or entrance in the most chic, stylish and elegant way. With this easy DIY Shoe rack plan you can have the perfect shoe storage in your spaces. This rack has a bench like structure with double layers of the wide shelves to hold your shoes on. You need 2×2 Birchwood posts and ½ "birch wood planks. Check out the whole tutorial here!
18. How to Make Shoe Storage Display Shelves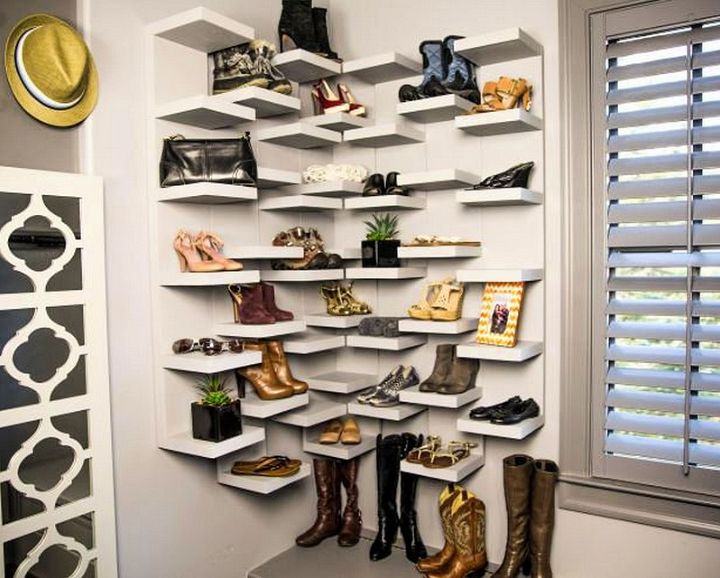 This super fancy and crazy shoe storage display shelf is going to be dream project once you look at it here. The giant plan of building these display shelves for your shoes and bags is the best thing to bring in your bedroom wall corners or even in the hall. Not only it is going to show case your gorgeous collection of shoes and bags but also bring so cool and fancy appeal to your home decor too. Details here!
19. Making Shoe Racks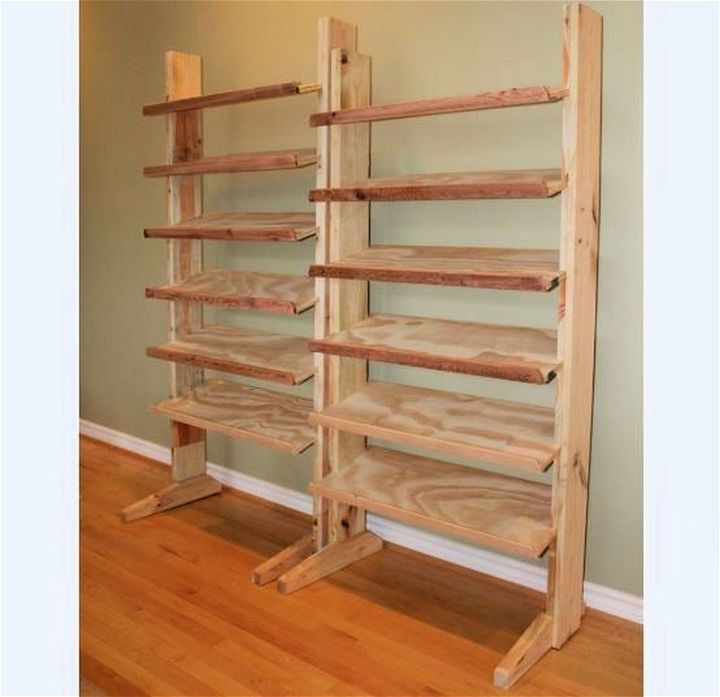 Are you fed up picking up and putting in order the giant collection of the shoes of the whole house? If yes then here is the idea of creating this lovely shoe rack of the giant size to satisfy your storage needs. You need wooden shelving and wooden support to create this pretty and fun shoe rack project and here are all the details of it. instructables
20. Pallet Shoe Rack- A Simple Step-By-Step Guide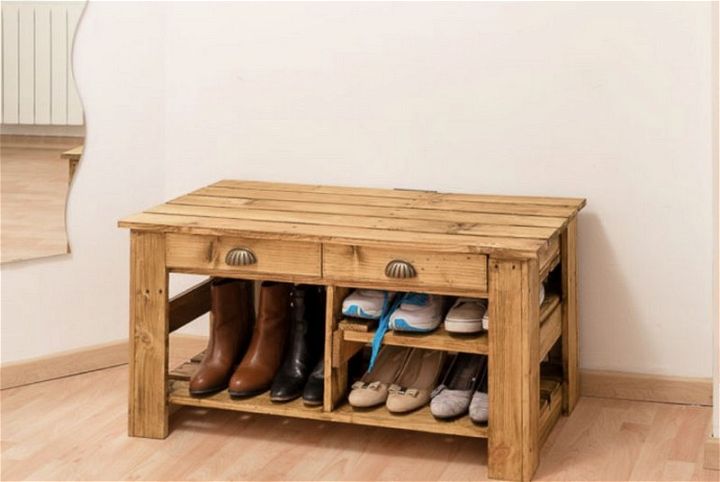 Are you a fan or farmhouse style of in love with the rustic furniture beauty? Here is this pallet shoe rack to make you fall in love with its beauty and wooden appeal along with the storage space to store and organize a bunch of your shoes on. The shoe rack has a desk like top, two mini drawers along with the shoe storage space. Check out the details of the idea here!
21. Super – Sized Shoe Rack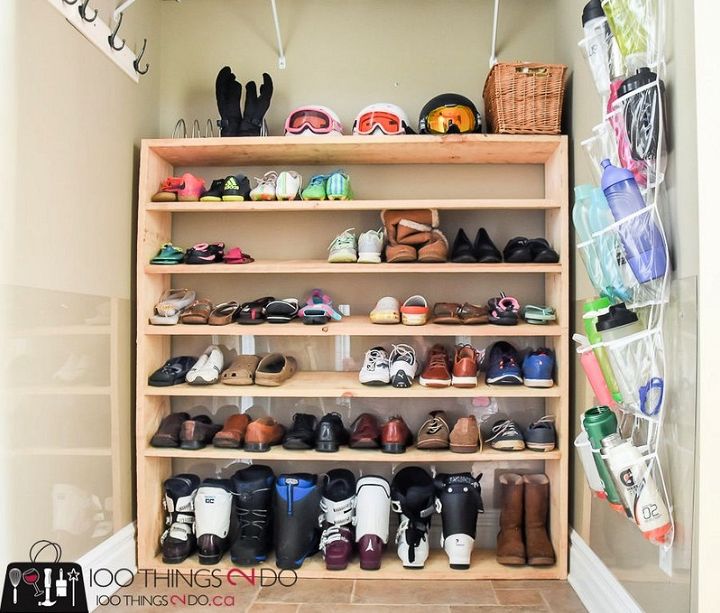 If there are more than sports men in your house it means that having a lot of sports shoes and that means need of much storage space for the organization of the shoes. Here is this giant sized shoe rack to make with 2 boards cut to the size of 58 ¼" and 7 boards of 55"/. Check out rest of the details here to make this super cute and fun shoe rack on your own. jenwoodhouse
22. Super Space Saving DIY Shoe Rack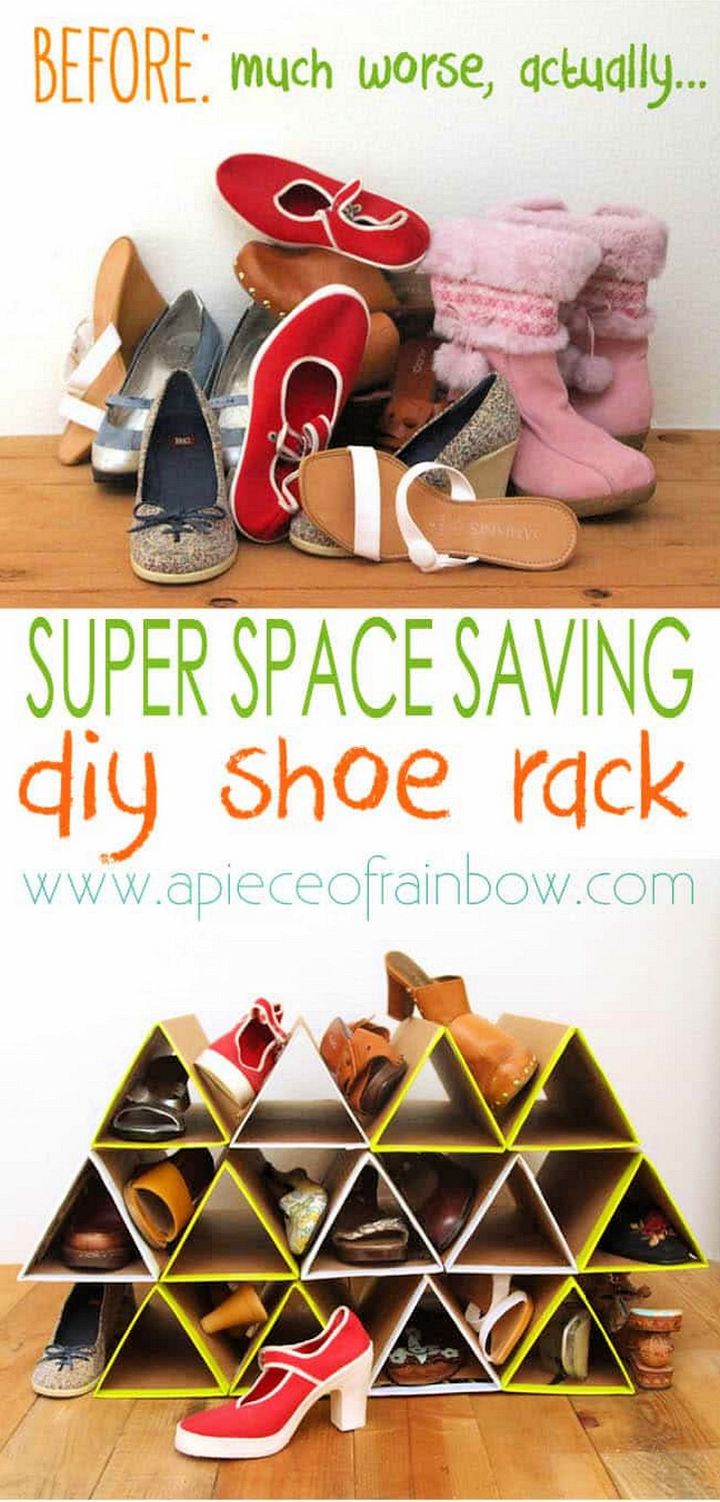 Here is another interesting and super fun idea of creating perfect shoe storage for your spaces. These are the triangle-shaped modules to hold a pair of shoes in each of the modules. You can create as many units as you need to completely organize your shoe collection. The idea is cool and fun to do for your kids. Check out the details of the idea here!