All of the 20 DIY Ideas For Renters On A Budget that we see here are renter-friendly. If you are also a renter, you would love these plans and the project's top bits. All of the ideas are so helpful in making any renter's life easy and comfortable like never before. Among these projects, you will see exciting stuff like monogrammed mats, faux Roman shades, ottomans, bedroom makeovers, and much more that you would appreciate. Besides this, you will also find some awesome Housewarming Gifts too so that when someone is throwing a party at their home, you have a variety of ideas about what you can gift them.
All of these DIY ideas for renters are special and unique in their own ways. If you also wish to make your life better as a renter and do some transformations within your restricted budget, you must go through all of the plans here and see which one is best suitable for you. All the written detailed description along with a tutorial is given here so that you can easily get along and be proud of your own creativity and skills.
1. DIY Monogrammed Doormat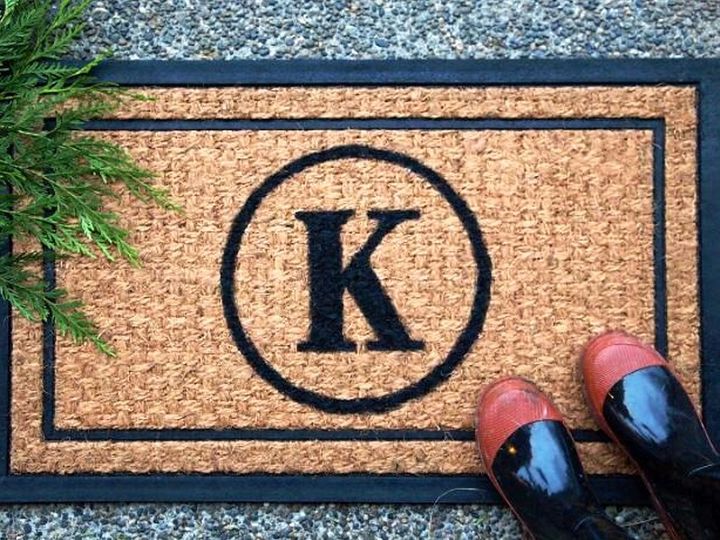 This monogrammed mat idea seems perfect for the ones who don't wish to spend a lot of money for decorating their houses. The materials that you will need for this project are sisal door mat, plates and bowls, permanent marking pen, letter template, acrylic craft paint and measuring tape. Gather the materials and get started. Tutorial
2. Upgrade Your Kitchen With A Budget DIY Backsplash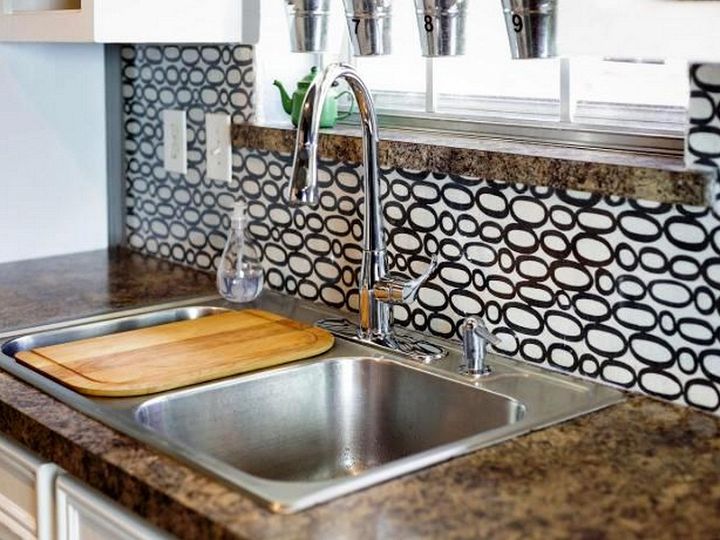 If you are also looking forwards to bringing some changes in your kitchens, then you must follow the instructions given here in this project. This is a wallet-friendly backsplash idea that you can also try. With this super interesting plan you will be able to upgrade your kitchen and bring some peace home. Tutorial
3. How To Organize A Kitchen (with A Door!)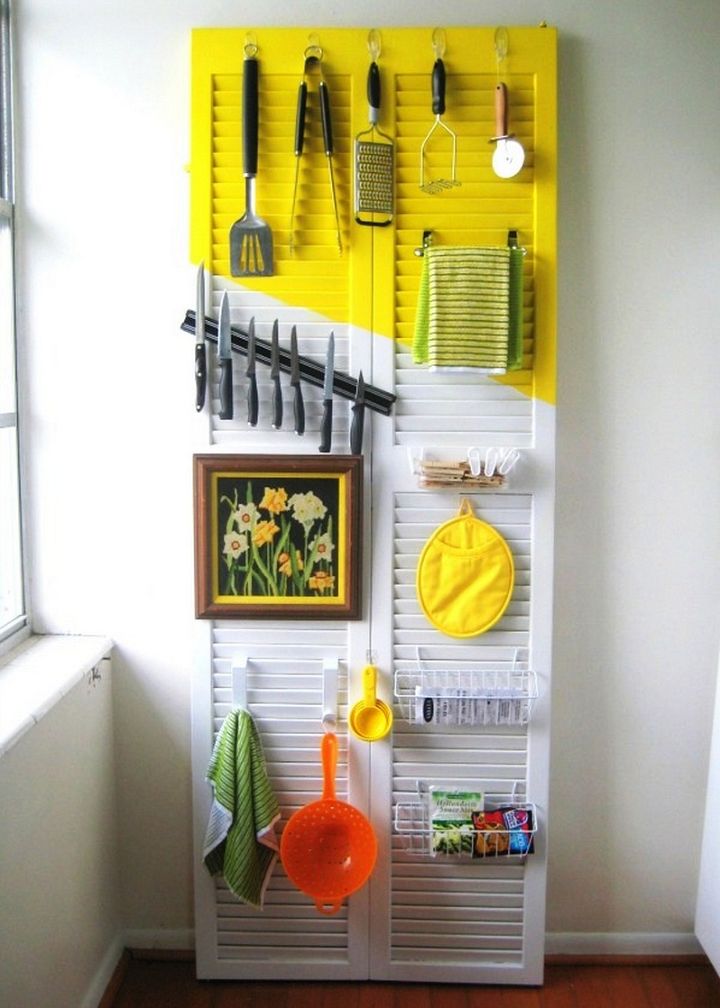 This project will teach you how you can organize and manage kitchen with a door. If you are a homemaker, you will surely love this plan here. A nice and attractive door is incorporated here and beautiful things are displayed over it both for decoration as well as for storage. Tutorial
4. Renter's Guide To DIY Bedroom Makeover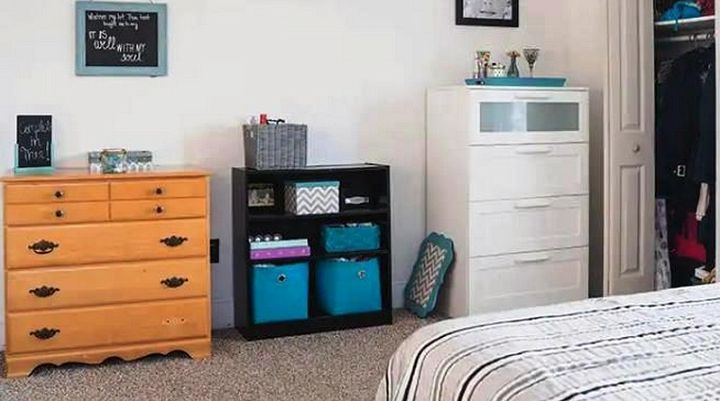 You can see this amazing makeover of the room for renters. If you are also a renter, you must be restricted with your budget and ideas here in this project are wallet-friendly. You can see a feature wall built in this project done on a budget that will create a large impact on the entire room. Besides the feature wall, you will also witness some more ideas too. Tutorial
5. Storage Ottoman DIY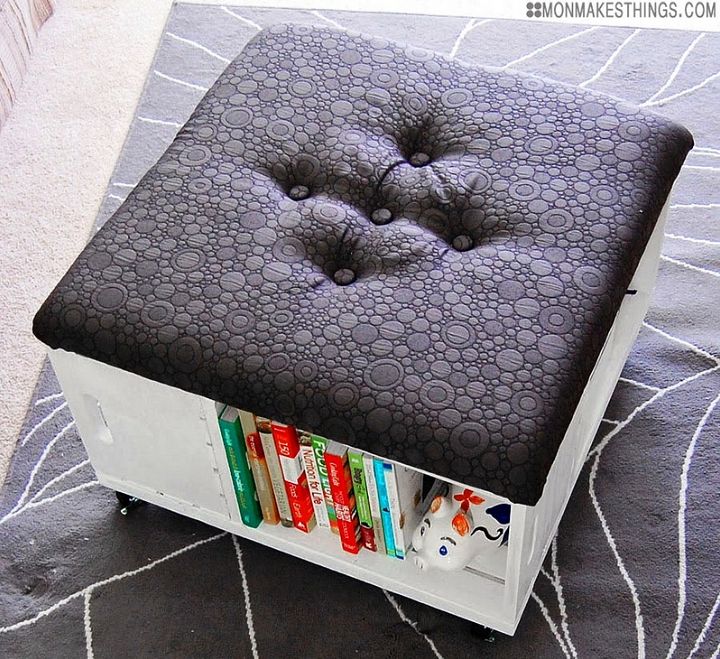 Have a look at this DIY storage ottoman and see how you can also make this all by yourself. If you are also a renter, you must pay attention to this plan and see how this is done within a restricted budget. You will need wooden crates along with some other things such as wood screws, corner brackets, drill, and drill bit. Tutorial
6. How To Make Faux Roman Shades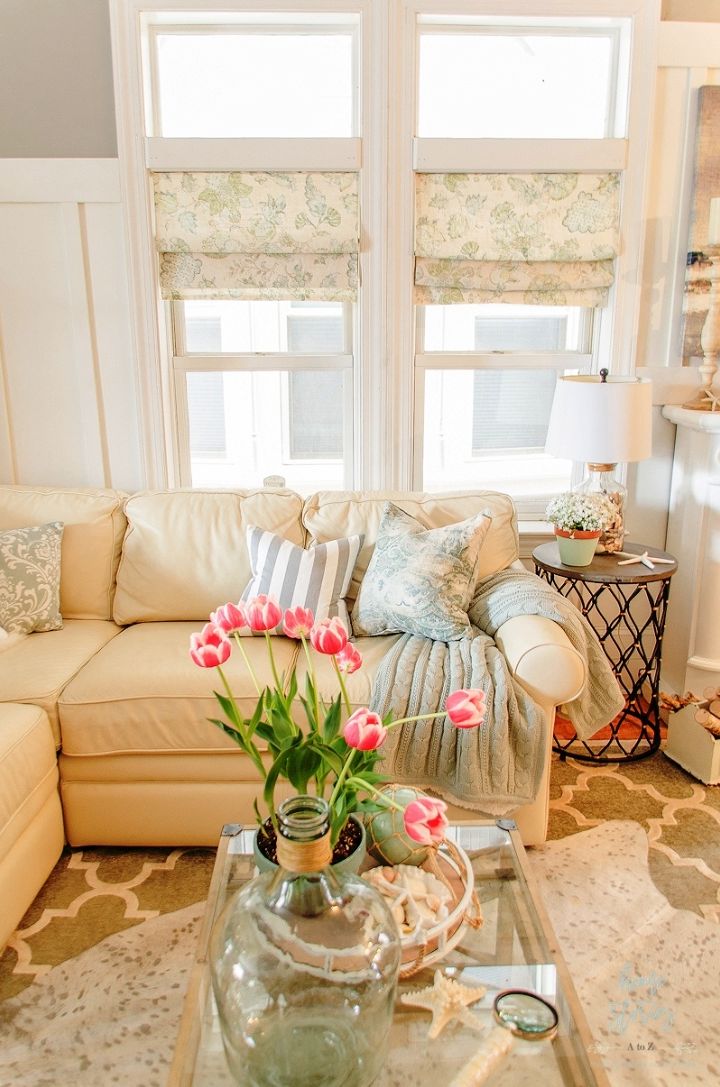 DIY Ideas For Renters – Let's make these faux roman shades with the help of this DIY plan here. See the complete details in the written description as well as in the tutorial so that you do not miss out on the minor details of the project and work accordingly. the materials that you need for thee faux Roman shades if you are a renter are fabric, sewing machine or hemp tape, fabric glue, hot glue and spring tension rods for windows. Tutorial
7. DIY Renters Backsplash With Vinyl Tile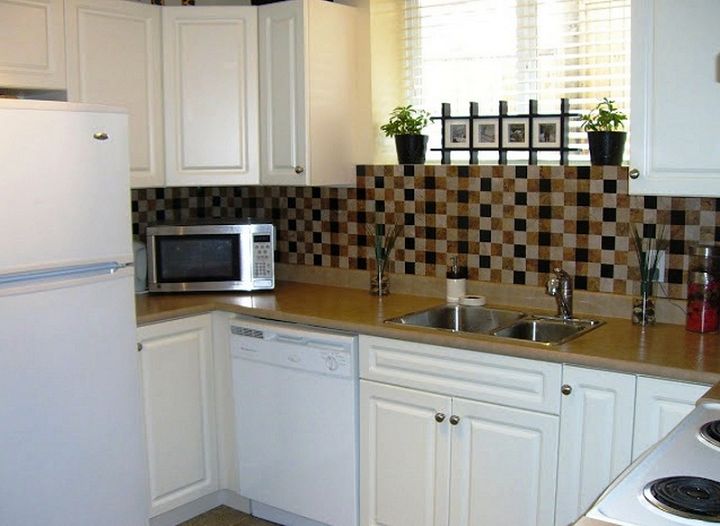 Let's make this backsplash with vinyl tile. If you are also a renter you would love this project. See the details of the installation here so that you can easily catch up with it. This project is highly recommended to all rentals who wish to upgrade their kitchens. Tutorial
8. Stenciled Herringbone Entryway Storage Bench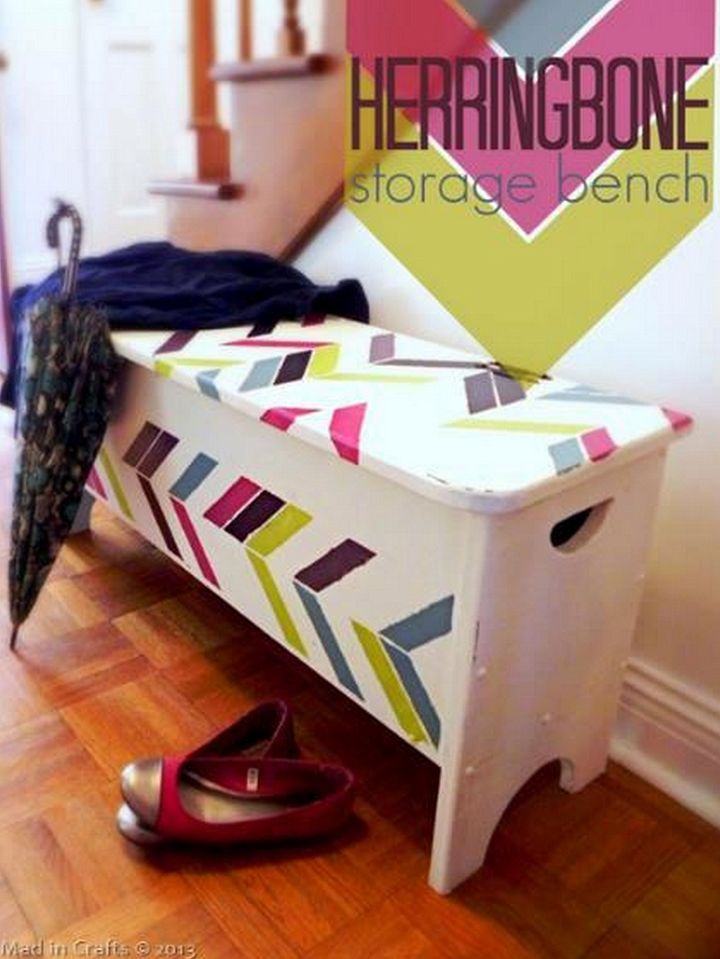 Be prepared to make this herringbone entryway bench here and see how things work for you. Benches are always helpful and provide spaces to hang out both in indoors as well as outdoors. Get the supplies ready for this project and see where it goes. Tutorial
9. Exclusive Frankie DIY – Hanging Plant Holders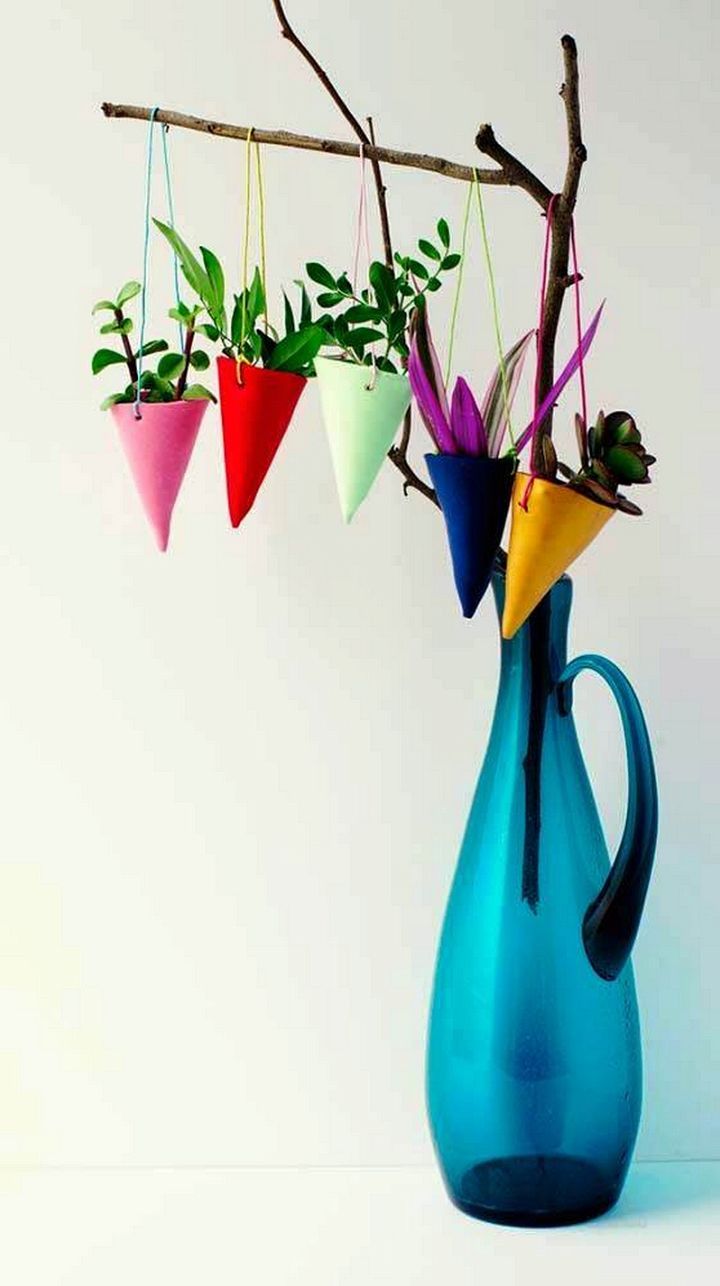 Have a look at this hanging plant holder and see how your version of this can be made. You will need polymer clay in assorted colors along with other things such as colored string, a cutting table, a skewer or something to poke holes with, assorted air-growing plants, scissors, a baking tray, a rolling pin and baking paper Tutorial
10. Give Your Home Farmhouse Character With DIY Shiplap Walls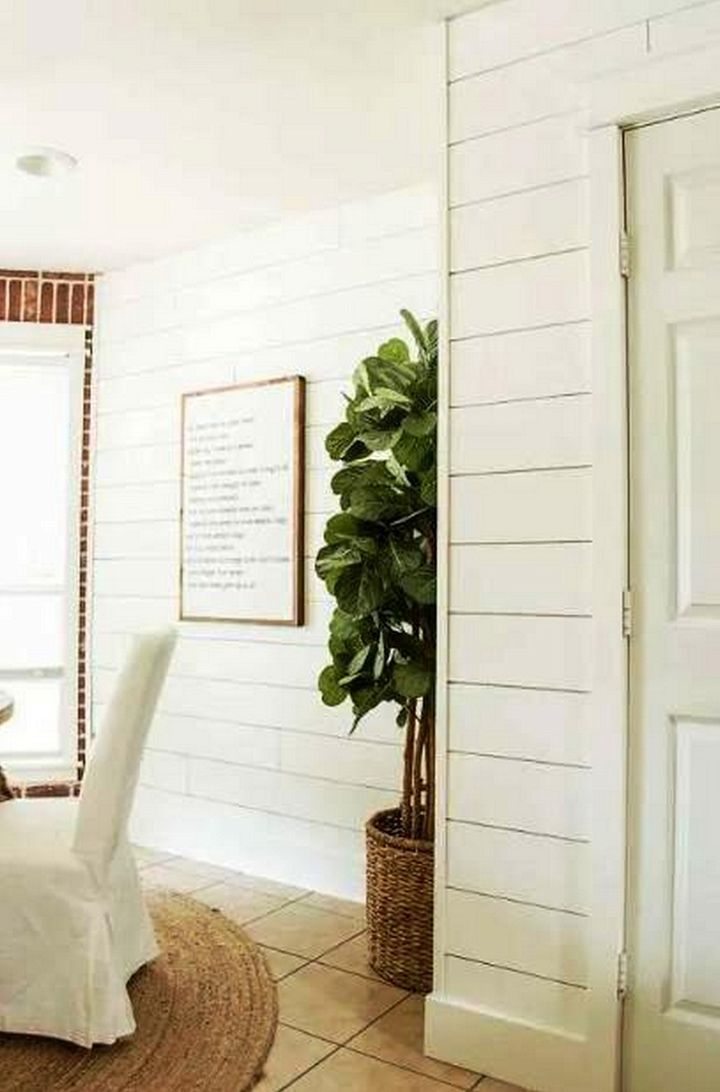 DIY Ideas For Renters – The shiplap walls that you see here definitely give that farmhouse look. The tools that you need are table saw, compound miter saw, nail gun, finish nails, plywood, level stud finder, pencil, measuring tape, sandpaper, primer, paint, caulk, Popsicle sticks and baseboard. Tutorial
11. Dollar Ceiling Fan Update – DIY Ideas For Renters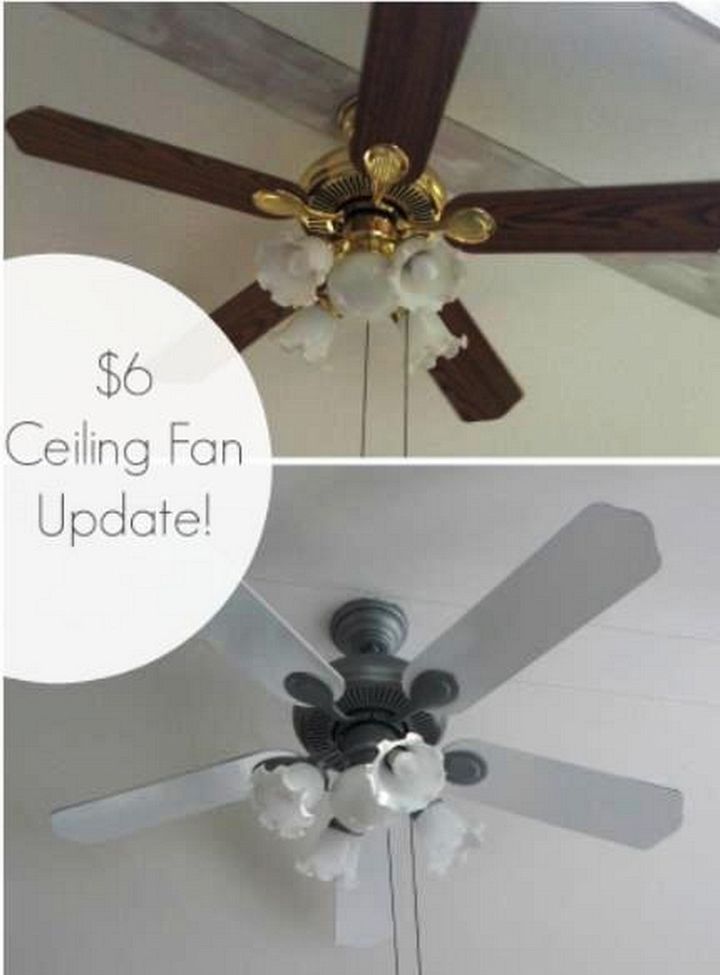 This diy renter project will lead you towards a journey where you will learn about dollar celling fan. You can see the transformation process of a dollar fan and how beautiful it looks in the end. You just have to make a little efforts and some amazing results will come your way. Tutorial
12. Housewarming Jar DIY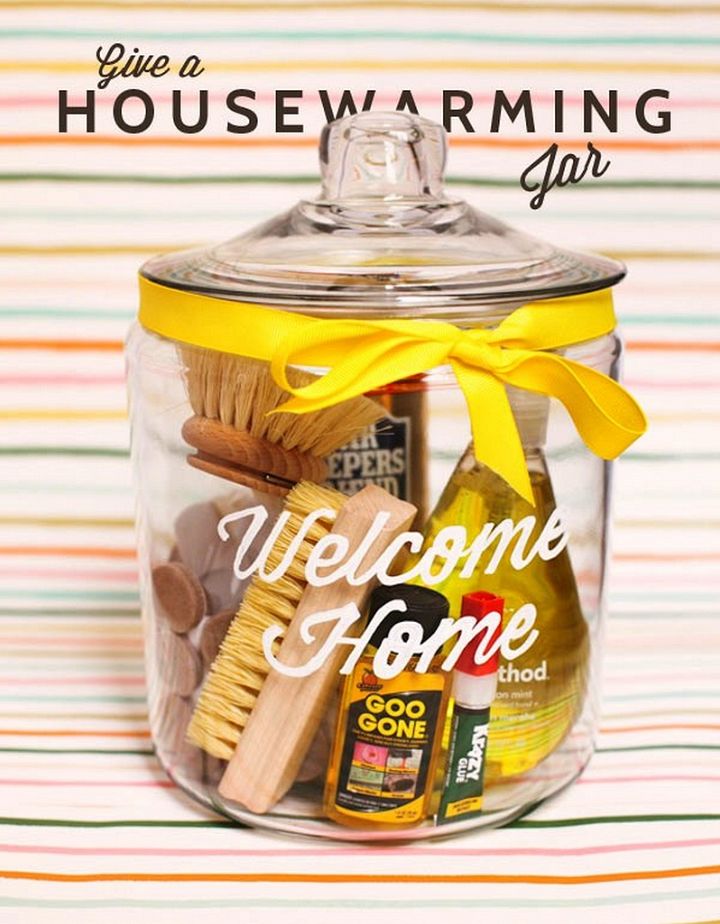 Have a look at this diy house warming jar over here and consider making this for someone who is about to throw a party at home. This gift seems to be very thoughtful for giving someone who has just set up a new home. You can put some cleaning products inside of a jar or anything of your own choice. Tutorial
13. Housewarming Gift Basket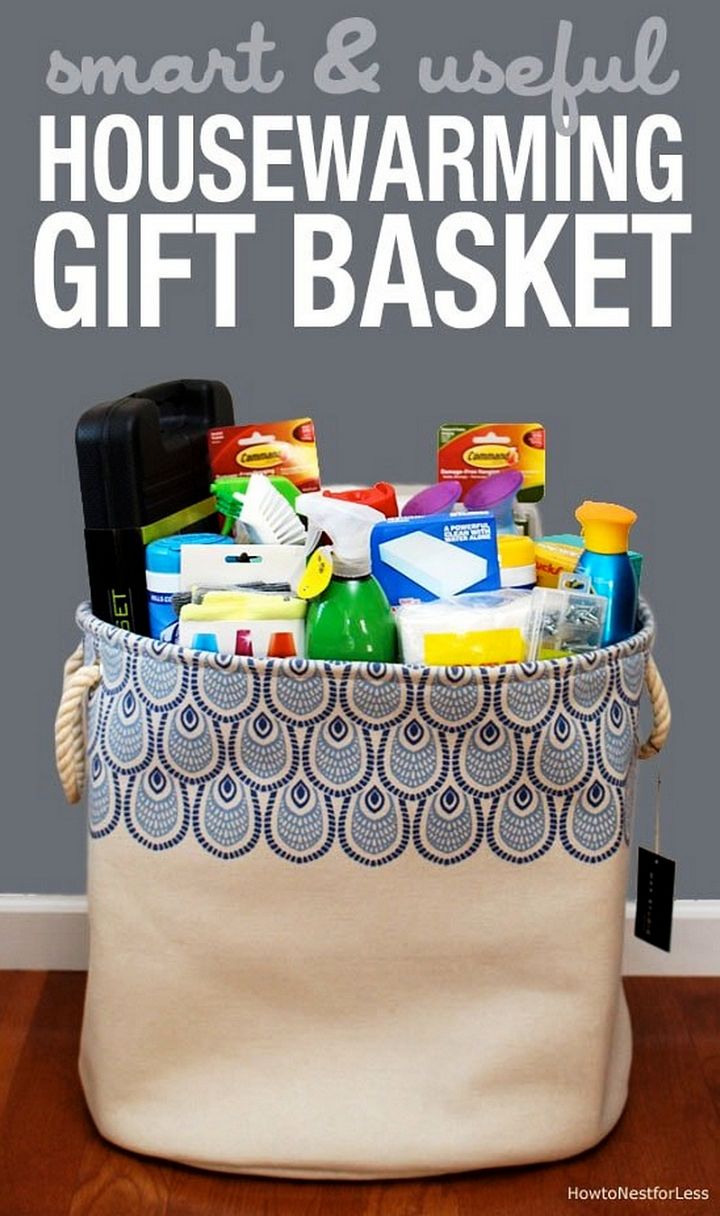 Are you ready to make this housewarming gift basket all by yourself? The things that you want to put inside of the basket depends on your personal choice or the choice of the person who you are giving it to. here in this project you can see that the basket if filled with cleaning products like dish soap, disinfectant wipes, microfiber clothes, detergent, dish brush and many more items like these. Tutorial
14. DIY Air Freshener – Housewarming Gift Idea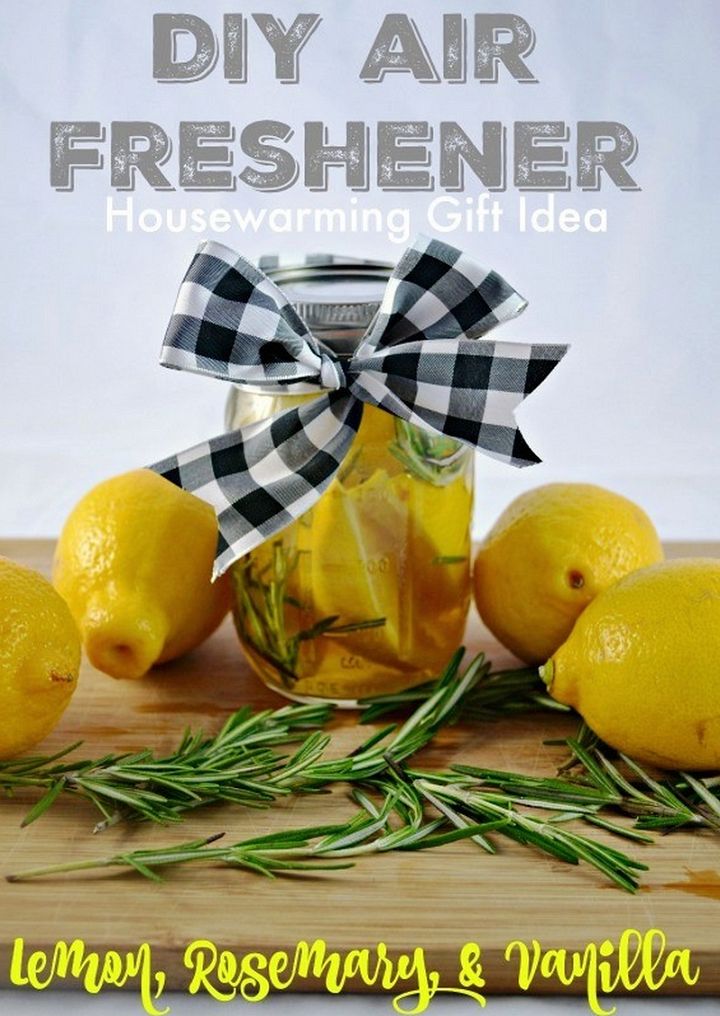 This diy house warming gift idea is perfect for those who have ocd or like to get some nice fragrances all the time from their home. See how you can manage to create a basket like this with the items that you feel will impress and liked by the one you are giving this to. Tutorial
15. Unique Housewarming Gift Ideas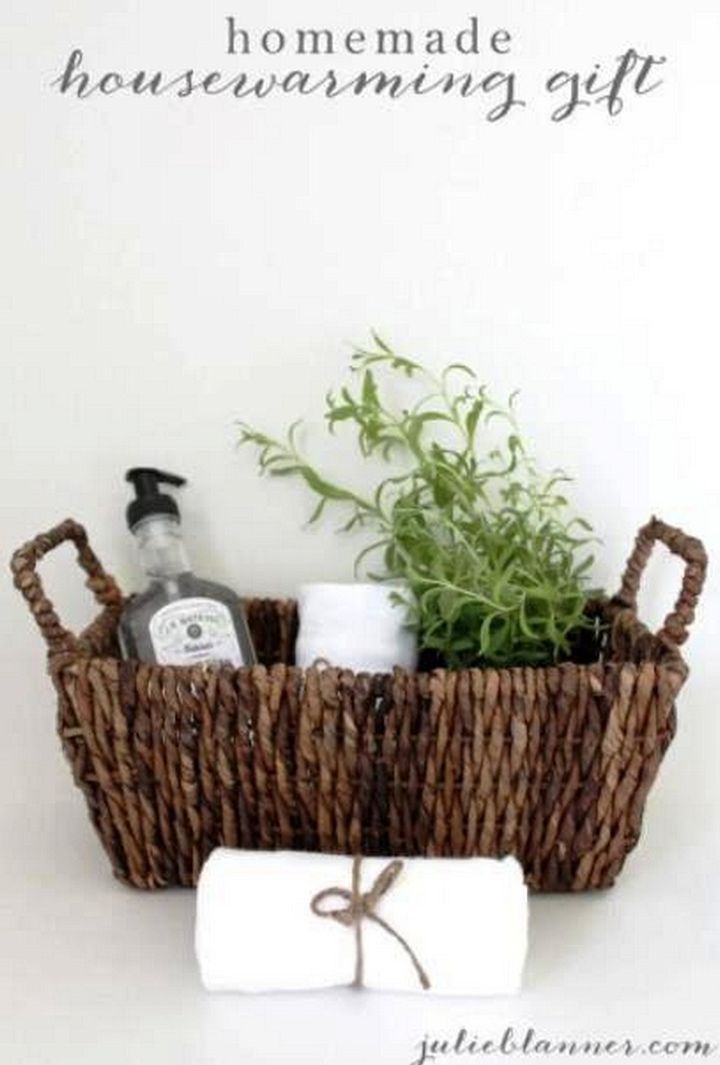 This is one of its kind unique house warming gift idea that we have here. If you are also someone who like to give people gifts and share the happiness, this project will be of great help. This is a personalized gift that you can give anyone who is throwing a house warming party at their home in order to impress them. Tutorial
16. Slippers Gift Idea For Women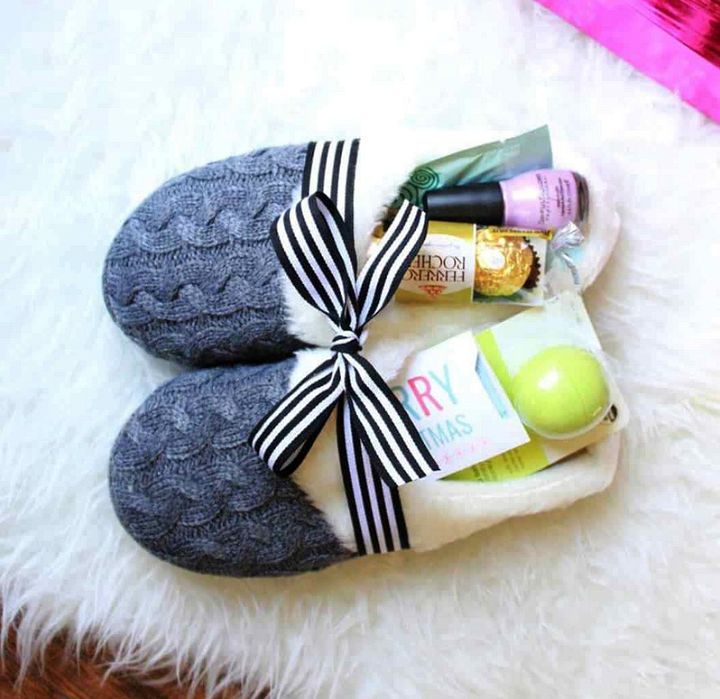 This is a diy gift idea for woman and you will love this. This is a slippers idea and can be gifted on any occasion. Along with slipper you can also keep some other stuff that woman and girls like. Those items can include lip balms, nail polishes, lipstick and even chocolate. Tutorial
17. How to Make a Mug Herb Garden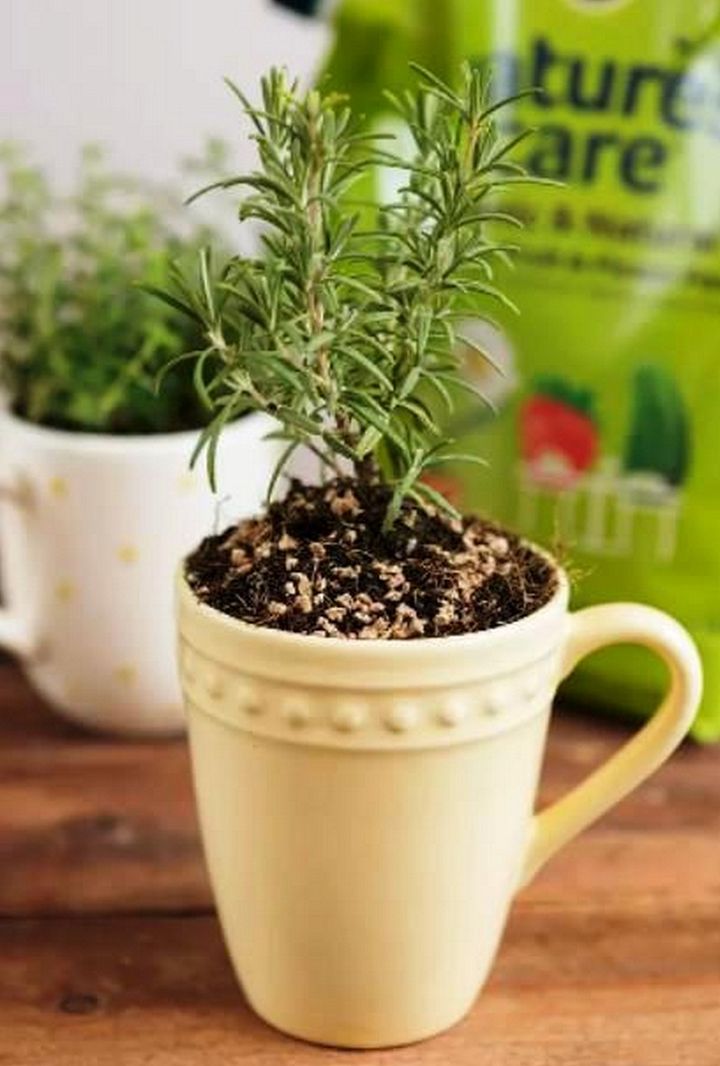 This is a mug herb garden that you see here. For this amazing and exict8ing plan you need a few things such as mugs, painter's tape, glass tile, drill bit, gloves and garden hand trowel. Gather the supplies and get started with this plant lover project. You can decorate this masterpiece anywhere you feel like. Tutorial
18. White Subway Tile Temporary Backsplash – The Full Tutorial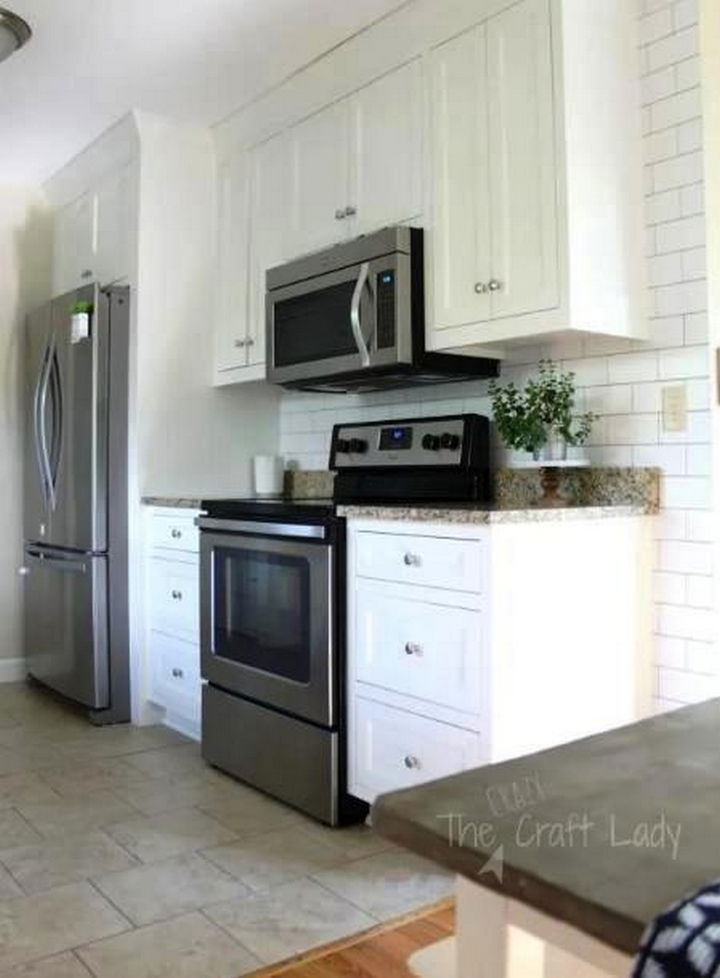 Have a look at this temporary backsplash plan here and see how you can also do this all by yourself. You will need removable wall paper measuring tape, small ruler, scissors, pen or fine tip marker and tool for soothing wallpaper. Gather the supplies and get started with this amazing and trendy plan. Tutorial
19. DIY Faux Roman Shade For The Kitchen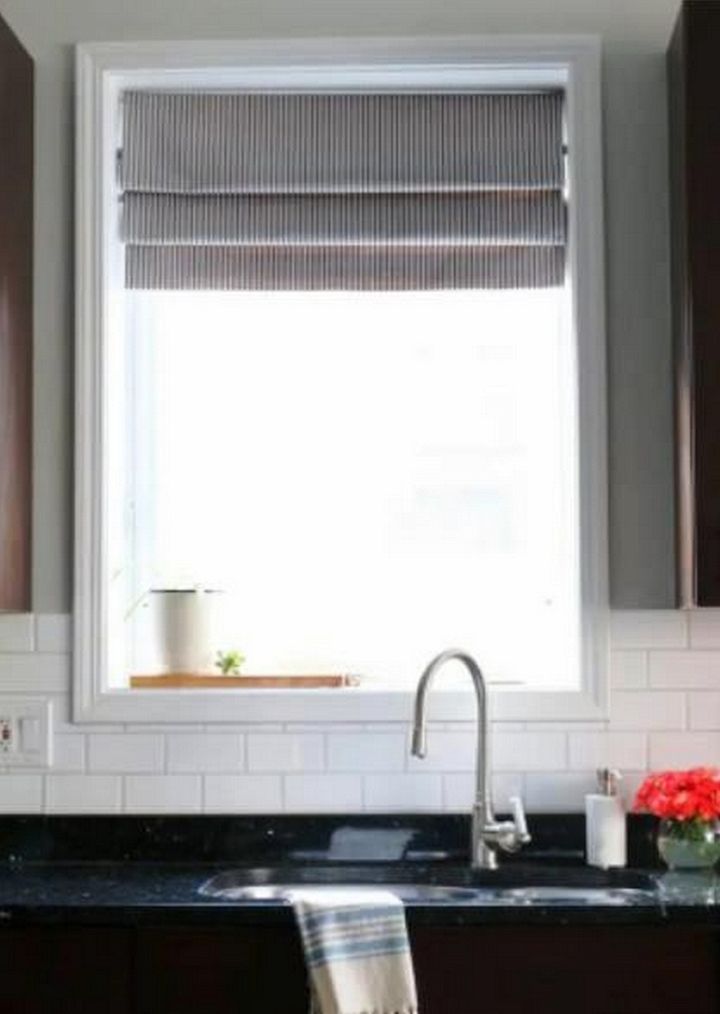 Let's make some faux roman shade for the kitchen with the help of this project here. The supplies that you need for this project are fabric of your choice, scissors, and iron, hemming tape, tension rods and tape measure. Gather the supplies and get started with this interesting and amazing mission. Tutorial
20. The Best Renter Hacks For Your Living Room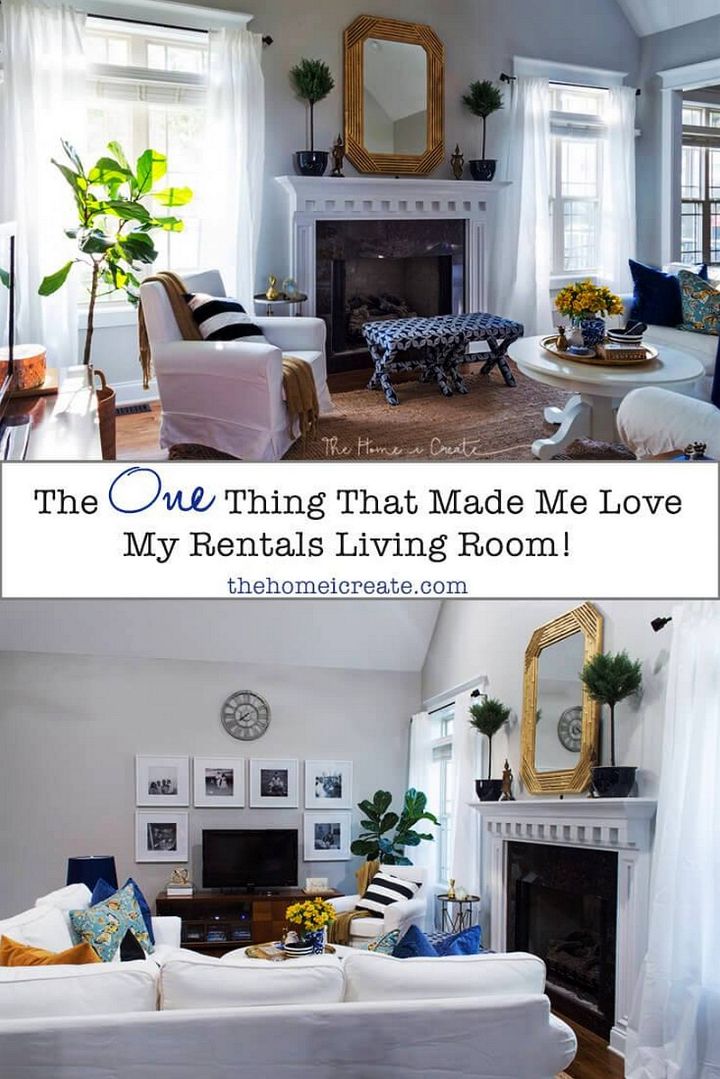 If you are a renter, you would most probably love this project to bits. These are some living room hacks that we have here that you can easily get along with and see your living room becoming a more comfortable and cozy space like never before. Tutorial
Conclusion:
Pick and choose any of your favorite plans from here and see how things work for you. All the details are given here and you can catch up with any of the projects here. Renters do have a difficult life for sure and they are restricted with their budgets therefore they will find all of these wallet-friendly ideas attractive and affordable.