Cardboard plays an important and useful role in art and craft projects. All of these 20 DIY Cardboard Craft Projects That's Very Useful are so appealing, easy simple and cheap that anyone and everyone can try these. You can follow any or many of these projects and engage your kids along with you so that they can not only learn but enjoy too. Kids can play around colors while doing these Cardboard Craft Projects. The little doll house made using cardboards is all your little girls need to be happy during the summer holidays.
Cardboards are easily available and inexpensive materials so if you are planning to make budget friendly crafts, these projects are of great help. Cardboards are something that can also be painted easily with acrylic paints. Besides this cardboards can be cut easily as well with simple scissors. All of the projects here explained in detail so that you can easily get along. the list of supplies are also given with each of these diy cardboard projects and they include supplies such as scissors, hot glue gun ,paint, tape, cutters and some decorative items and accessories. DIY Cardboard Craft
1. Cardboard Box Craft – DIY Dollhouse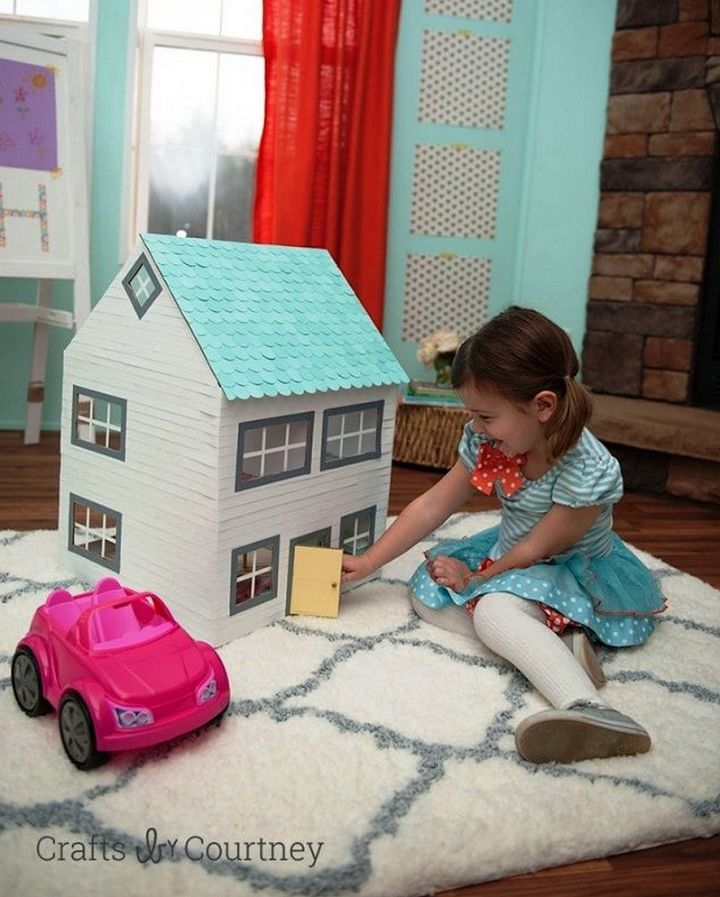 DIY Cardboard Craft: Cardboards are really a fun material to use when it comes to art and craft. This cardboard doll house is made at home with some limited materials and supplies. besides a cardboard box you will need painter's tape, glue sticks, craft glue, xacto knife, hot glue gun, cutting mat, yardstick, circle punch, push pins, small beads, permanent marker, interior walls, spray paint, cardstock and plastic beads. Tutorial
2. How To Make A Cardboard Camera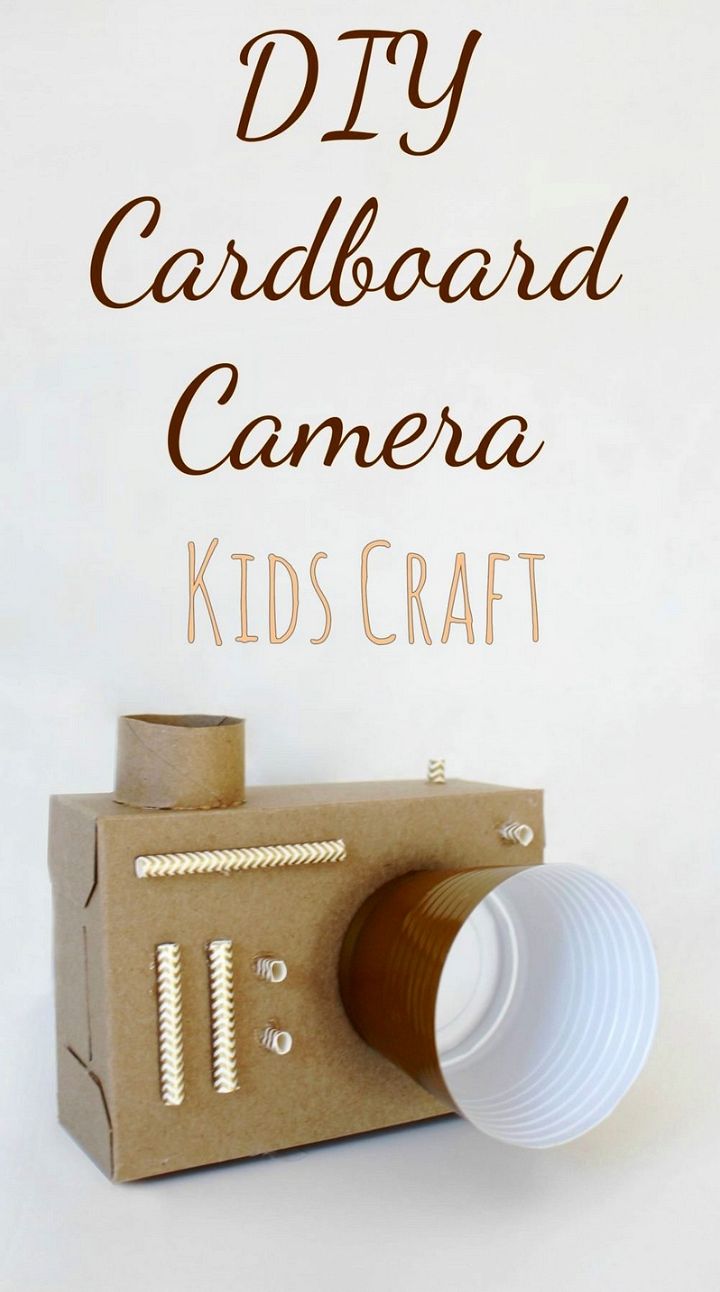 In this diy project you will see how a nice and appealing toy camera can be made using cardboard. You will need a small microwave popcorn box, disposable plastic drinking cup, toilet paper roll, paper straw, scissors, hot glue gun and knife. Gather the supplies and make this amazing craft and let your kids enjoy with it. Tutorial
3. DIY Cardboard Rocket – DIY Cardboard Craft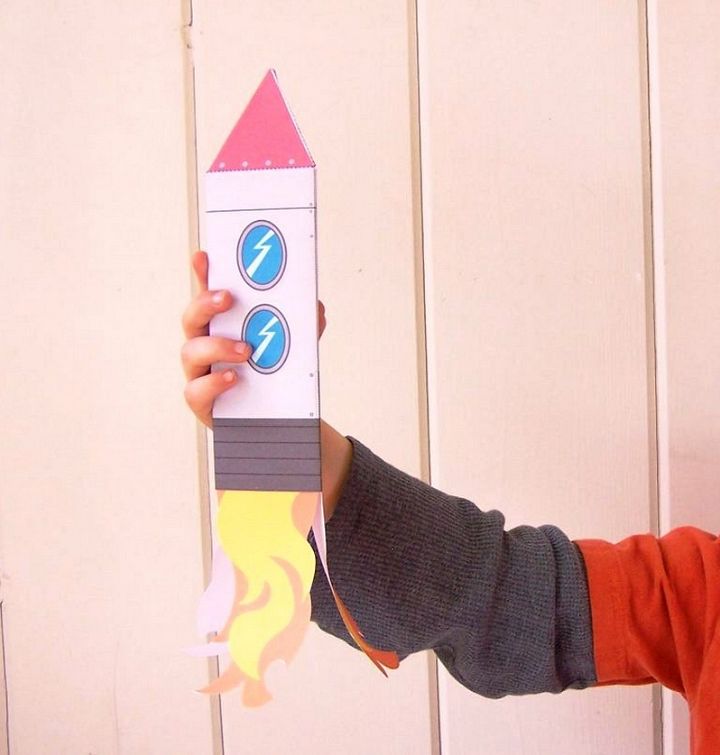 Have a look at this diy cardboard rocket idea that the kids would surely love. For this project you will need a large cardboard box along with some other materials such as extra cardboard, packing tape or duct tape, scissors, box cutter, tape measure and permanent marker. Tutorial
4. DIY Cardboard Pirate Ship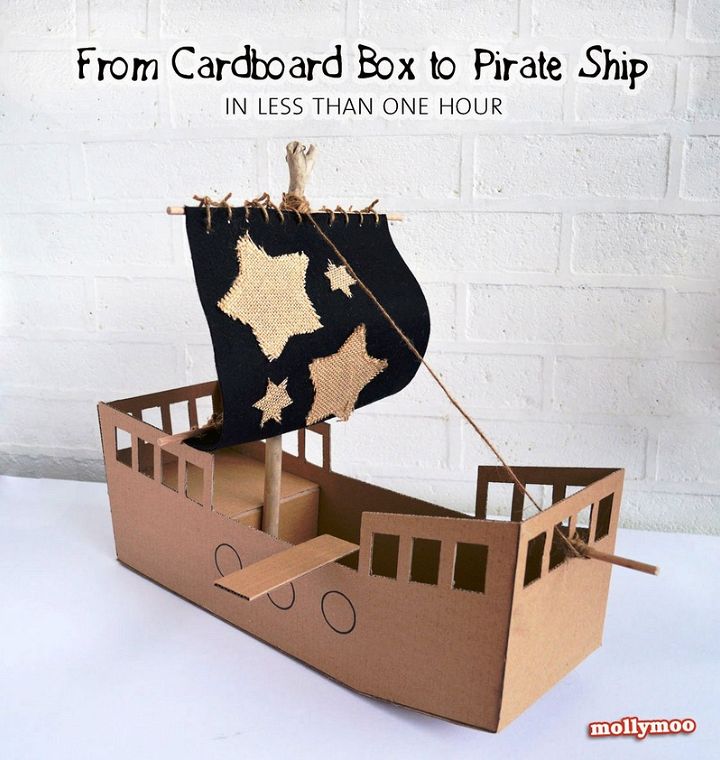 DIY Cardboard Craft: This diy cardboard project will show you how you can make a pirate ship. You can learn the process through the tutorial and see how everything goes. Gather the supplies and get started with this interesting cardboard mission. You have to be careful while cutting the pirate ship out of cardboard. Tutorial
DIY Concrete Ideas – Are you in search of affordable ways to improve curb appeal of your backyard? Then you've come to the right spot where you can get inspiration and ideas for amazing concrete projects that can enhance the look and appeal of the back doors in a distinctive manner.
5. How to Make a Recycled Cardboard Laptop Stand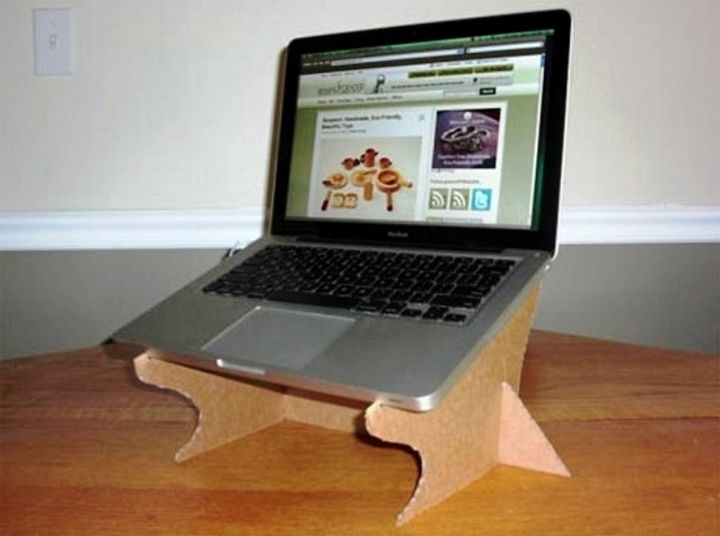 If you can't afford to buy a laptop stand form store, you can make it all by yourself and within your budget. Here in this project you will learn to make a laptop stand out of cardboard easily and effortlessly. The end product of the process is outstanding and impressive. Tutorial
6. Calling All Plant Ladies – Craft a DIY Cactus From Cardboard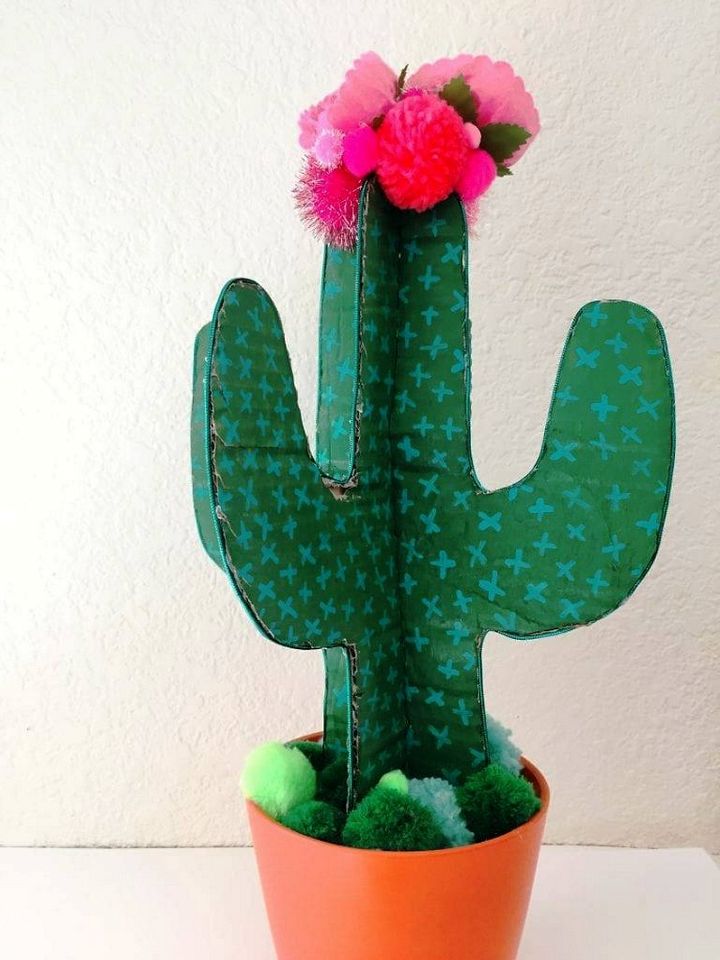 This pretty cactus is made out of cardboard and looks amazing. You will start off by painting the cardboard with green paint. Cut the rest of the cactus pieces in the next step and move on with the process. You will also make cactus spikes with light green paint over your dark green plant. You will also have to use foam and glue in the process. Tutorial
DIY Plywood Farmhouse Decor – Here inexpensive Farmhouse Decorating Ideas are the best way to create a rustic feel in your home using leftover plywood.
7. How to Make a Cardboard Kitchen for Kids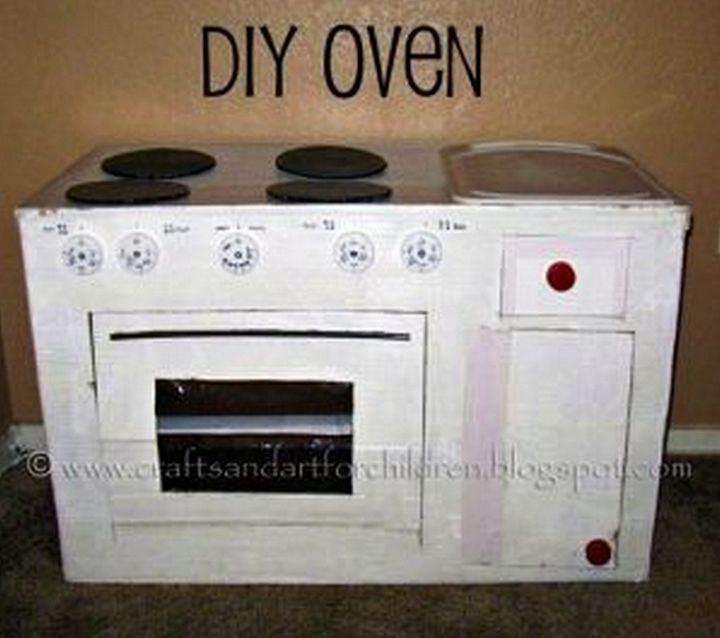 You can now make a nice cardboard kitchen for your kids using only limited supplies and cardboard. This cardboard play kitchen is probably all you need to make your little girls happy and cheerful. Some very nice detailing is also done here for the young girls to completely enjoy their kitchen time while playing. Tutorial
8. DIY Cardboard Treehouse – DIY Cardboard Craft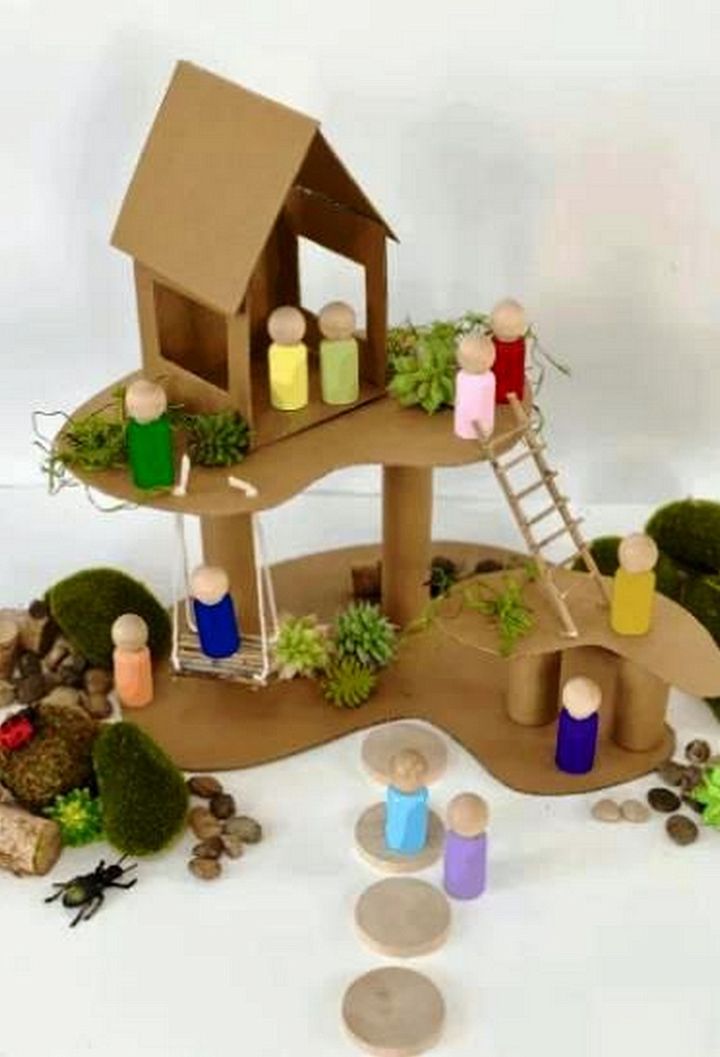 Have a look at this cardboard tree house here and see how this is made with some limited supplies. the materials that you need to create this amazing craft are listed in the details of the project are large pieces of cardboard, paper towel rolls, cardboard cutter, rope and sticks to make a ladder and swing, pencil, scissors, glue gun, skewers sticks and some more fun accessories like moss, pebbles, wooden disks, succulents, beans, bugs, animal figurines, peg dolls and decorative stones. Tutorial
9. Recycled Cardboard Animals DIY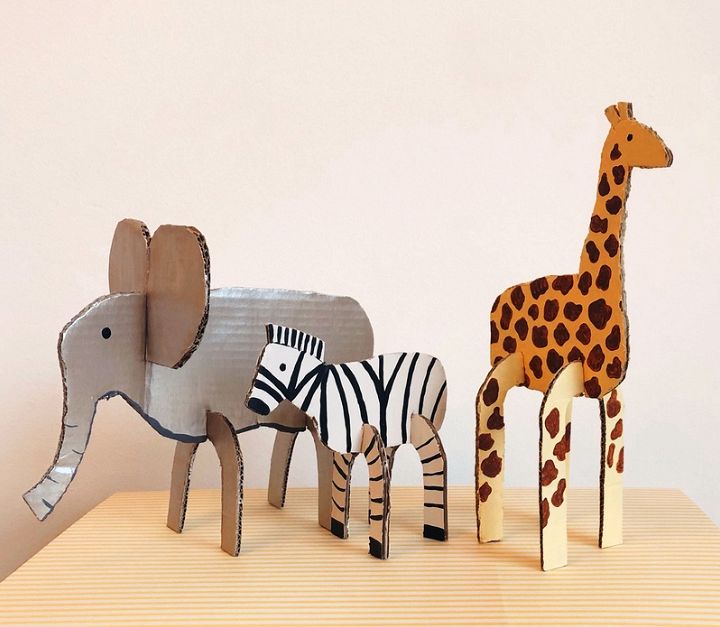 These recycled cardboard animals are interesting not only because they are inexpensive and cheap but also because they are super creative and innovative. Cardboard is a versatile material and you can literally create anything and everything with it. Tutorial
10. DIY Among Us Craft Using Cardboard Rolls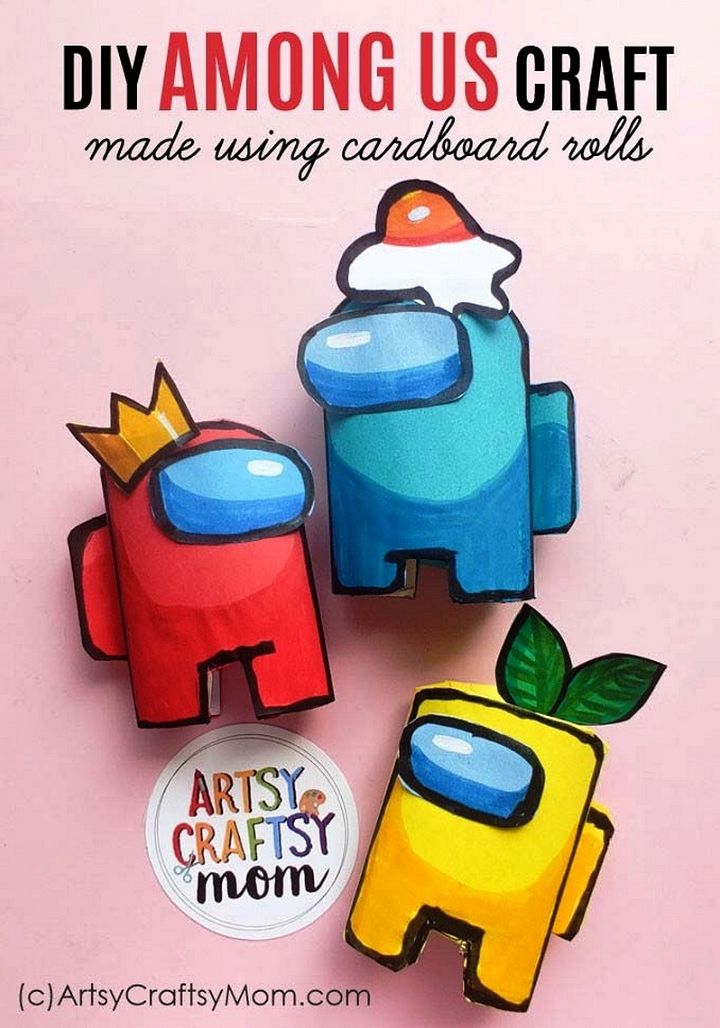 DIY Cardboard Craft: With the help of cardboard rolls you can make some amazing and interesting crafts like the ones you see here in this project. These are some among us crafts here that seems to be very attractive and eye catching. To make these crafts you need a few supplies such as cardboard roll, colored papers, scissors, glue stick, black marker, colored markers and white pen. Tutorial
DIY Ice Cream Crafts – Use yarn and paper to make ice cream garlands for summer decorations. Ice Cream is a fun theme for kids. There's a little bit of everything here: ice cream crafts, ice cream, printables, and so much more!
11. Cardboard Crafts – DIY Bulldozer Blade Toy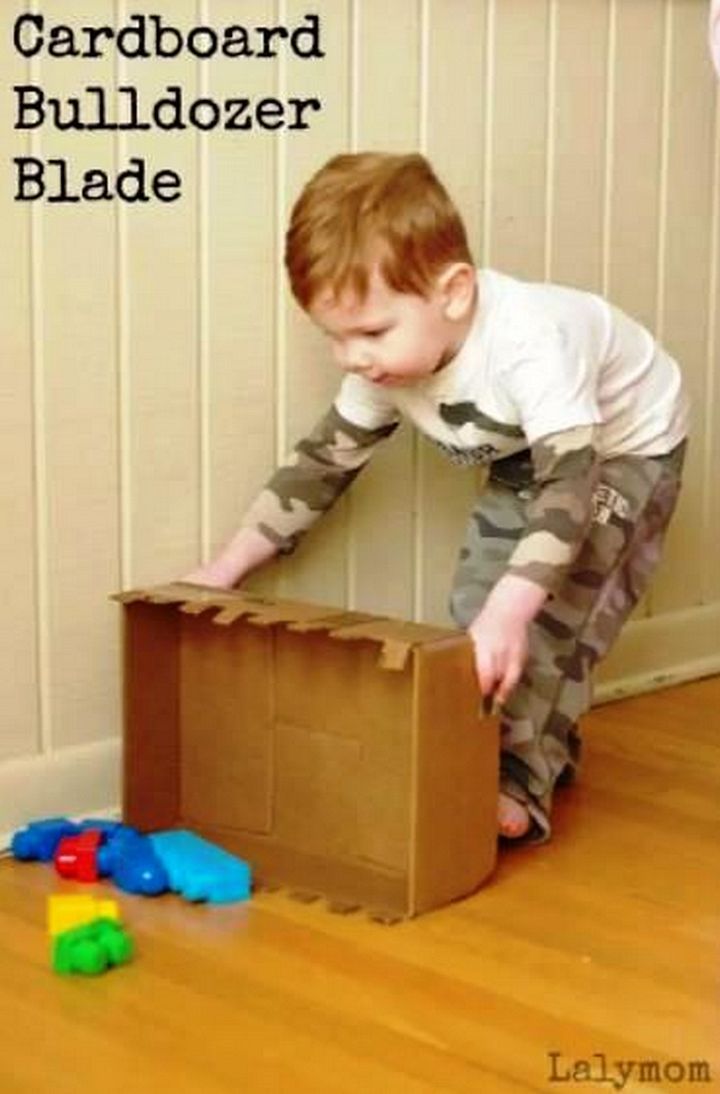 These are some cardboard crafts that you see here made easily with the help of using limited supplies. The materials that are involved here to make diy box bulldozer blade are cardboard box, box cutter, safe cutting surface and packing tape. Grab the supplies and see some creativity coming out from you in an amazing way. Tutorial
Cricut Projects Ideas – These are among the most lucrative Cricut designs to sell as a side hustle. Earn money quickly through these fun crafts you can create and sell. You can offer your products in online or in person and swiftly expand your business starting from scratch with your Cricut. Let's look at exactly how you can achieve this!
12. DIY Cardboard Cat House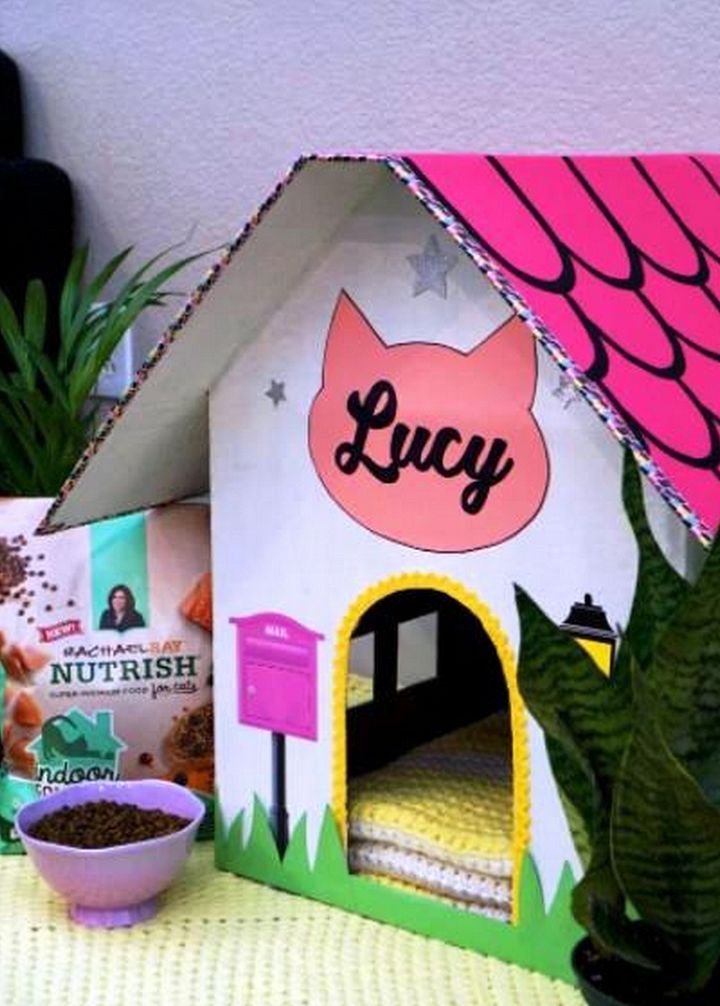 If you have a nice pet cat at home, this cardboard cat house is something that you will love. Learn to make this craft from cardboard and see your cat being happy and satisfied with its new home. You will need a cardboard box, cardboard sheet, utility knife, metal ruler, hot glue gun and embellishments. Tutorial
13. Recycled Craft – DIY Themed Room Boxes Kids Can Make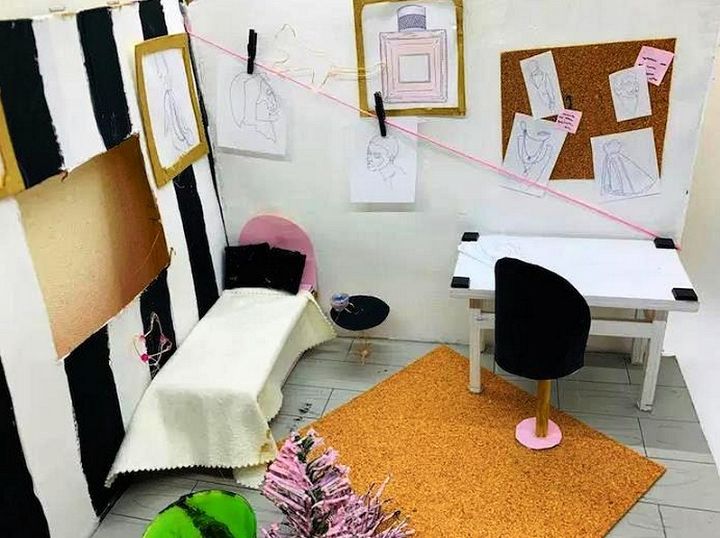 This is a recycled craft made from cardboard and you can also try this all by yourself. A complete detailed procedure is given here in the project and the list of supplies is also given so that you can be assisted and guided. These are themed room boxes made with supplies such as rug, bed, pillows, felt, glue, screw, cotton balls and sheet. Tutorial
14. DIY Cardboard Lamp Shade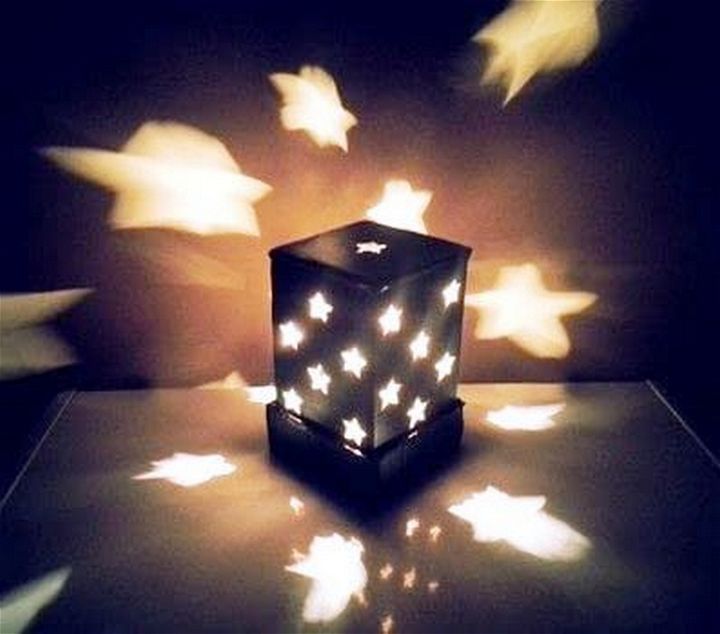 Have you ever wondered how cardboards are used in the making of a variety of craft? If not then you must look for this cardboard craft idea here and try to make this all by yourself. In this project you can see how a very nice and attractive lamp shade is made using cardboard. The supplies that are involved here are paint brush, acrylic paint, ruler, pencil, x acto knife, cardboard and light fitting. Tutorial
15. DIY Cardboard Roll Canoe Craft For Kids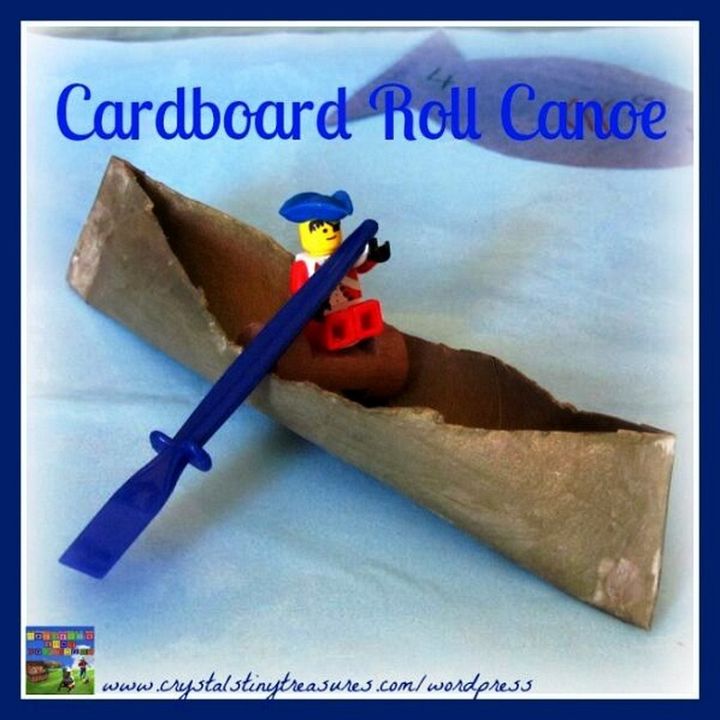 Empty toilet paper rolls seems useless sometimes however this craft is changing this thought completely. In this diy project you can see how toilet paper rolls can be used to make a nice and eye catching craft for kids. Kids will learn to paint, cut, and paste in this interesting activity. Children can play around colors in this project and be happy. Tutorial
16. Cardboard Butterfly Color Matching Activity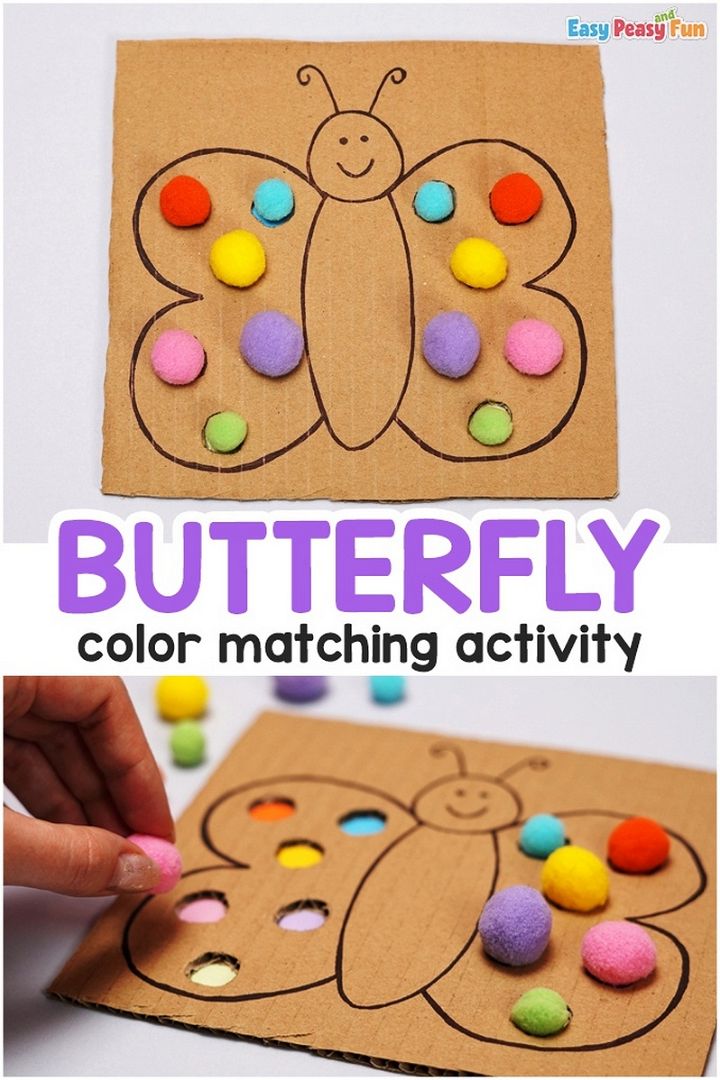 DIY Cardboard Craft: Some art and craft activities are such that they let the little kids learn a lot through them. This diy cardboard project is also one of those activates where kids can learn to remember colors, match them, pasting and cutting. Here a butterfly is made using cardboard and soe colorful pompoms are also used on the wings of this butterfly. Let your kids also recognize the colors while enjoying and having fun. Tutorial
17. Zebra Toilet Paper Roll Craft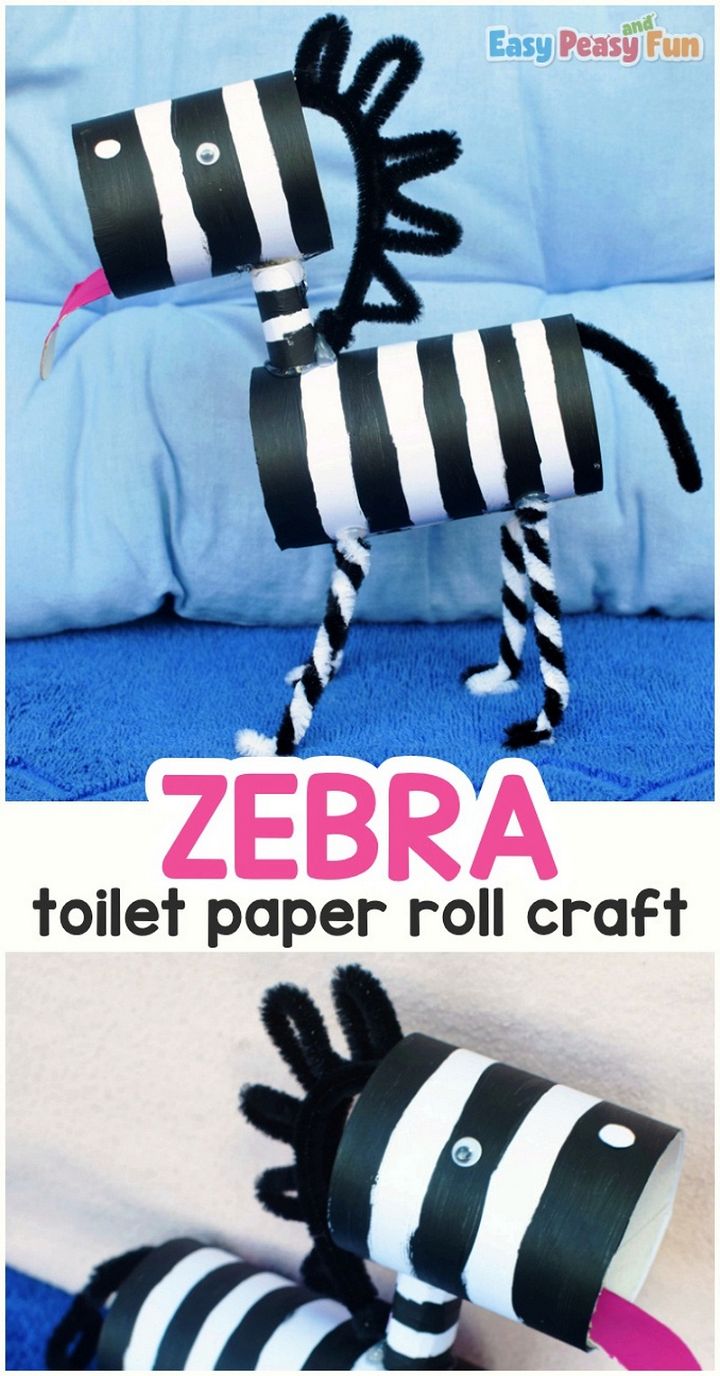 Have a look at this diy zebra toilet paper roll craft and see how you can make your own version. Zebras are definitely cool animals and all kids love it. Use black and white paint for this craft. You will start off with white cardboard and move on with the rest of the project. You will need toilet paper rolls, chenille sticks, hot glue, pencil, large eyes, acrylic paint and brush. Tutorial
18. Cotton Ball Snowman Craft – DIY Christmas Card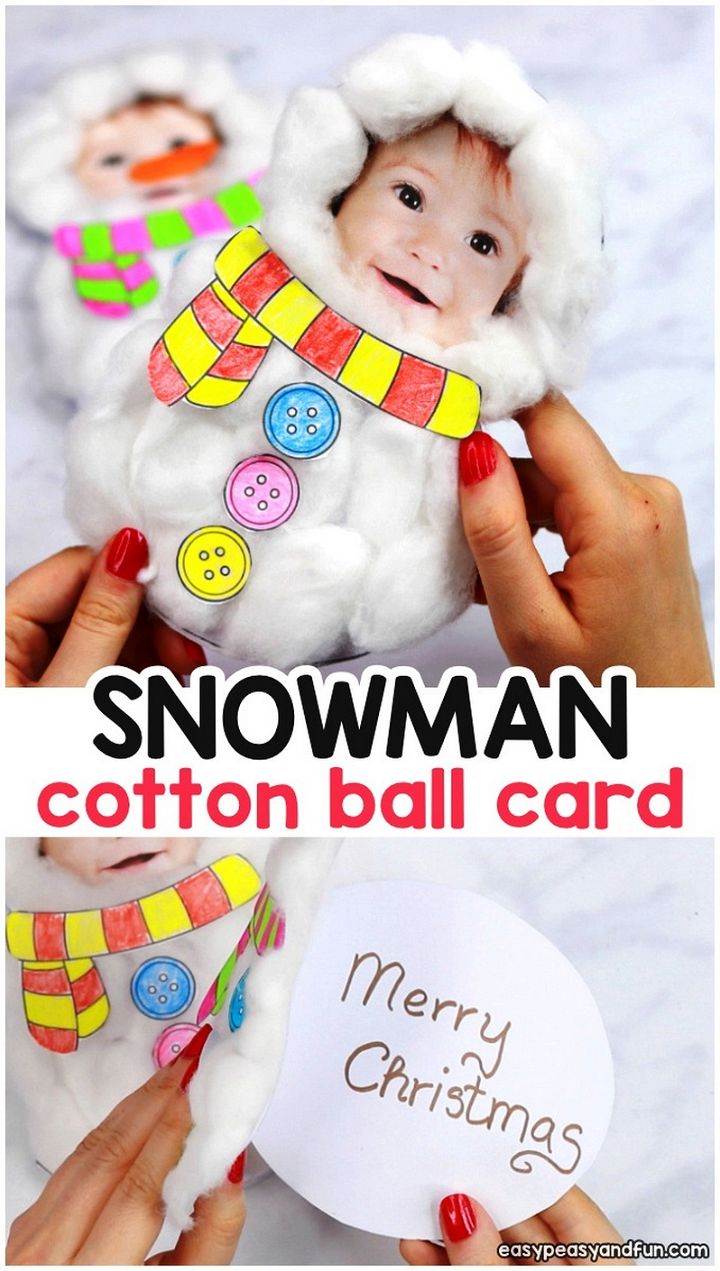 Cotton balls can make some amazing art and craft pieces. You can also use your own creativity and skills to make this snowman craft using cotton balls. For this project you need printable templates, print paper, picture, cotton swab, glue and scissors. Step by step instructions are given here so that you can easily catch up. Tutorial
Macrame Plant Hanger – In this 28 Macrame Plant Hangers To Create Greenery you'll be aware of a myriad of concepts to assist you become more proficient at this craft.
19. The Best DIY Toy Made from Recyclables – Make a Cardboard City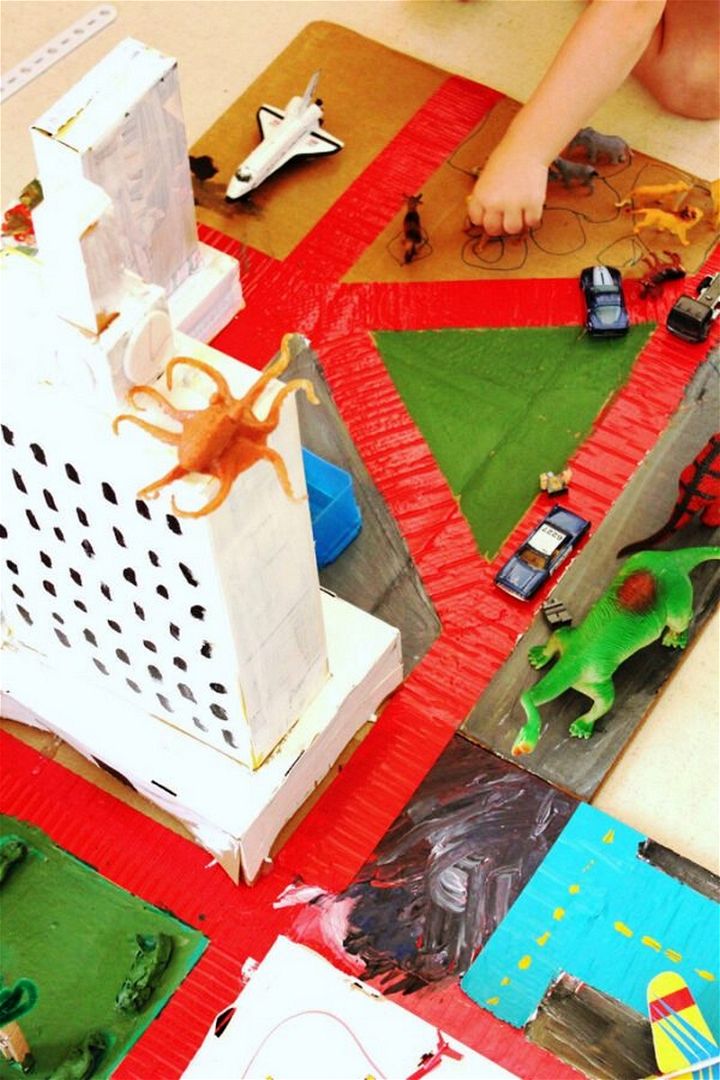 Kids mostly love creative and innovative activities and tend to learn through them. This diy project is all about helping your ids create a whole cardboard city. Besides a cardboard box you also need paint, glue, duct tape and some accessories such as matchbox, cars, animal figures, rocks, strawberry baskets, clothespin, pipe cleaners and anything you may like to add. Tutorial
20. Cardboard Box Dinosaur – DIY Cardboard Craft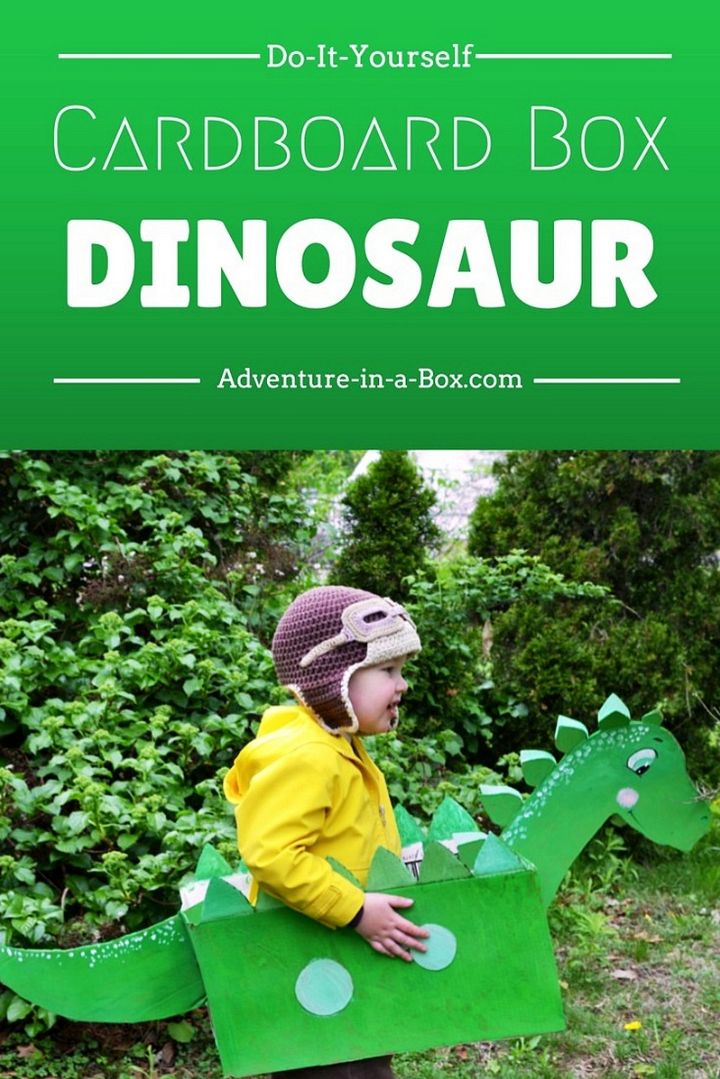 DIY Cardboard Craft: If your kids also love dinosaurs, you must make them do this recycling project. They will definitely learn through this project and will be happy with their own creativity and skills. Once you are done making the craft you will then paint it and let it dry for a long time. The painting task should be done in the outdoor space as it will create a lot of mess. Tutorial
Conclusion:
Get into the details of these diy cardboard projects and pick one of your choice for the upcoming holidays. You can make your kids learn through these projects about recognition of colors, cutting, pasting and much more. Gather a lot of cardboards and think twice before throwing them away in future as you now have many ideas for cardboard crafts.