If you want some cool and exciting ideas to make a private space for your cats inside of your house, these 18 DIY Cardboard Cat House Ideas are something that you can easily try. Even If you are a beginner in art and crafts you will still be able to get along with the plans here. See the projects that are presented here and decode how your own versions of the cat houses can be made. All the cardboard boxes here are so adorable and are no less than a playhouse for your little fur baby. Cats like to play with boxes and if they will get to live in one that is especially for them, they will be happier than ever before.
all of the DIY cat house ideas that we have here are designed in a way that the cats can enjoy and have fun in. You can add some decorations also inside of the house in order to make your cat feel playful and cheerful. You can make indoor cat houses for your cats with the help of these projects. Besides this among these DIY plans to make cat houses, you will learn how you can use old boxes and turn them into amazing cat houses that will also serve as playhouses for your cats.
1. Cute Cardboard Cat House Plan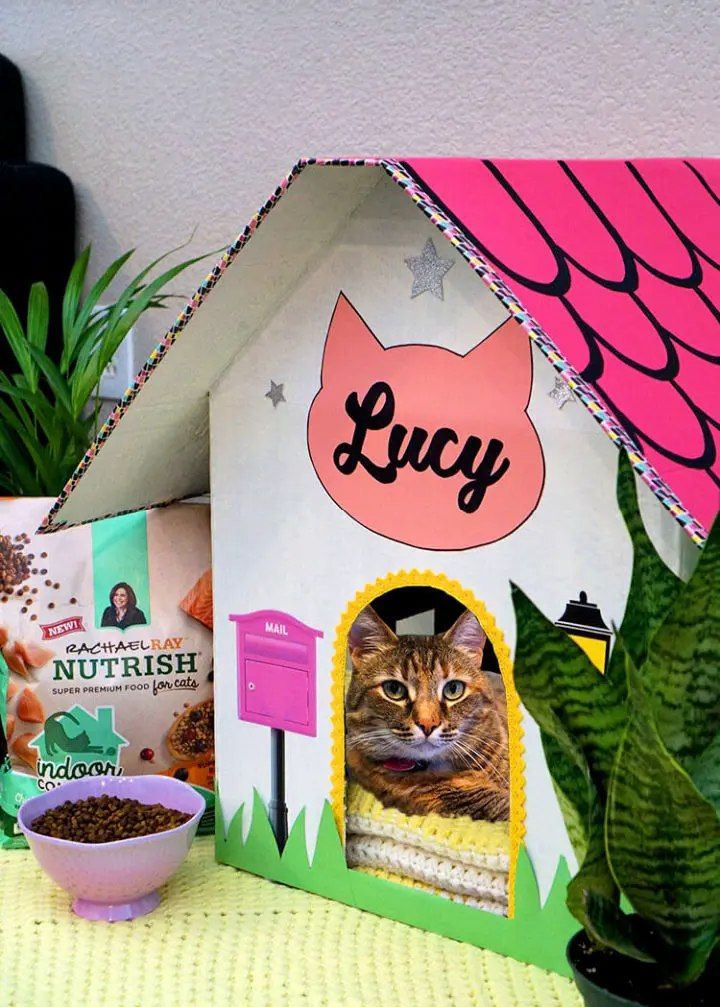 If you also wish to make something special for your cats, this cat house plan is something that you will love. If you like the results shown here in the details, try this out by firs gathering the details of the crafts involved. The list if supplies include cardboard box, cardboard sheet, utility knife, metal ruler, hot glue gun and embellishments. Tutorial
2. Indoor Cardboard Cat House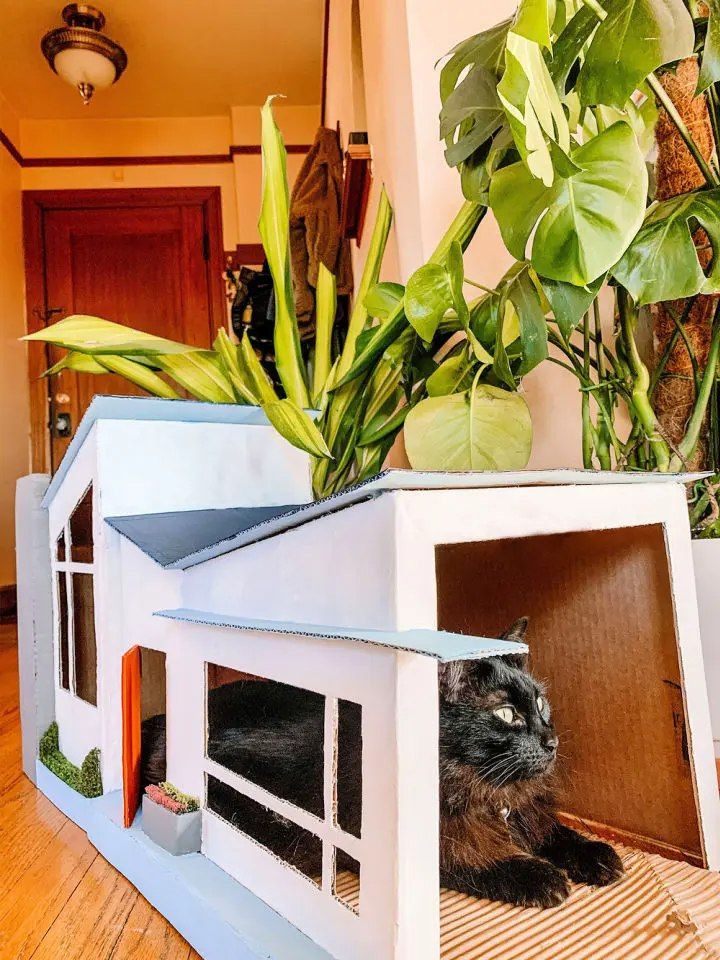 If you have an indoor cat, you must try to give her a new home that you can make with the help of this project. The tips and tricks that are given here in the details will help you a lot in art and craft activities in future. You need supplies like cardboard, exact knife, metal ruler, glue, craft paint and measuring tape. Tutorial
3. Colorful Cardboard Cat Playhouse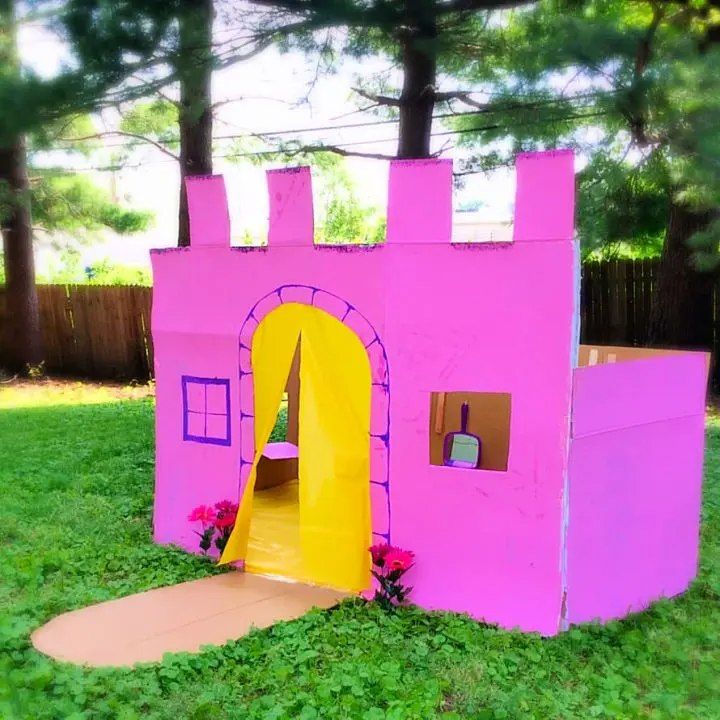 Cats always love to play all day long with things like boxes, cardboard pieces, and different stuff like that. This diy cat house plan that you see here is something that you would love to make for your pet so that it can enjoy and sit back and relax in it at the same time. Tutorial
4. Cardboard Cat House to Sell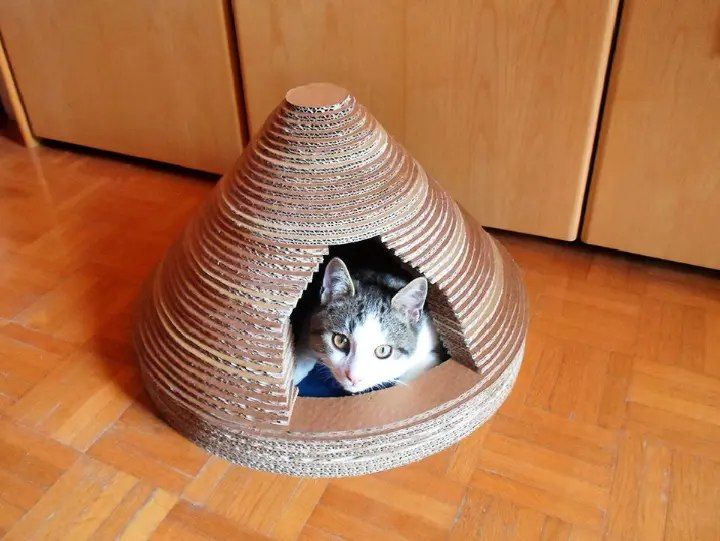 If you are interested in making cat house, this plan here is something that you will be easily be able to catch up with. You can make a nice cat house not only for your cat but also for selling purpose. Gather the materials and see how things can be done in your way. Tutorial
5. Cat House Out Of Cardboard Box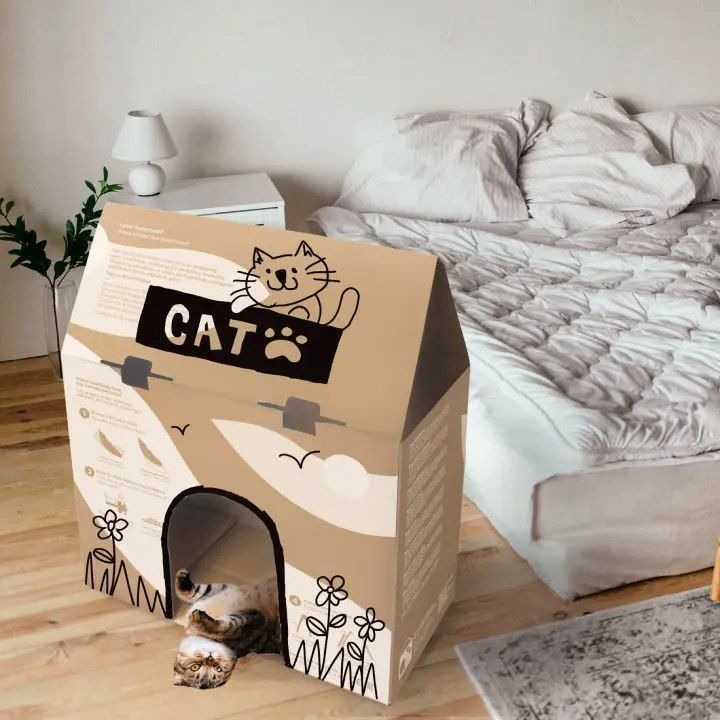 It's not always necessary that you make a cat house for you cats using expensive materials. Here in this project you will learn and get to see in the tutorial how cardboard can make a nice cat house along with some basic supplies. the list of supplies that you will need tom make this house are cardboard, penknife, pair of scissors, colored markers, scotch tape, blankets and some embellishments. Tutorial
6. Cabana Inspired Cat or Dog House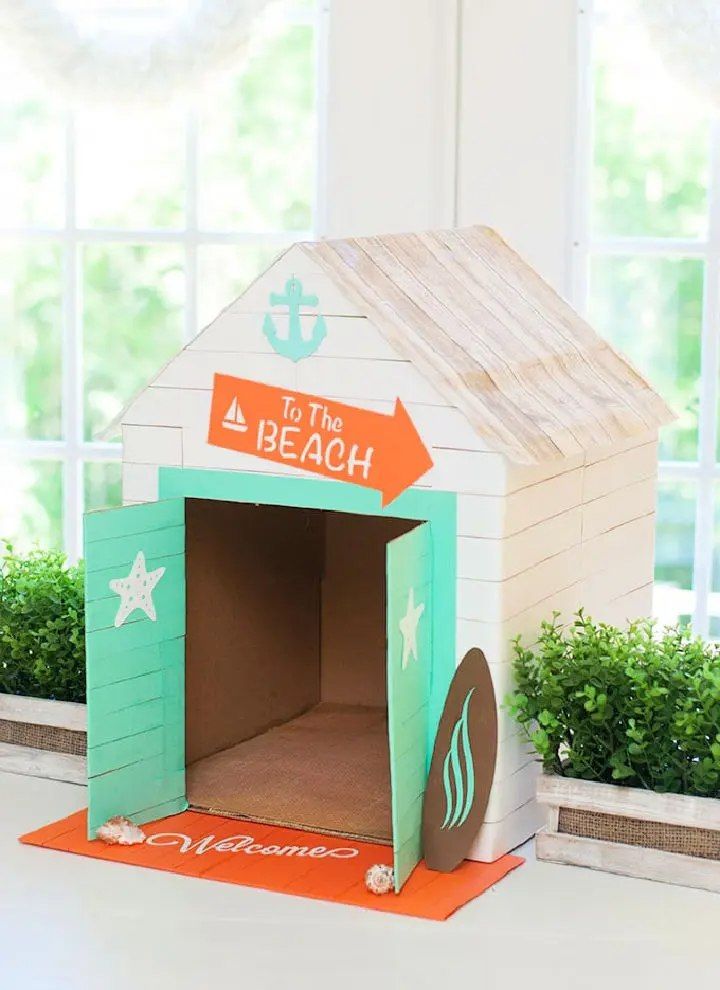 Take a look at this amazing cabanna inspired cat or dog house a try this out by yourself. You will start off by making your box shape. Secondly you will have to add planks wall. You will then add front planks and roof. You will add roof in the next steps and make a front walk Tutorial
7. VW Bus Cat House Out Of Cardboard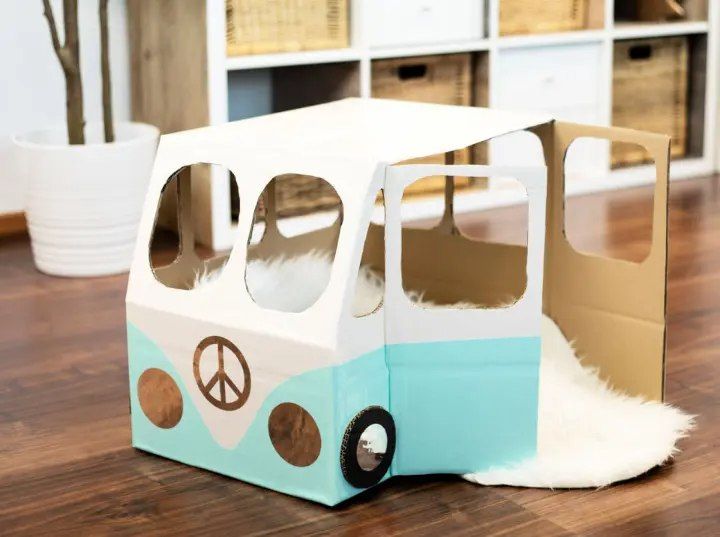 Look at this bus cat house made out of cardboard and try to make this by yourself. You can use scrap pieces of cardboard to make this cat house. Once you are done making the cat house, you can then add fur inside it to bring some softness for your cat to sit back and relax. Tutorial
8. Turn Old Boxes Into An Adorable Cat House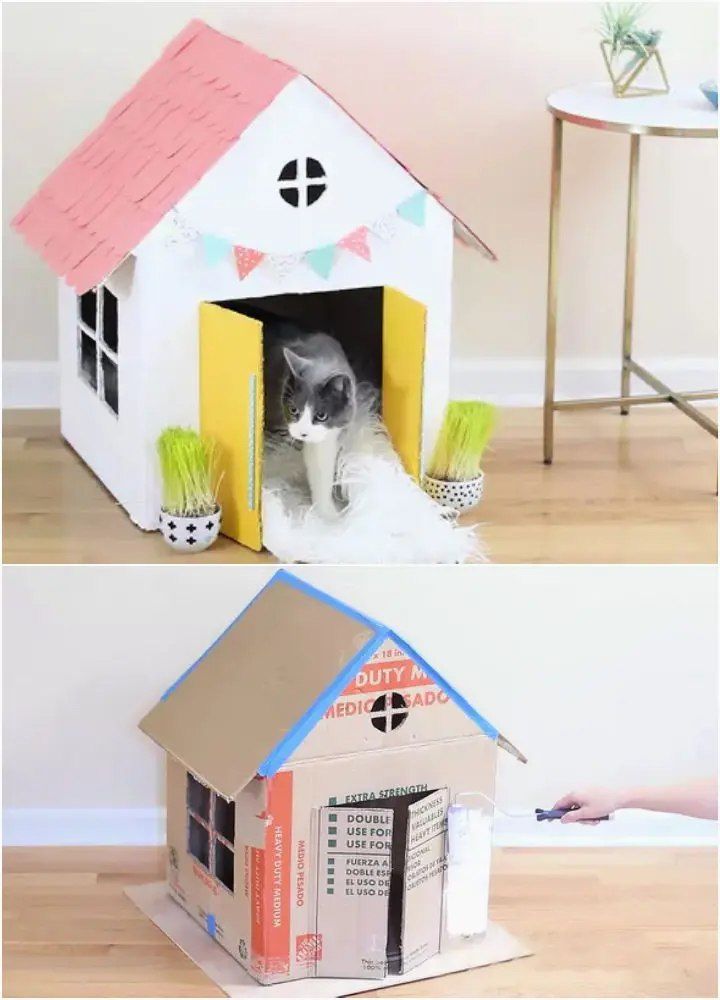 This diy project here shows how we can make use of old boxes from your house and make an amazing cat house for your pet. Cats are always fond of empty boxes any which ways so you can make them one for them and also decorate it so that it looks pretty and attractive. Tutorial
9. DIY Cardboard Cat House or Cat Castle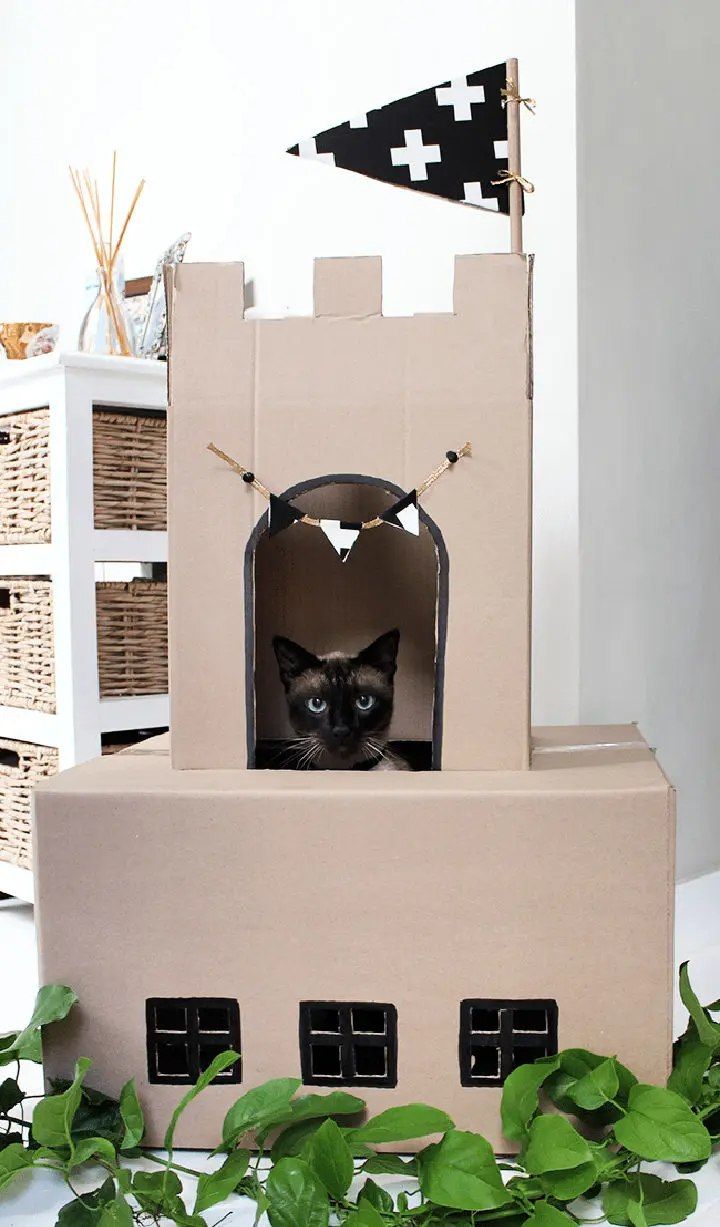 Have a look at this cardboard castle that you can also make for your fur baby. You will need things like cardboard box, tempera paint, shims or paint sticks, inexpensive plastic table clothes, string, packing tape, glitter and hot glue. Gather the materials and get started with the process. Besides this you will also need some tools and some optional stuff listed in the details of the craft. Tutorial
10. Cardboard Cat Playhouse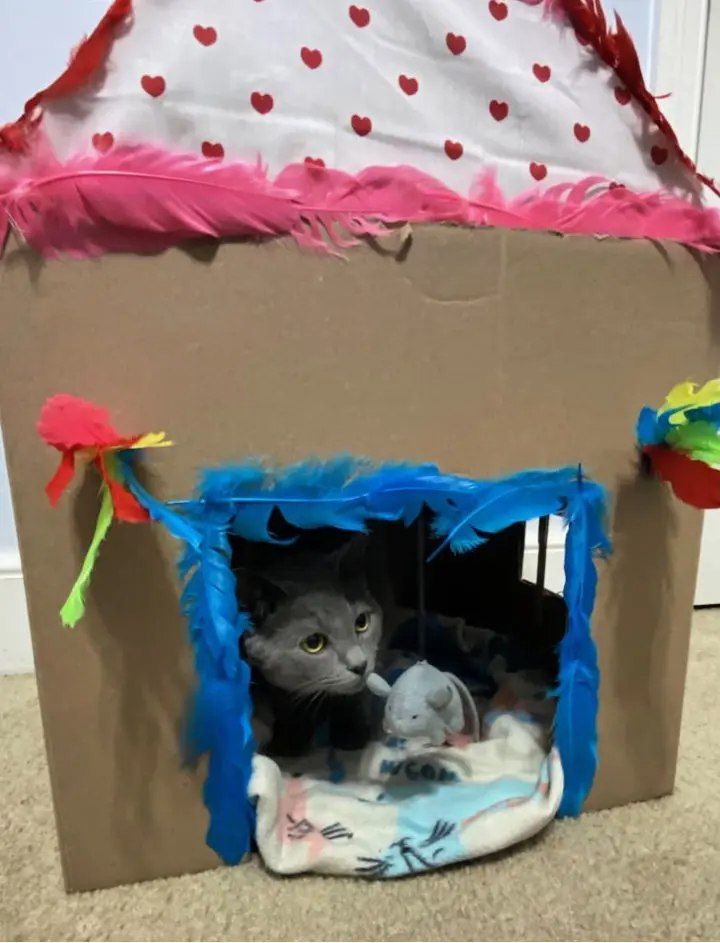 Cardboard is something that can make for your some artistic and creative stuff. In this diy project you can see how cardboard can make an excellent cat house for your cat. You need to have a lot of corrugated cardboard, cutter, pencil, compass, ruler, white glue and paint brush. Tutorial
11. Cardboard Box Fort for Your Cat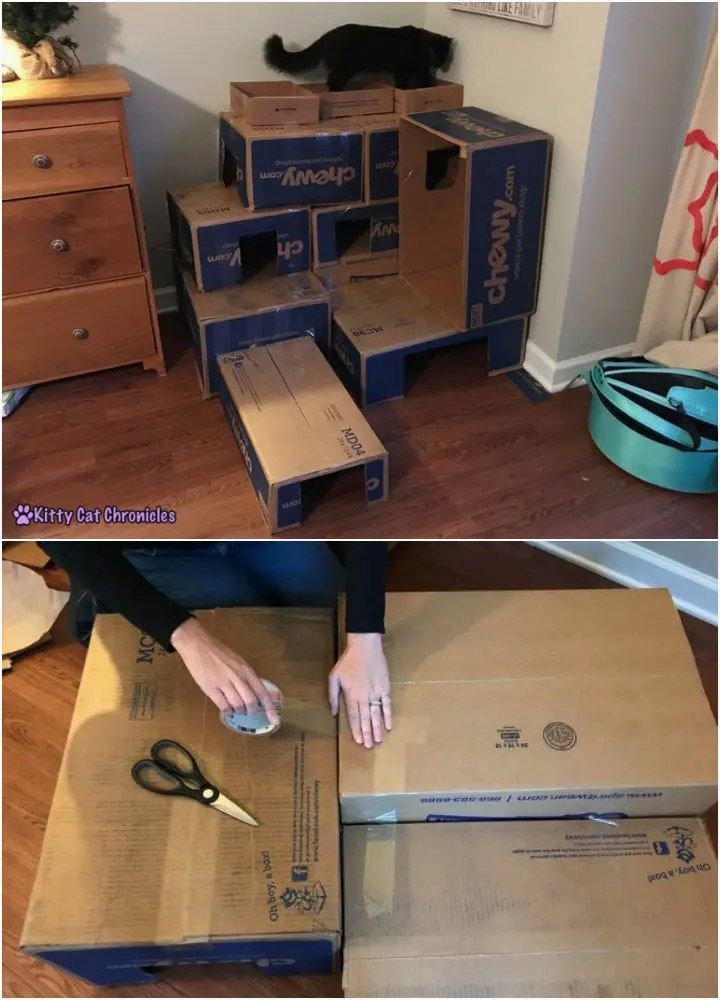 If you love your cats to bits, you will surely love to make special crafts and home for them inside of the house. This projects will teach how you can make a fort for your house using cardboard. Gather the supplies and get started with this fun filled and interesting activity. Tutorial
12. Kitten Cat Pet House from Cardboard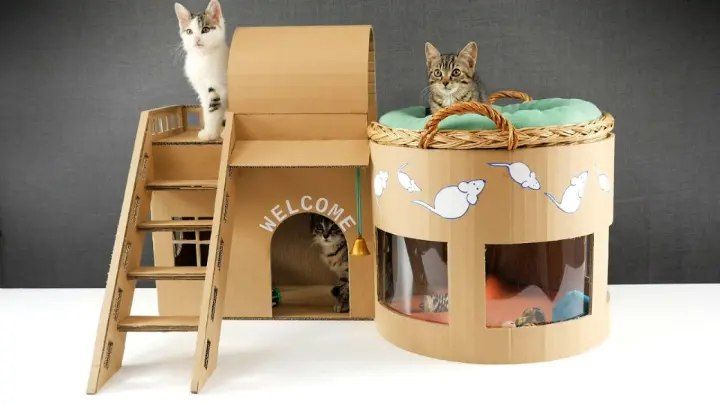 Have a look at this kitten cat pet house and see if you can also make this by yourself. You can see detailed description is given here along with a tutorial so that you can easily get along and make something special for the cats at home. Your cat will not love to live in this house but will also use it as a play house. Tutorial
13. Cat House from Cardboard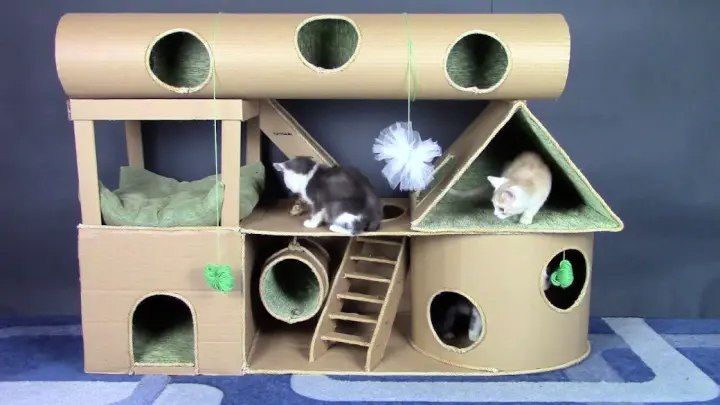 Are you also amazed with the idea of making a cat house using cardboard? You will need cardboard and some basic supplies and materials for this craft so get started. You can add features that will allow your cat to play in a limitless environment and be as playful as she wants. Tutorial
14. Cardboard Box Cat Playhouse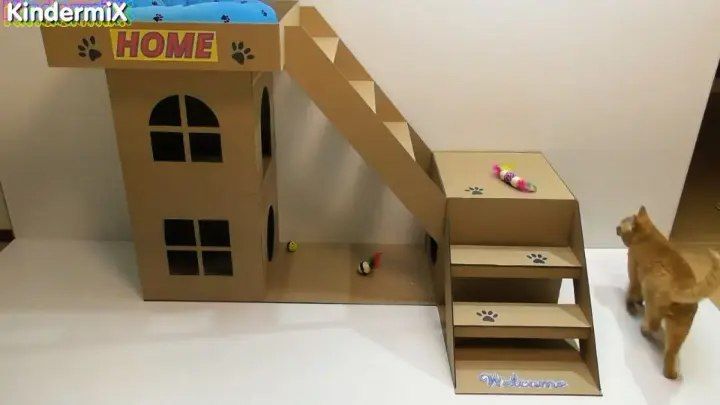 If your cat also loves to play with boxes, this cat house will work a play house for her and you can easily build this at home. A complete detailed tutorial is given here so that you do not miss out on anything and get the perfect results at the end. Follow the direction and see some magic going all over. Tutorial
15. DIY Cardboard Cat Mansion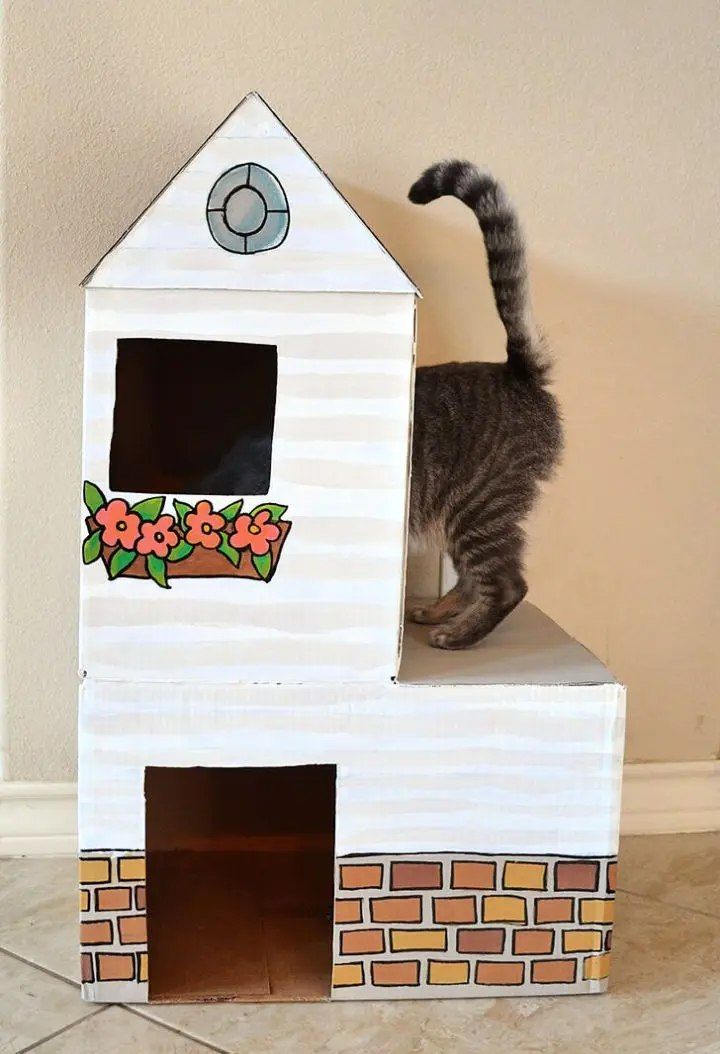 Cats are playful creatures by nature and they love to explore and play all day long with different things. This diy cardboard box that you see here is something that any cat would love to play and live in. you can now make your fur baby happy and cheerful with this amazing cardboard cat house plan. Tutorial
16. Homemade Cat House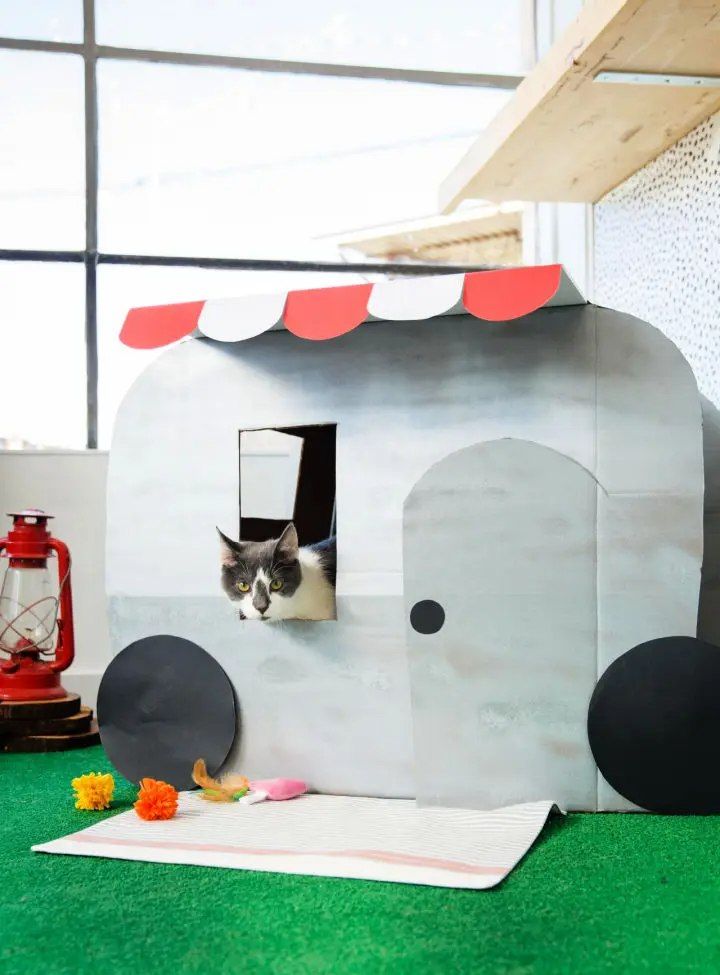 Homemade things are always cool and inspirational therefore you must try making a cat house by yourself at home. The materials that you will need are cardboard boxes, duct tape, marker, scissors, spray paint, stencils, utility knife, construction paper and tape. Tutorial
17. Easy DIY Small Cat House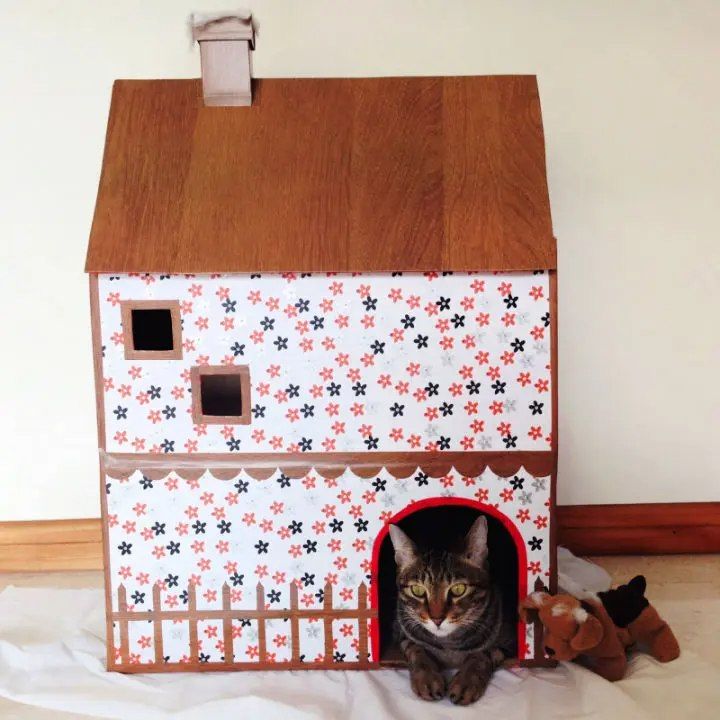 This is a super easy tricks here to make a cat house by yourself at home. You can now make your cats happier than ever before with the place that they can live in. all cats like cardboard boxes and this house here is also made of some cardboard boxes and some basic supplies like scissors and tape. Tutorial
18. How to Build a Cardboard Cat House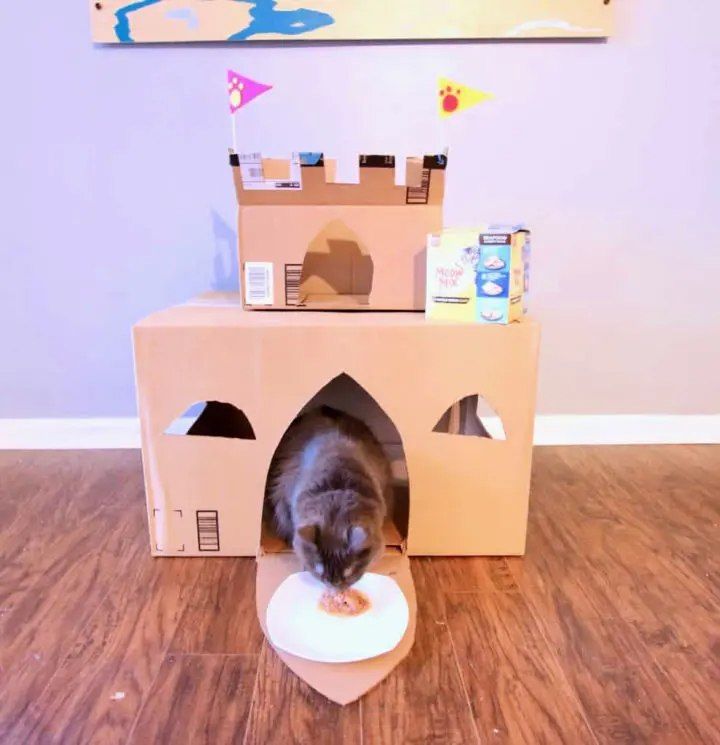 Let's see in this diy project how a cat house play house can be easily made within only a few minutes. Use your creativity as much as you want in this project and you will be able to give your cats a better place to live. Besides cardboard boxes you will need things like strong clear tape, scissors, box cutter, felt, ribbon, hot glue gun and supplies that you can decorate the house with Tutorial
Conclusion:
Pick and choose any of your favorite projects from here and see if you can make anything that can not only make your cats happy but will also give them a private space to live inside of the house. Cardboard is a cheap materials and therefore the cat houses that you will make will be cost effective and budget friendly.