These 20 Dazzling and Cheerful DIY Candle Holder Ideas seem to be really magical when it comes to Home Décor. Candles play an important role in making any household look perfect and royal hence these holder ideas will make things even better. You will see in the details of these plans that they are all very simple and quick. You can complete any of your favorite ones of these over a weekend. Gather the supplies for your favorite project and see how everything is done in the process.
Many of us like to decorate our houses with candles all over for the festivals. These DIY candle holder ideas are so perfect for such festive celebrations and decoration that you really need to select one or more of these to make your own holders for the candles you have at home. Besides this here we have tea light candle holder ideas too that are also very attractive and cool.
1. DIY Candle Holders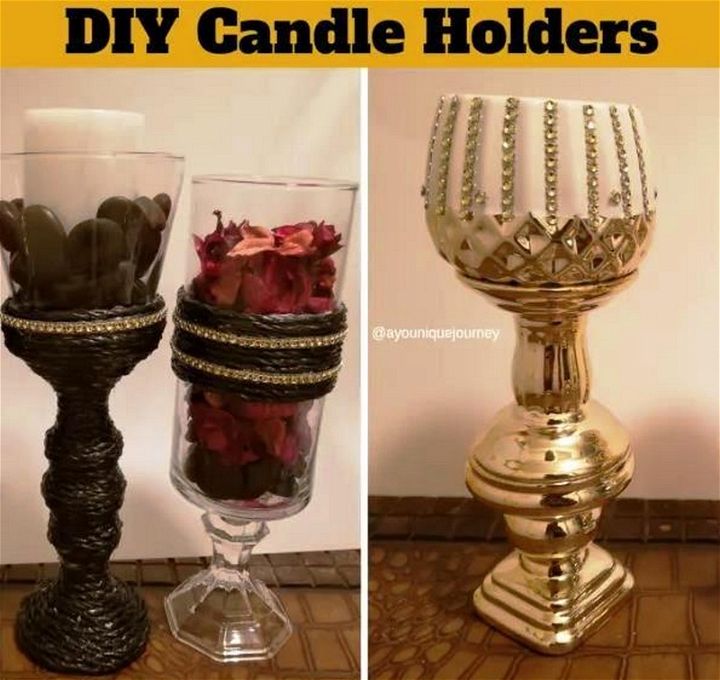 Candles are something that decorates any space like nothing else can. If you are also a fan of candles all over the house then this you will find this diy candles holder project very appealing. For this gorgeous candles holder you will need glue, hot glue gun, glue sticks, two pair of gold candle holders, white and gold jars and adhesive diamond wrap. Tutorial
2. Easy DIY Tall Candle Holder for Fall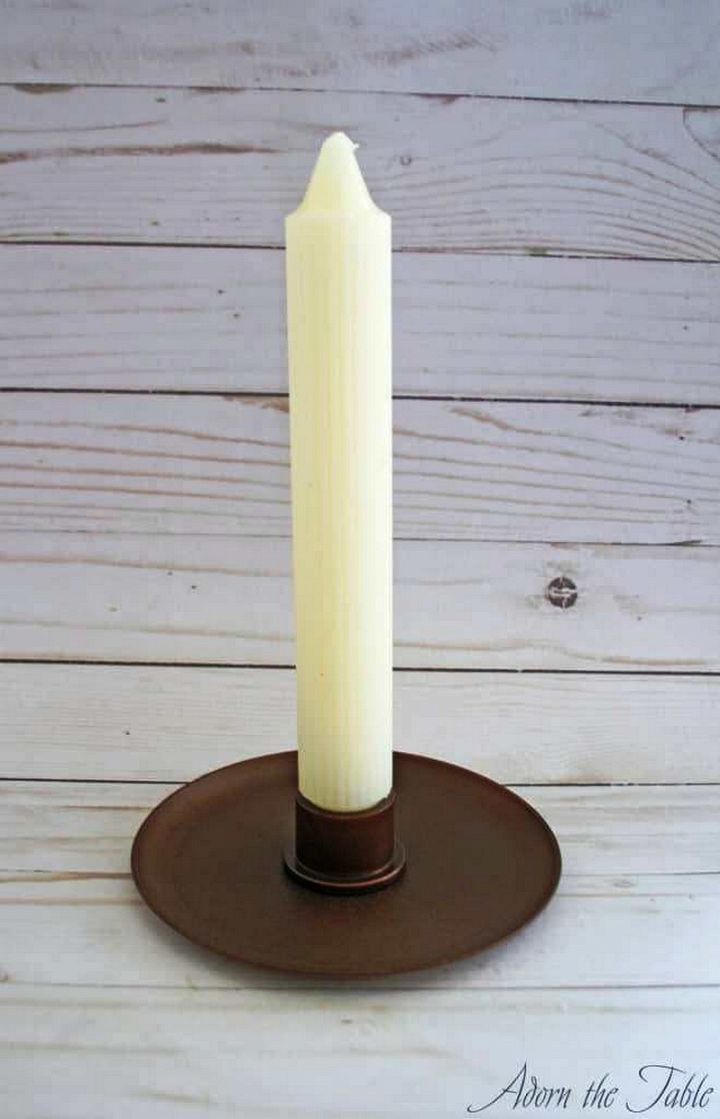 Have a look at this diy tall candle holder for the upcoming fall season. Surprisingly some plastic plates are used in this project. Besides this spray paint and hot glue gun are also used in the project. Other than this PVC bushing is also used in the making to secure the candle. Tutorial
3. How to Make a DIY Wood Candle Holders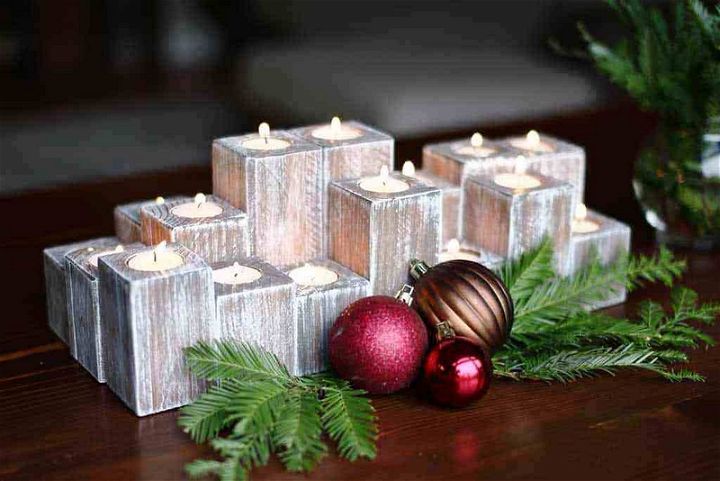 In this diy project you will learn to make wood candle holders. With a little bit of effort you will some of the amazing results coming your way. The list of materials include tape measure, drill, random orbital sander, drill bit, table saw, miter saw and clamps. grab the supplies and get started. Tutorial
4. DIY Candle Holders From Soda Bottles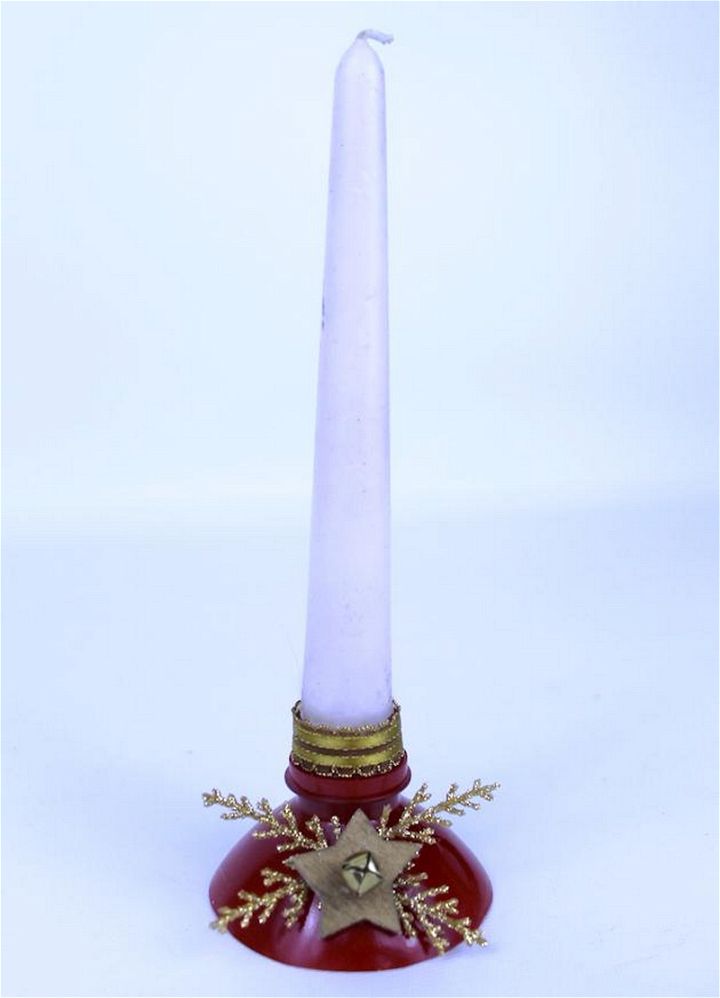 Do you realize how soda bottles can make some very good looking candle holders? This diy project is all about making such lovely looking candle holders easily with just a few steps. You will need soda bottles and x acto knife. Besides this you will also need paint, hot glue and ribbon in your desired colors. Tutorial
5. Wonderful DIY Pretty Leaf Candle Holder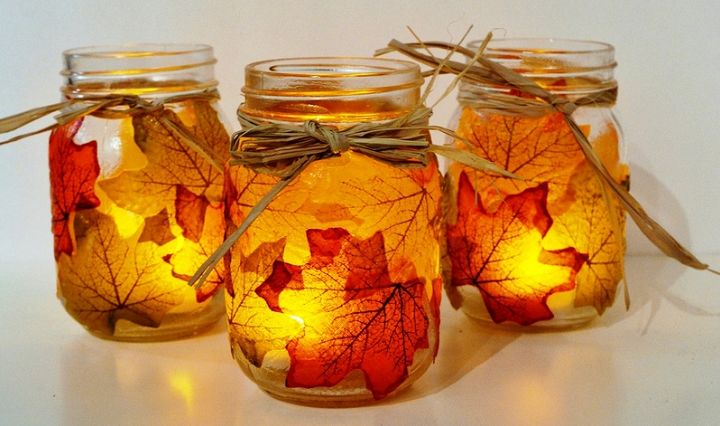 Have a look at these pretty leaf candle holder and see how you can make it all by yourself. There are many different styles of candle holders available in stores however this one is surely unique and since it's homemade so it's quite special. Grab the supplies and get started with this interesting mission. Tutorial
6. Easy Winter Glass Candle Holder Decorations Tutorial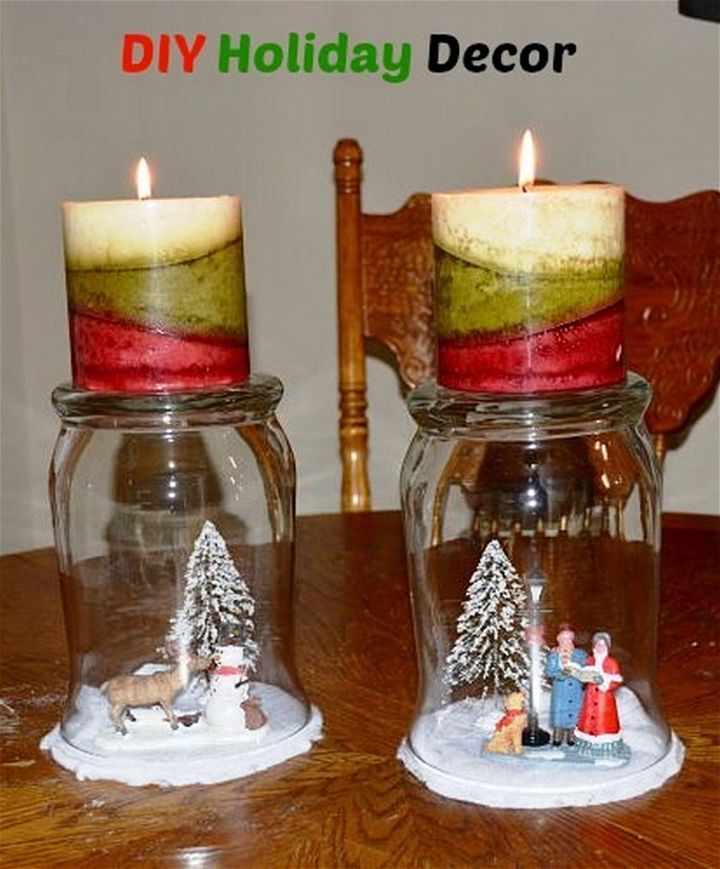 This seems to be a winter special candle holder that you see here in this project. This cozy and warm candle holder will definitely bring some spark to your home décor. For this you need glue gun, cardboard, sharpie, felt, glass hurricane candle holders, and figurines, faux trees with snow, snow covers and wide candles. Tutorial
7. How to Make a Resin Candle Holder with Dried Flowers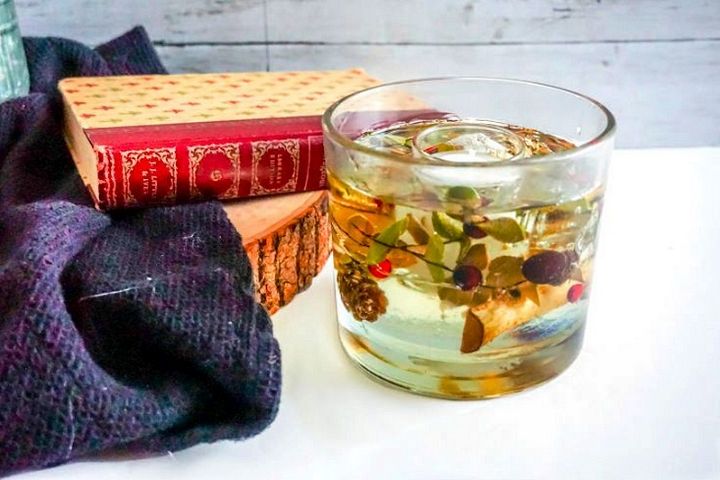 Here you will learn about making a resin candle holder all by yourself. Get into the details and also see the tutorial to achieve the desired results. Candles are surely becoming popular in the home décor these days. The list of materials include short glass vase, dried flowers and botanicals, epoxy resin, candle filled glass votive or large candle. Whereas for the tools you will need disposable cups and dowel or craft sticks. Tutorial
8. DIY Large Candle Holder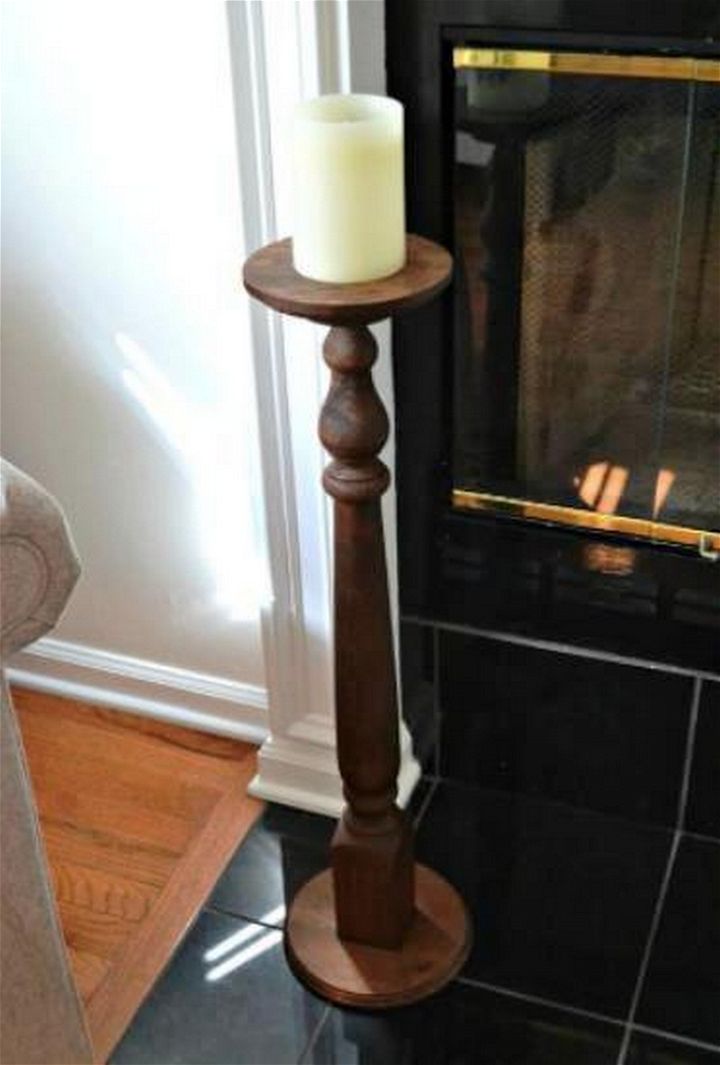 This diy large candle holder is very pretty and elegant that you will definitely want to try it soon. The supplies that you need for this project are wood table leg, pine circle plaque, flat head screws and stain or spray paint. You are given clear directions as well as instructions so that you can achieve the desired results. Tutorial
9. Wood Candle Holders as a Simple Dining Table Centerpiece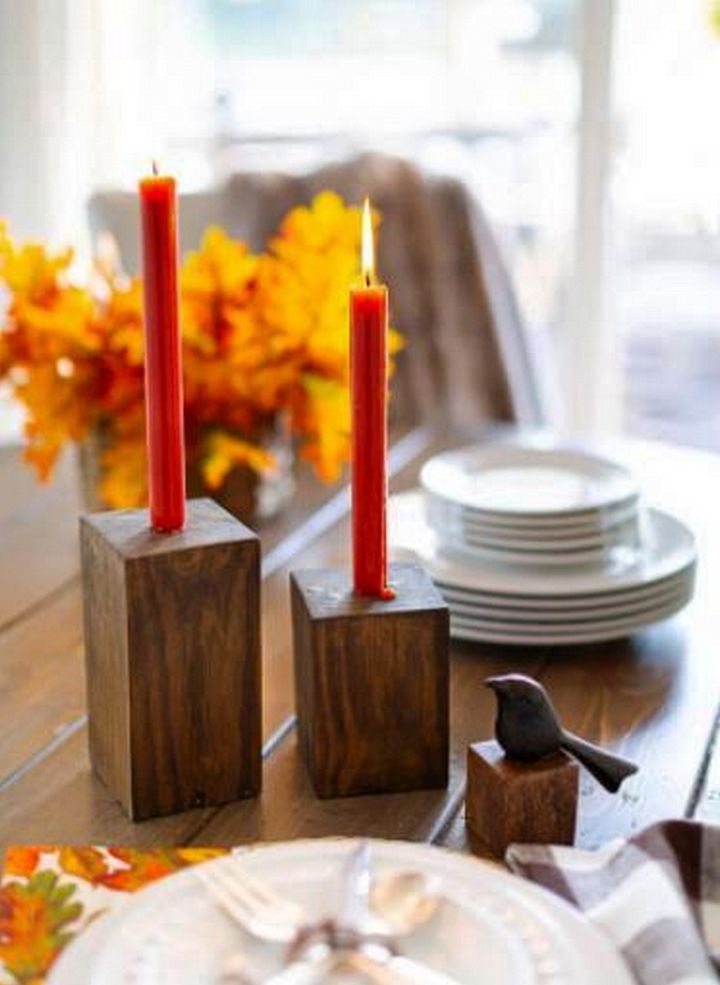 Center pieces are very important for dining tables and this project is also related to your dining area. This diy candle holder will serve as a beautiful centerpiece for your dining table. You can complete this project in less than one hour. The supplies that you need are scrap piece of slab of wood, circular saw, spade style drill bit, wood stain color, clear coat polyurethane, rubber gloves, paper towel, tape measure and pencil. Tutorial
10. Rustic DIY Candle Holders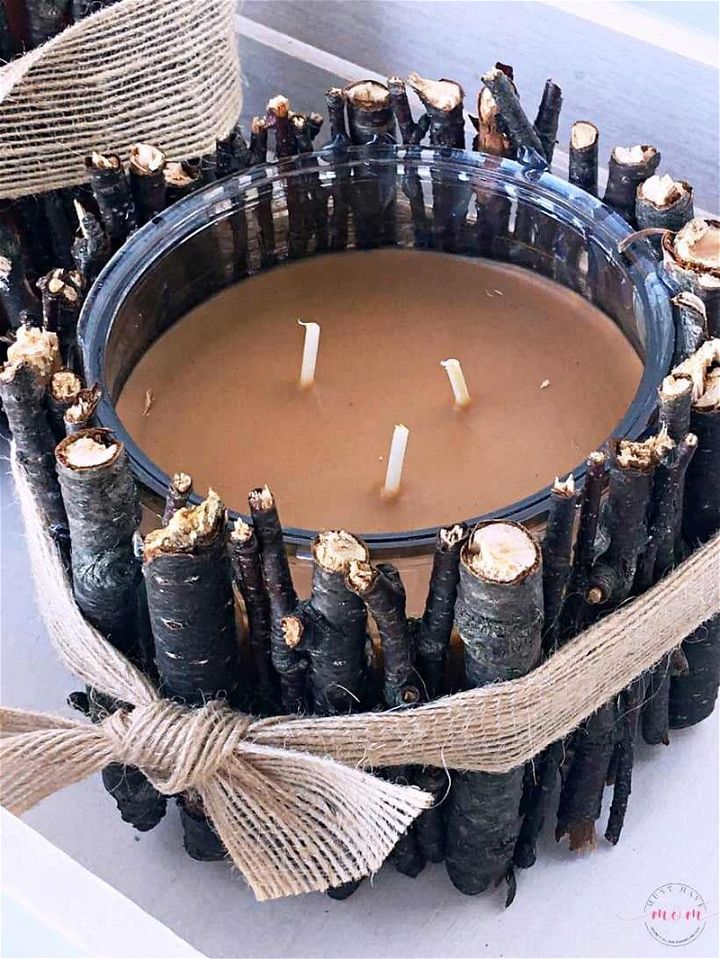 This diy project is all about making rustic candle holder for the upcoming winter season. If you are also a fan of rustic theme, you will love this project. This farmhouse style décor with a rustic candle holder will give your house a whole different look in general. The supplies include twigs collected in the woods, burlap ribbon, candles in clear glass jar and hot glue gun. Tutorial
11. DIY Leaf Candle Holder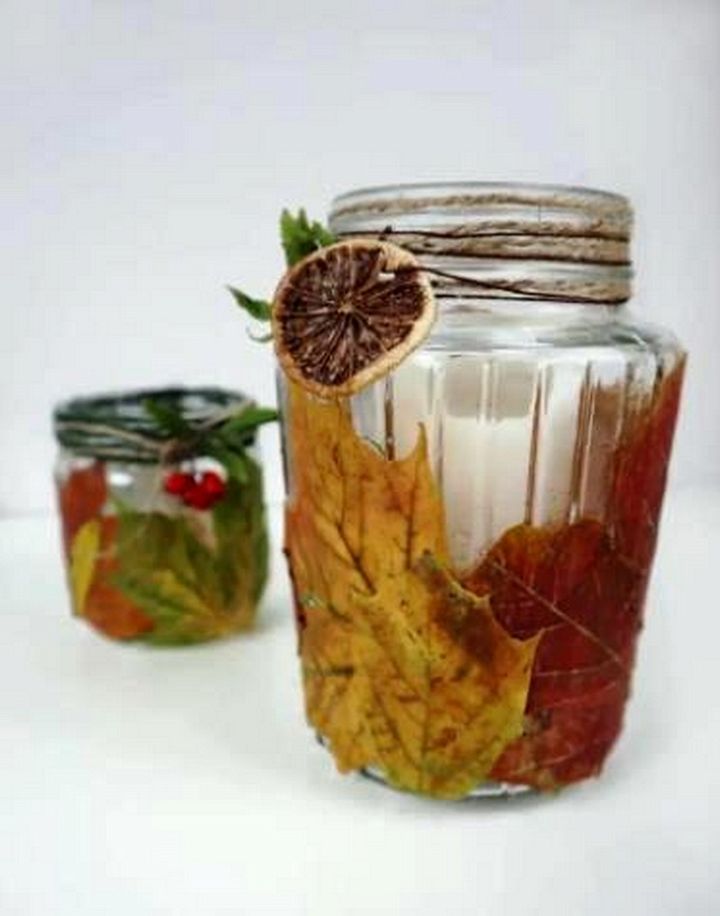 Are you interested in making this leaf candle holder? If yes then get started with this project. With a little bit of effort you will be able to create something amazing for sure. This candle holder is perfect for the fall décor which is just coming up. Besides a jar you will also need leaves, mod podge and decorative ribbon. Tutorial
12. DIY Marbled Candle Holders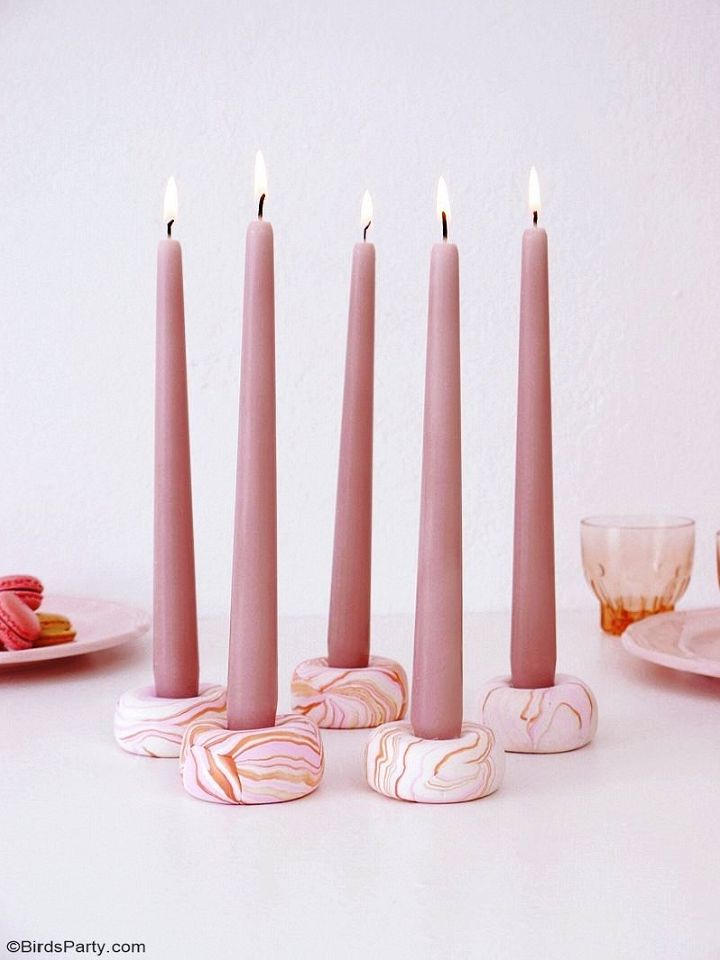 These marbled candle holders are quite attractive and special. You can learn this process with the help of this diy project over here. You will need a block of white polymer clay, colored polymer clay, and craft knife, taper candle for shaping, parchment paper and baking tray. Tutorial
13. DIY Pillar Candle Holders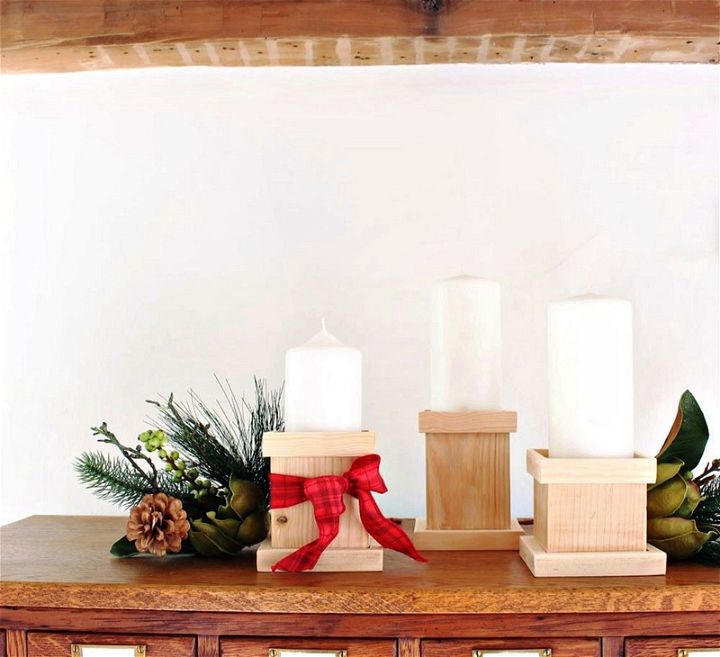 This pillar candle holder project will definitely guide you towards the making of some beautiful stunning and elegant candle holders of all times. You will need scrap wood along with some basic tools and supplies to do this mission. If you are also a candle lover this project will excite you for sure. Tutorial
14. How To Make A DIY Candle Holder From A Birch Branch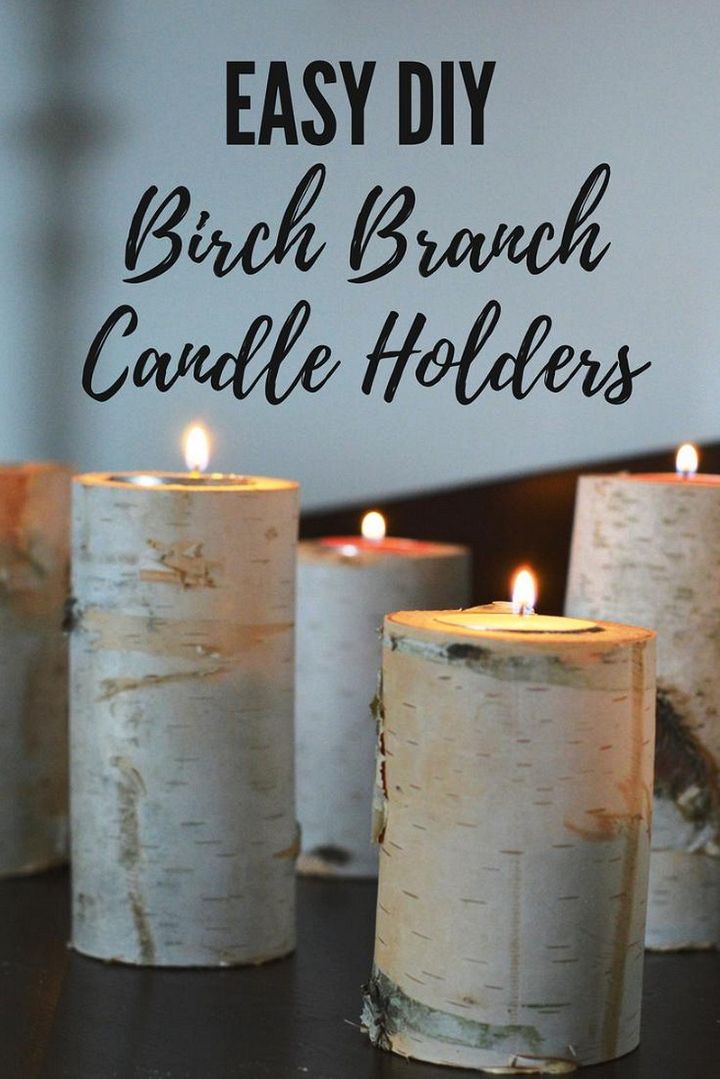 Get into the details of this super exciting and amazing diy candle holder project and see how this is done. A lot of cutting, drilling and assembling is done in order to achieve some desirable results. Once you are able to understand the whole process you can alter some of the steps according to your own choice. Tutorial
15. Scrap Plywood Candle Holders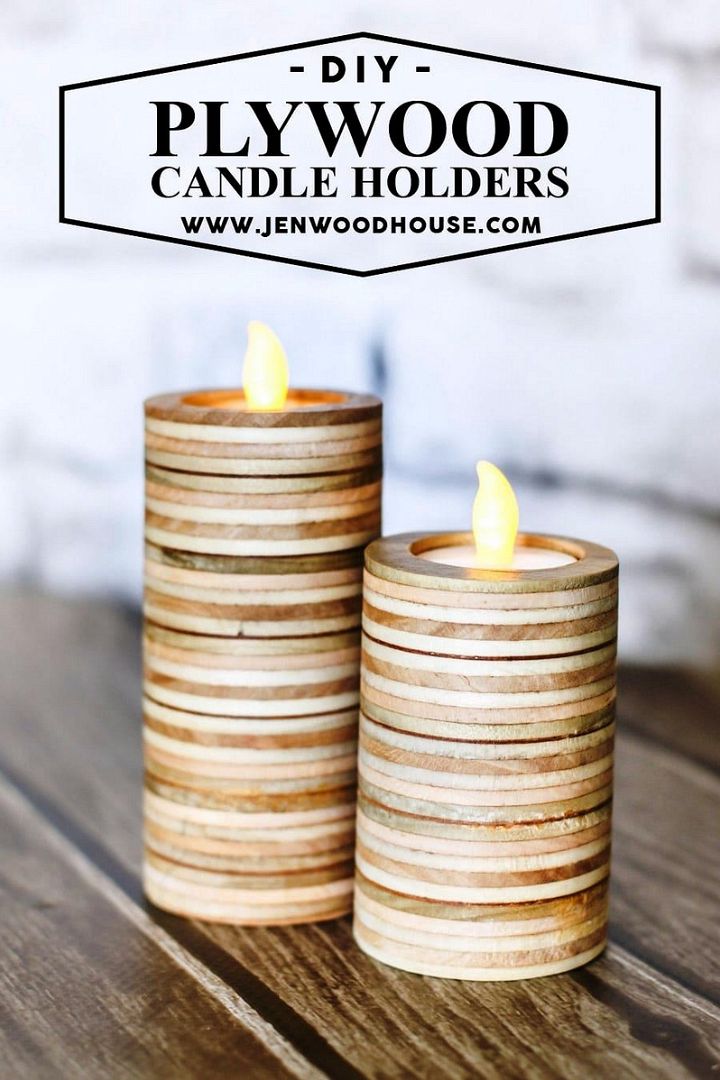 If you have any scrap plywood from any diy project, you can surely use it in this candle holder project. These tea light candle holders are son perfect that you will definitely want to decorate any space in your house with these. Grab the supplies and try to transform any corner of the house with this beauty. Tutorial
16. DIY Rustic Candle Holder Out of a Wine Glass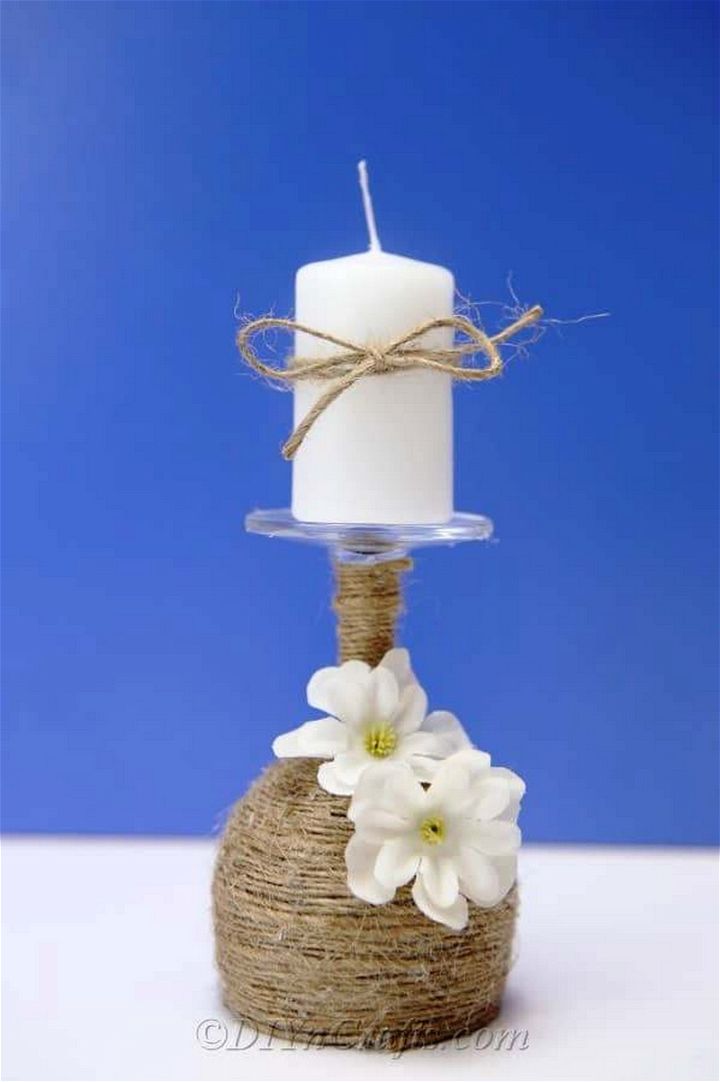 Do you realize how a wine glass can be transformed into a rustic candle holder within a few minutes? If not then you must see the details of this project and make your own version of this project. The materials include wine glass, large candle, twine and faux flowers. For the tools you will need hot glue and glue gun and scissors. Tutorial
17. Cinnamon DIY Candle Holder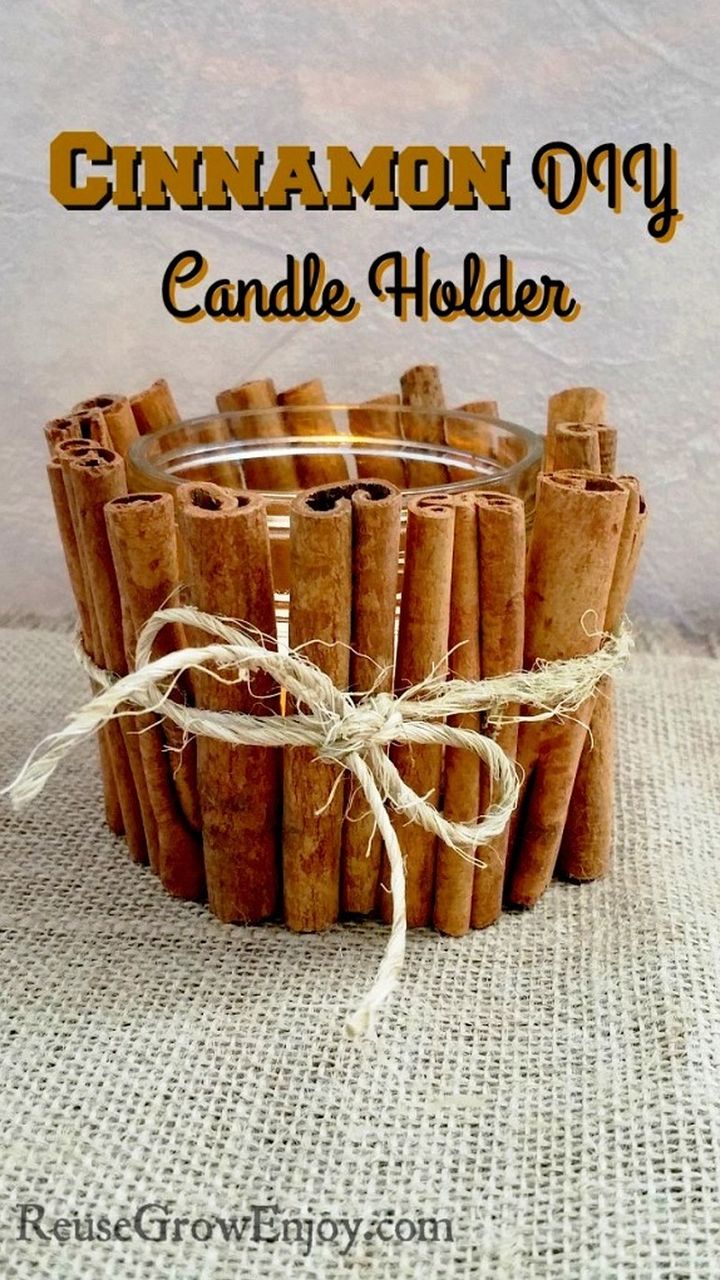 This cinnamon candle holder is easier than it seems. The materials include jelly jar, twine, scissors and tea light candles. Get into the details in order to achieve the desired results. Besides this you will also find a tutorial which will help you a lot. Once you are done making this candle holder you will be able to create a mesmerized and beautiful ambiance inside of the house. Tutorial
18. Lego DIY Candle Holder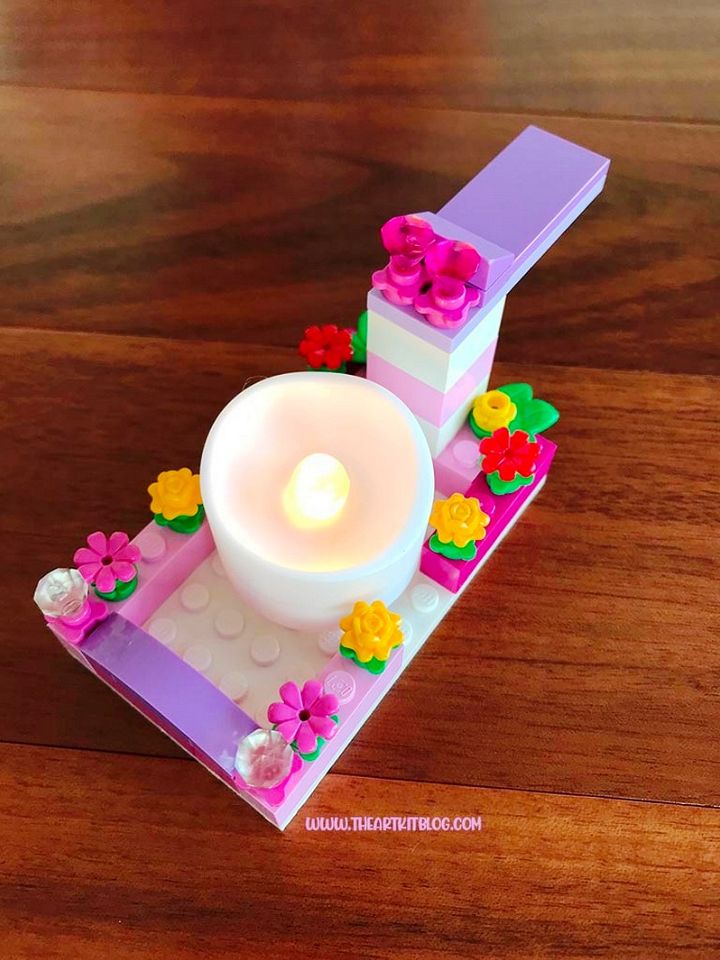 When it comes to candle holders, you will find a variety of ideas everywhere and you can choose according to your own choices and requirements. This is a Lego diy candle holder idea that you see here. Make this candle holder for the candles in your house. The list of materials include Legos, extra Lego dots to decorate your candle holder and a battery operated candle. Tutorial
19. DIY Sand And Pearls Candle Holder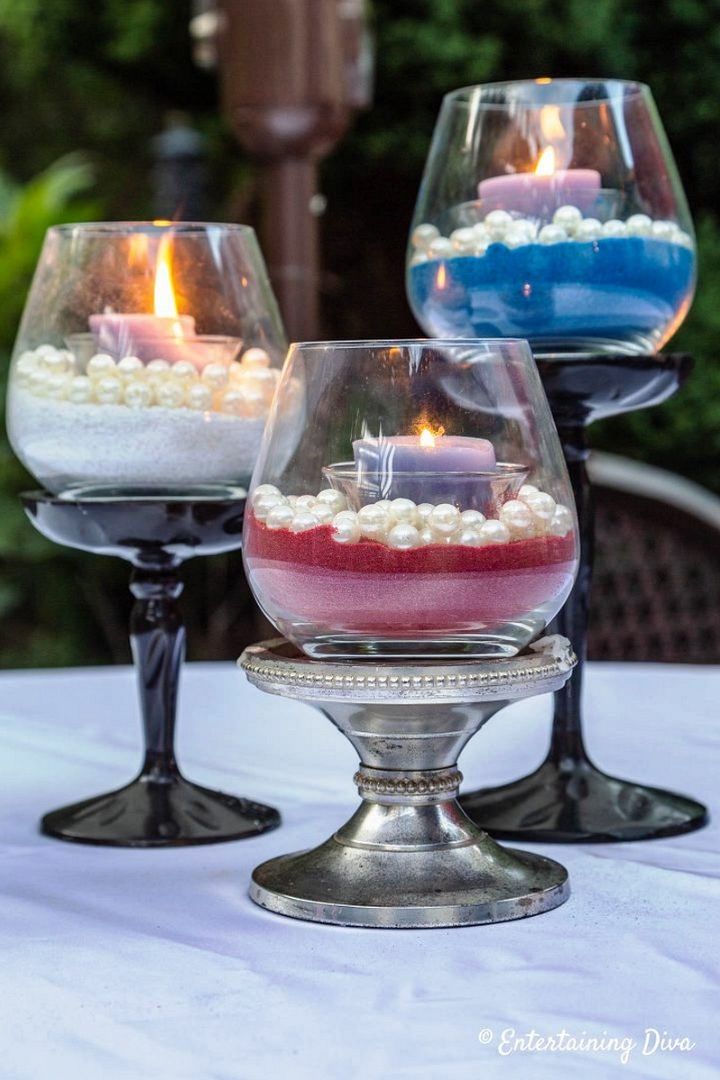 Have a look at this sand and pearls candle holder over here and try to make your own. Candle holders are some people's standard party décor item. This is a beautiful and stunning sand a pearl candle holder here that will increase the beauty of any candle and eventually any space in the house. You will need sand, stemless wine glasses, votive candle holders, votive candles and faux pearls. Tutorial
20. Easy DIY Candle Holders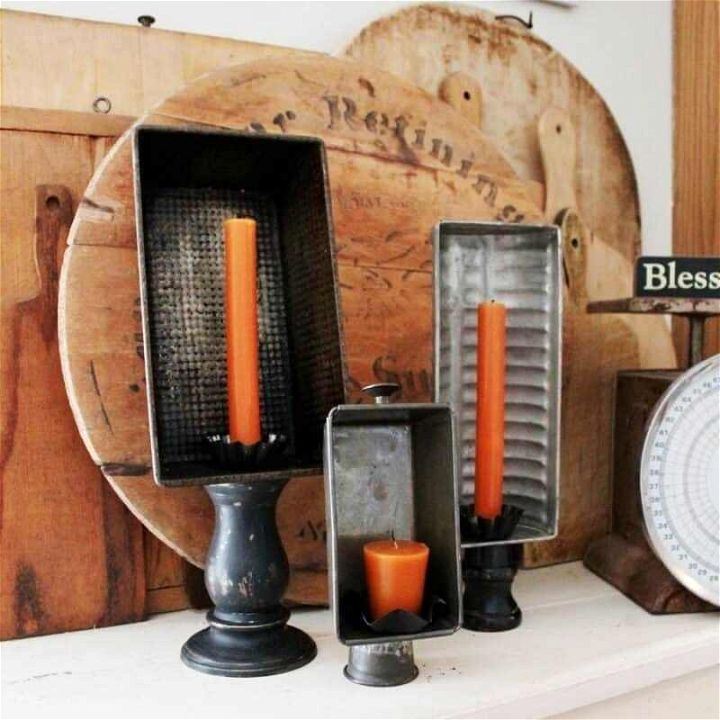 This is an easy diy candle holder and it seems to be a fun fall project. There are a lot of steps involved here in the making. The materials that are included in the making of these candles are listed here which includes weld bond glue, black spray paint, sand paper and weights. Tutorial
Conclusion:
All of the projects that we see here are truly mesmerizing and surprisingly unique. Many of the candle holders here in these diy projects are made of wood while the rest of them are made with other materials. Like glass and disposable stuff. Try these idea to make your space look more attended and decorated.