All of the 25 DIY Bernat Blanket Big Yarn EASY that you see here are budget-friendly and easier for you as a beginner. These handmade gifts can be perfect to give anyone for the holiday season which is approaching anytime soon. Handmade gifts are important as they hold a special feeling, warmth, and affection in them. You will find many Baby Blanket Patterns here with some very nice and soothing colors that you can use for both girls and boys. See the details of the project and get started.
Among these DIY Bernet blankets, you will find some very interesting tips and tricks regarding crocheting and knitting. In most of the projects, earthy tones like gray and brown are used. If you are a beginner in crocheting, you will be easily guided in these plans and you would love to start any of your own projects like the ones you see here. In some of the projects here, you will see that no needles and hooks are used instead you only need to use your arms to knit them and make some giant and chunky blanket with the softest yarn ever.
1. How To Hand Knit A Blanket With Bernat Blanket Big Yarn
In this project, Bernat blanket big yarn is used. This is a hand knit project and you can easily do this with beginner skills. This is a super cozy blanket and perfect for the winters coming over this year. You will only need a bernat blanket big yarn along with scissors for this project. A step-by-step process is given here so that you can easily get along. Tutorial
2. Easy DIY Knit Blanket – No Sewing Required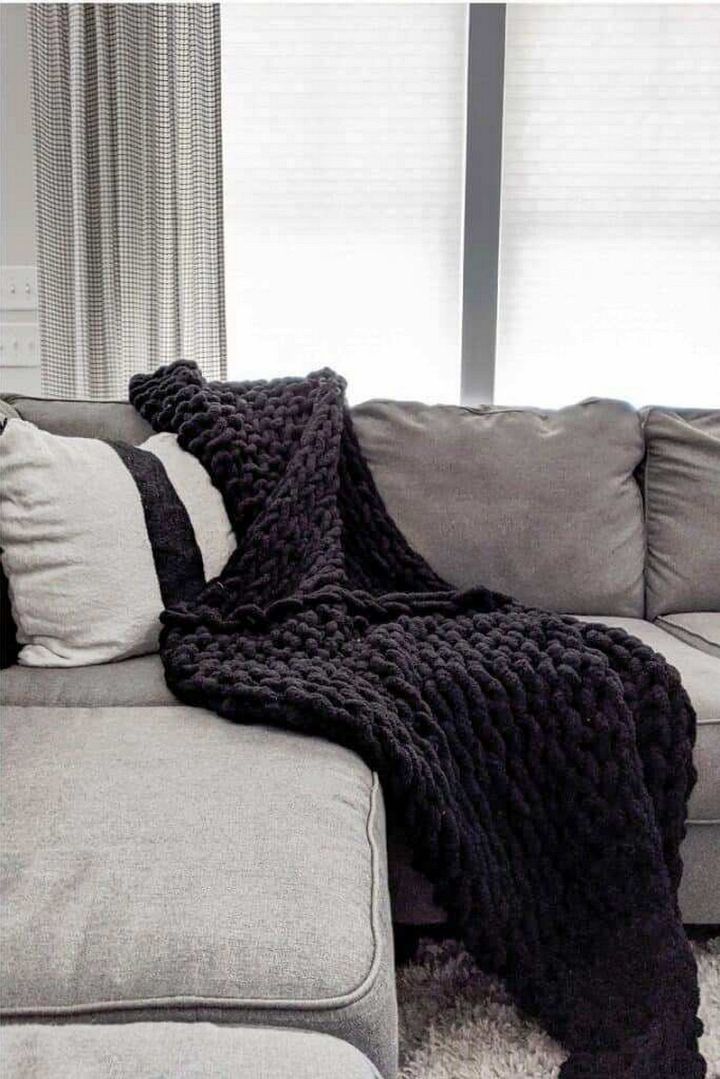 This is an easy-knit blanket with no sewing required. For those of you who are not very confident in your sewing skills, this project seems to be perfect. You will start off by making your decision and then the next step would be creating a chain. Creating a row of loops will be your next step. Knit your first real row in the next step and repeat until you are almost done. In the last step, you will make the finishing row. Tutorial
3. Free Bernat Blanket Yarn Pattern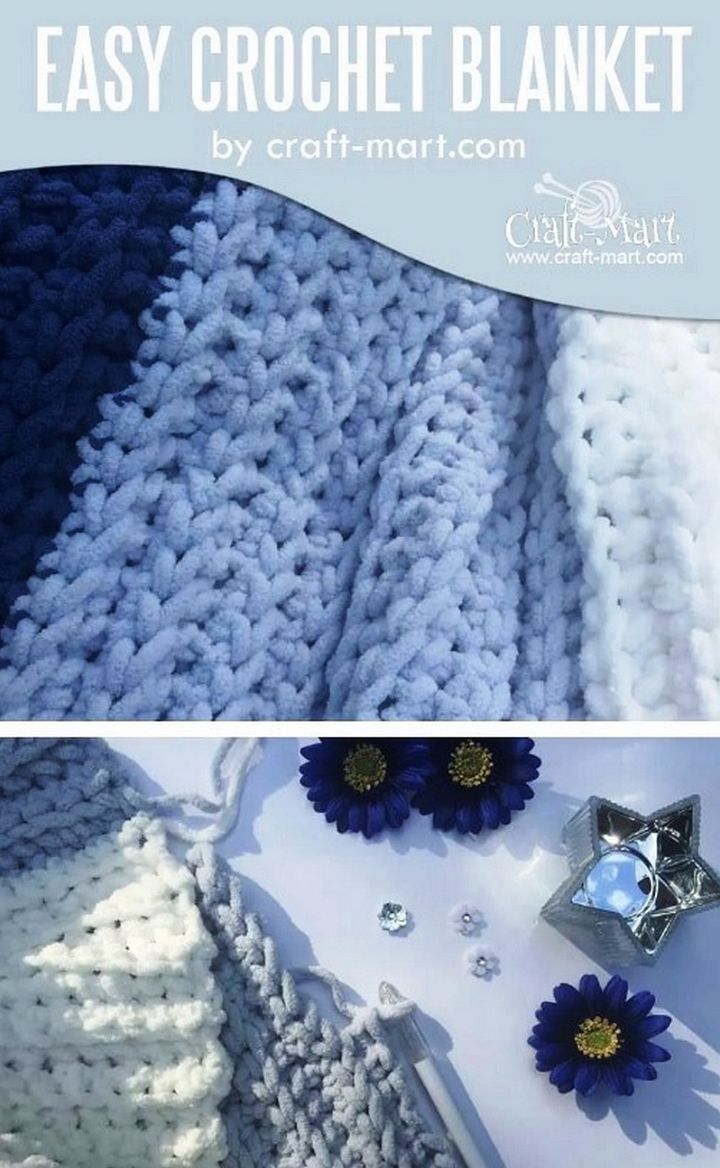 Here we have a free pattern for a Bernat blanket and you will love to try this all by yourself. This is a simple blanket and you can do this with your beginner skills. In this project, you will also find the correct sizes for baby blankets and adult ones. Also, you will get to know about the stitches used in baby and adult blankets. Tutorial
4. Crochet Weighted Blanket Using Bernat Blanket Extra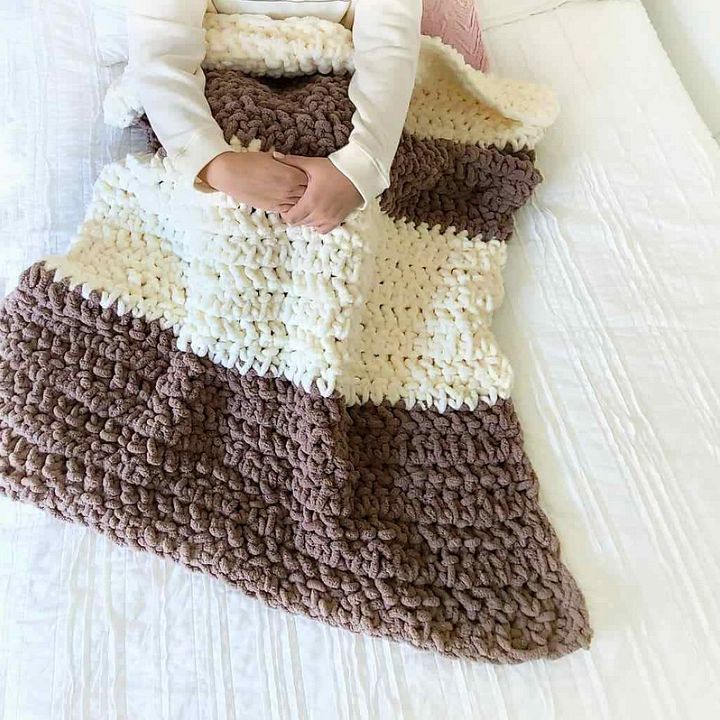 This is a crochet weighted blanket here that you can easily try all by yourself. Learn the process from here and see how things can be done and even altered. You will need only two things which are jumbo yarn and a large crochet hook for this project. In the details, you will love to see how easily and quickly things work up with just two stitches. Tutorial
5. DIY Yarn Loop Wreath with Bernat Blanket EZ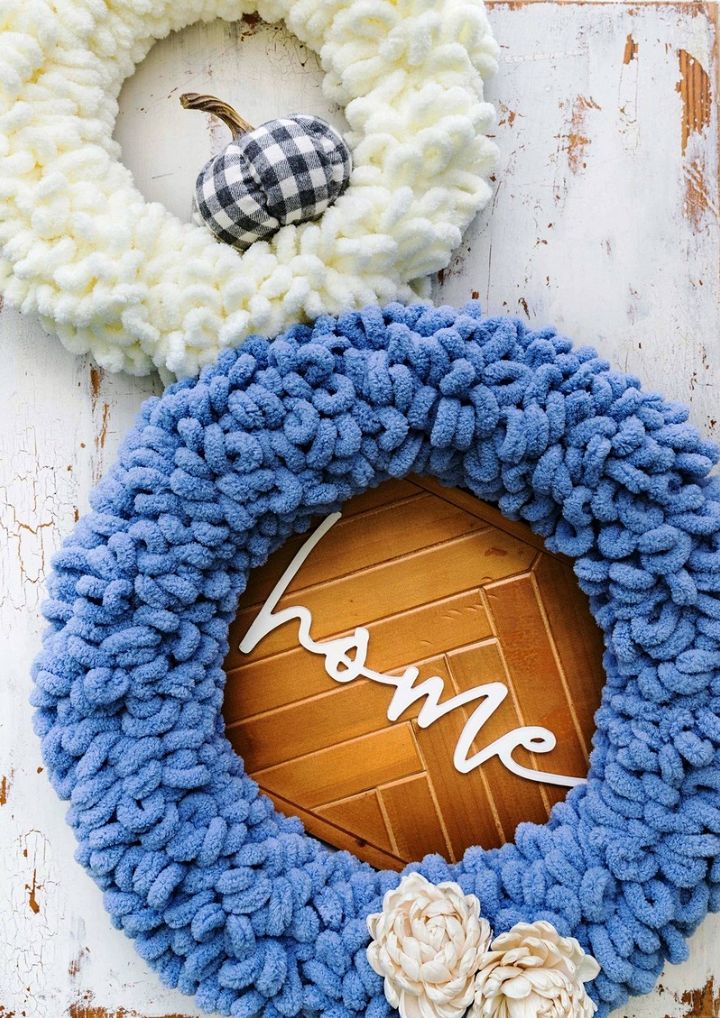 This is a yarn loop wreath with a Bernat blanket. If you are also into home décor you will surely love this project. Bernat blanket as the yarn is used in the making. This yarn works great when you are teaching someone about knitting. You will need a hot glue gun and a Bernat blanket as yarn. Tutorial
6. Easy Chunky Hand-Knitted Blanket in One Hour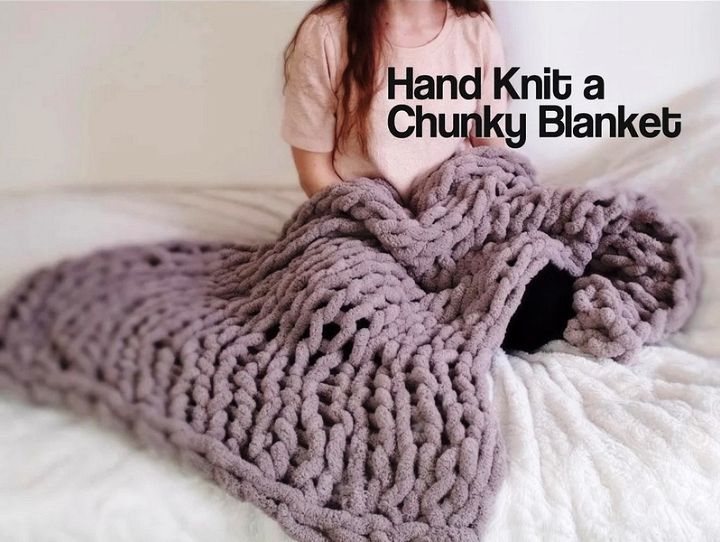 This DIY chunky blanket is hand knitted and can be completed within an hour. This project is easy quick and affordable. The supplies that we need here are skeins of chunky yarn, measuring tape, scissors, and needle and thread. You can also watch the complete tutorial to get accurate results. Tutorial
7. Bernat Alize Blanket EZ Yarn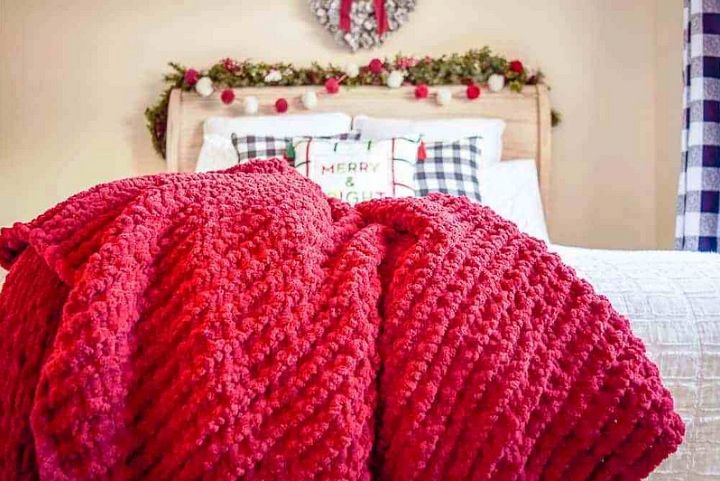 Have a look at this Alize blanket ez yarn project and see how this can be easily done in no time. This can be the best handmade gift for the holiday season. You will need bernet Alize blanket ez yarn along with scissors, paper clip or sewing clip. Gather the supplies and get started with this super fun and interesting projec Tutorial
8. How Much Chunky Yarn Do I Need for a Blanket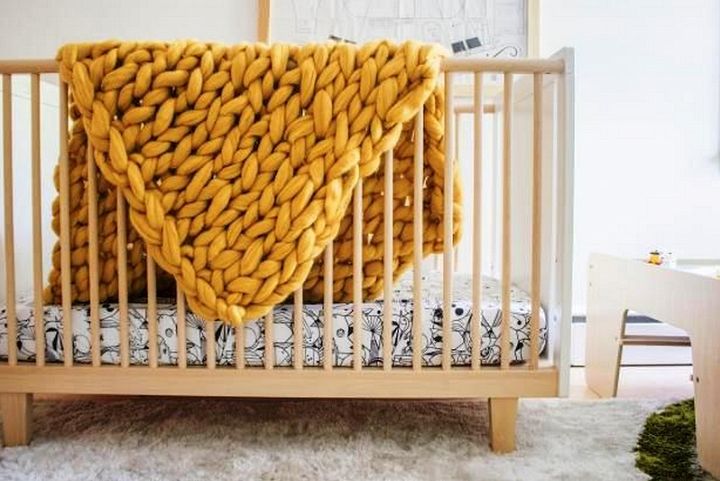 This project will guide you all about how to knit a chunky yarn blanket. Besides this you will also know how much of the yarn you will need for this project. There can probably nothing be cozier than a thick yarn blanket for the winters that are approaching anytime soon. See the details and see how this project is done Tutorial
9. Free Modern – Chunky Crochet Blanket Pattern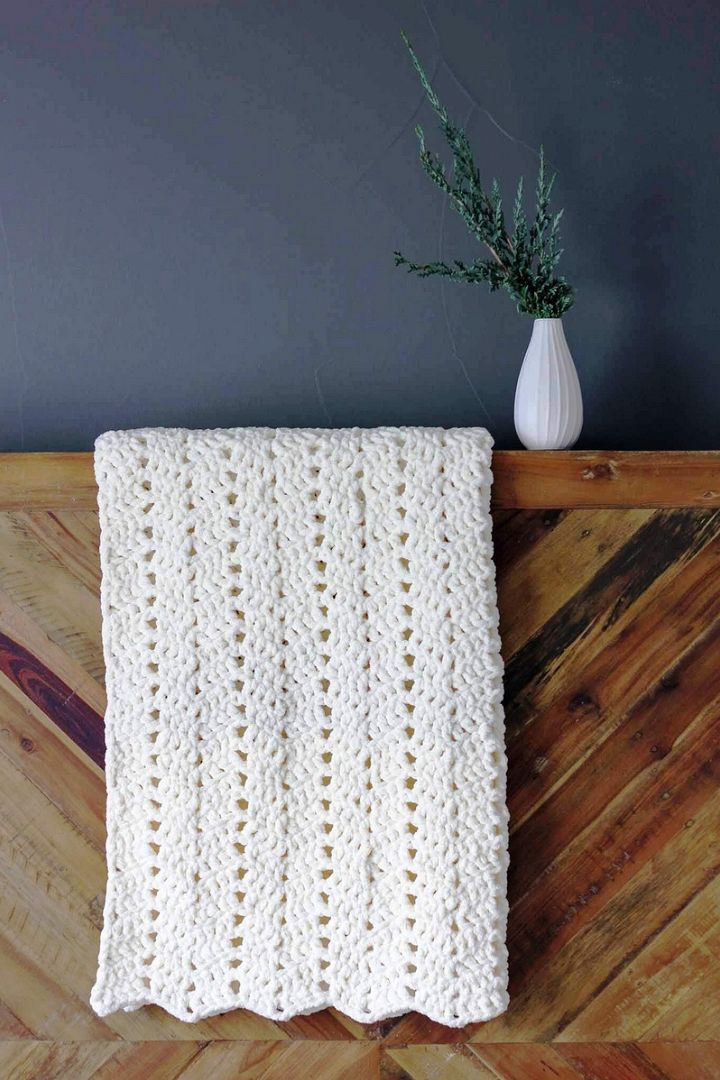 This is a chunk crochet blanket that you see here. If you are also into crocheting, you will thoroughly enjoy this project. You will need beret blanket yarn along with tapestry needle and size N crochet hook. With a little effort you will be able to get some very surprising and amazing results. Tutorial
10. How To – Arm-Knit a Blanket in Just One Hour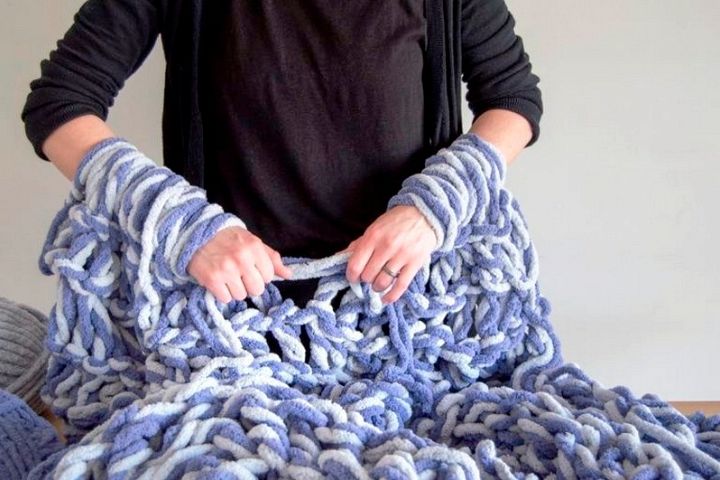 If you are also interested in some quick DIYs, this project will definitely excite you. This is an arm knit blanket that you can complete within an hour. With some efforts and dedication you will get the most awesome results after an hour that will you really proud and surprised by your own creativity and skills. Tutorial
11. DIY Chunky Knit Blanket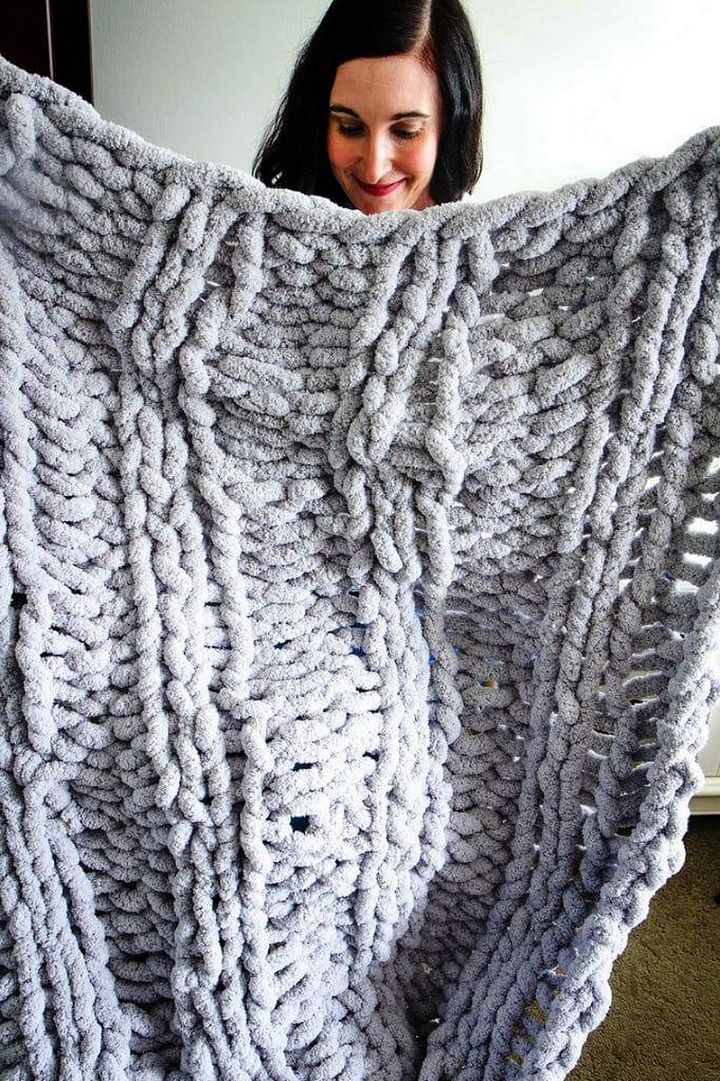 A chunky knit blanket seems to be the coziest and warm things during the coldest nights of winters. You will have to learn the 2*2 ribbing pattern before you start this project. You will need knitting needles, big eye wooden needle, faux fur pompom balls. Tutorial
12. How to Make a Loop Yarn Blanket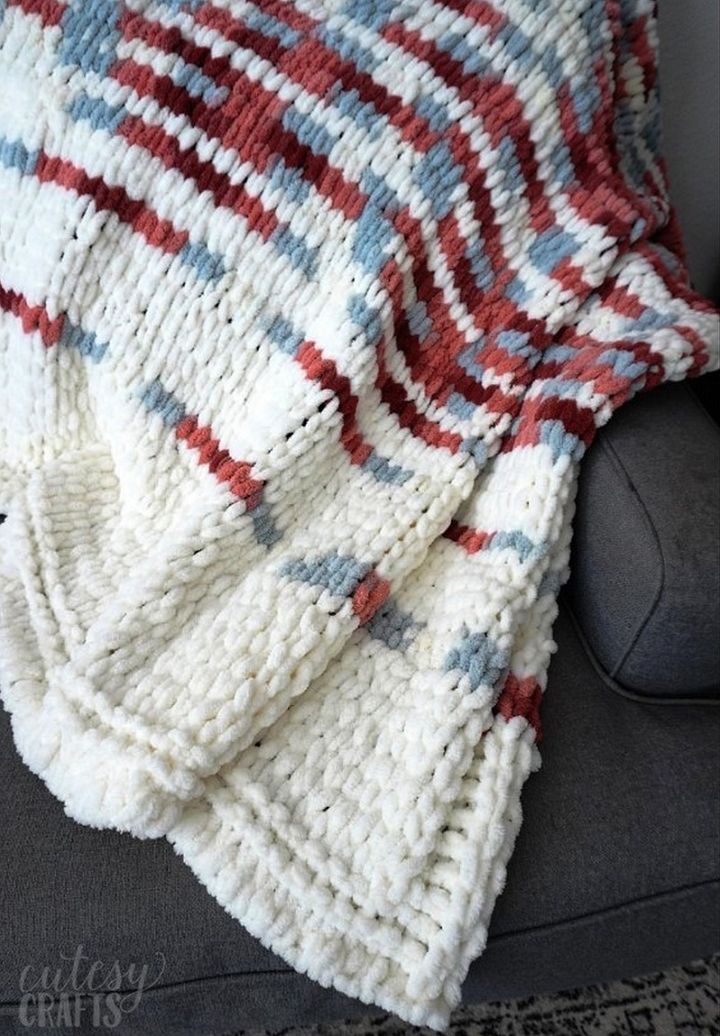 In this project you will learn to make a loop yarn blanket easily and conveniently. You will only need loop yarn and scissors for this project. No knitting needles and crochet hook are needed here. As it's a simple project, you will be easily able to catch up with it. Tutorial
13. Red Heart Yarns Sweet Home Bernat Blanket Yarn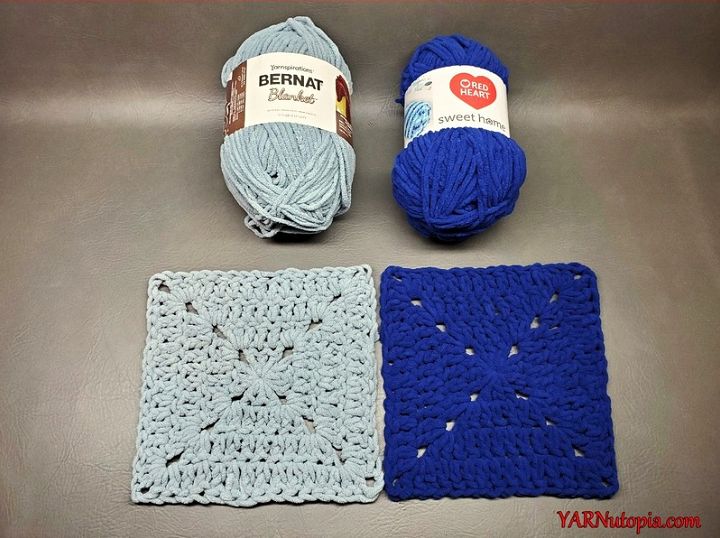 This sweet home bernet blanket is made with a red heart yarn. You will love this project if you are also into creativity and innovative ideas. Get into the complete details of this project and also see the tutorial so that you can achieve the best results. Tutorial
14. How to Make a Chunky Knit Blanket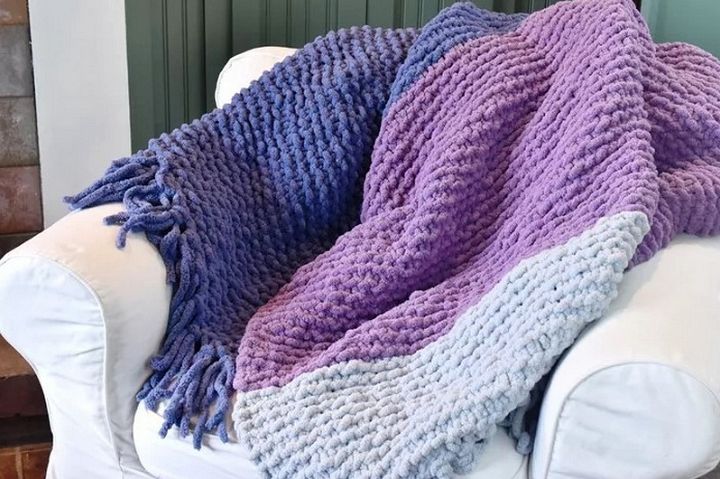 This is a chunky knit blanket and you can do this as your ultimate winter project this year. You can do this with jumbo weight yarn and simple garter stitch. This is surely a quick project. The things that you will need are yarn, needle and extra-large crochet hook. Tutorial
15. Giant Crochet Granny Square Blanket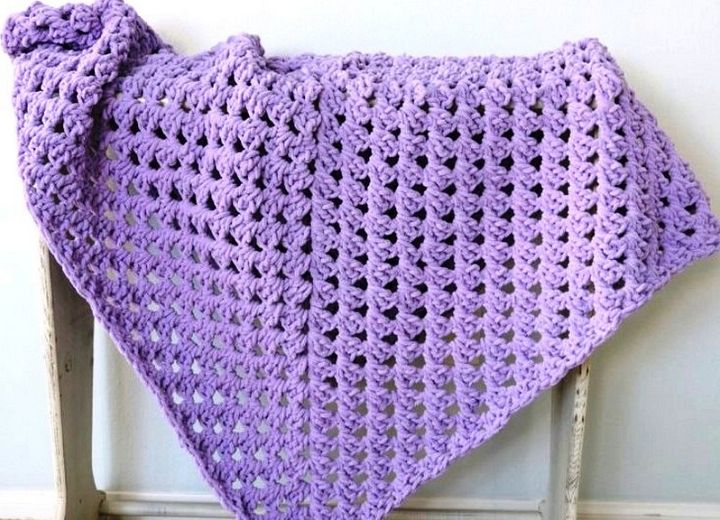 Are you interested in making a typical granny pattern for your blanket, if yes then this can be your dream project? With the help of this project you can make a granny square giant crochet blanket. With a little bit of effort you will end up making something amazing and very exciting. You will need three balls of blanket yarn and a 12mm crochet hook. Tutorial
16. Quick Berry Stitch Crochet Blanket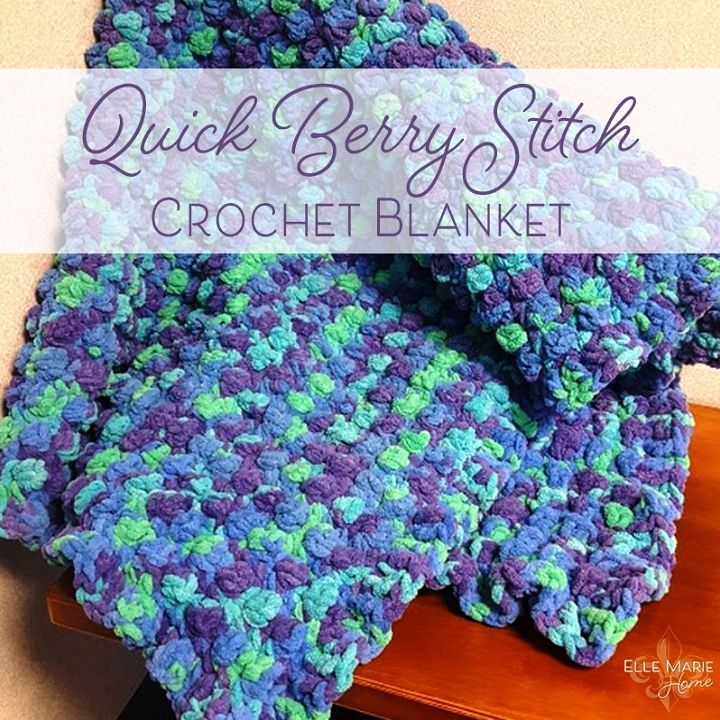 Are you ready to make some berry stitches for your new blanket? This is a quick diy project for blanket making and uses berry stitches. You will need 5 skeins of ocean wave bernet blanket yarn, size N crochet hook and scissors. Grab the supplies and get started. Tutorial
17. Crochet Bernat Blanket Sparkle Throw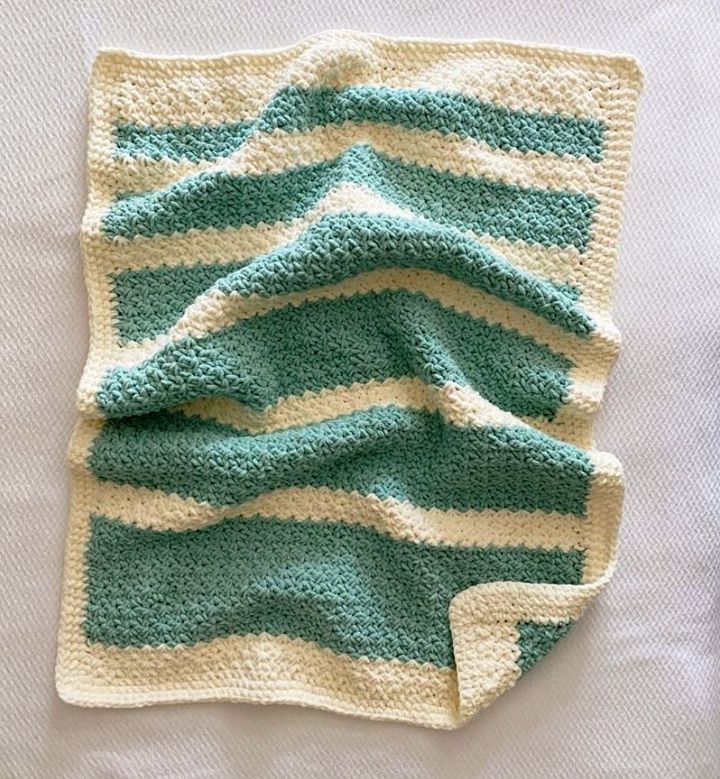 Here we have a crochet bernet blanket sparkle throw. Single crochet stitches are used in the making. Before beginning the border, tie off and weave in all the ends. You will need bernet baby blanket sparkle, 2 skeins of seafoam and 2 skeins of moonlight, size 9mm crochet hook, scissors and large eye tapestry needle. Tutorial
18. Gray & Green Easy Striped Baby Blanket Crochet Pattern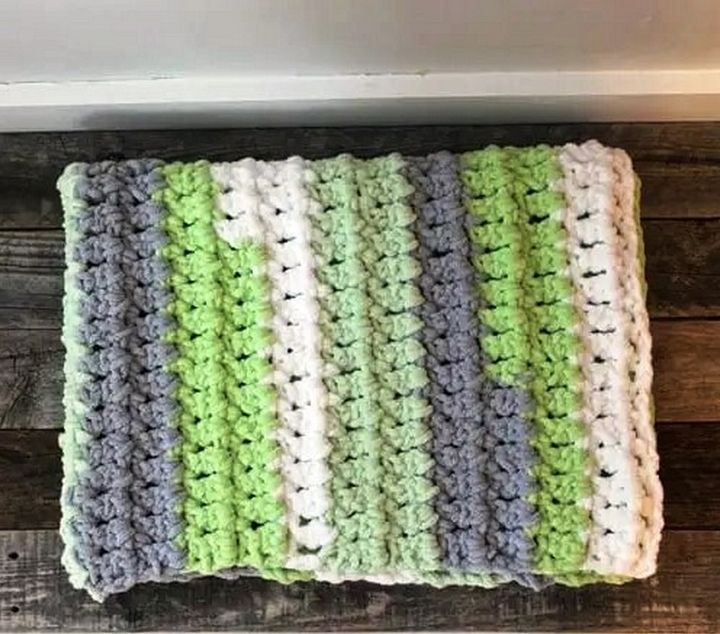 If you also like stripes in any pattern, this project will be of great help. This project will tach you how to make a striped crochet blanket for babies. Some very warm and soothing colors are used in the making such as gray and green. The list of supplies include scissors, tapestry needle, size 9mm crochet hook and bernet baby blanket yarn. Tutorial
19. Gray Blue Skies Crochet Baby Blanket – Bernat Blanket Yarn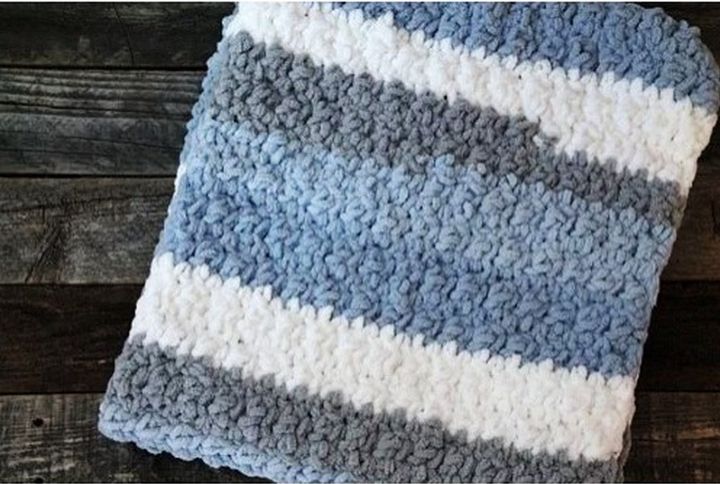 This is a crochet baby blanket here and you can also make this for the winters that are coming soon. This project is labeled as the gray blue skies project and you can see those colors here. Get into the details of the project to see how everything is done. Tutorial
20. Bernat Blanket Bear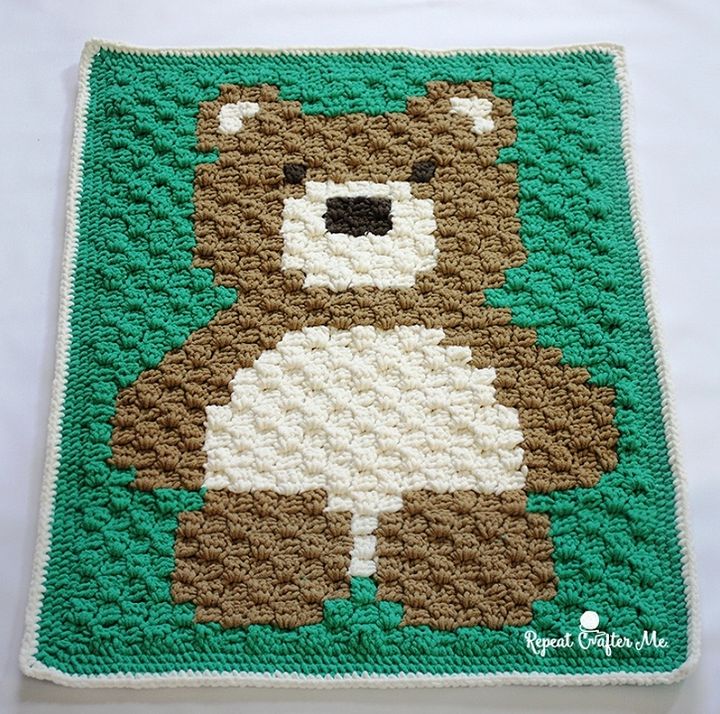 This beautiful bear is made on this bernet blanket through simple tricks and tips. The materials that are used in the making bernet blanket big ball yarn in vintage colors, bernet blanket bright yarn, and size j crochet hook and large tapestry needle. Complete details of the process are given here so that you can also make this adorable blanket Tutorial
21. Bernat Blanket Afghan Pattern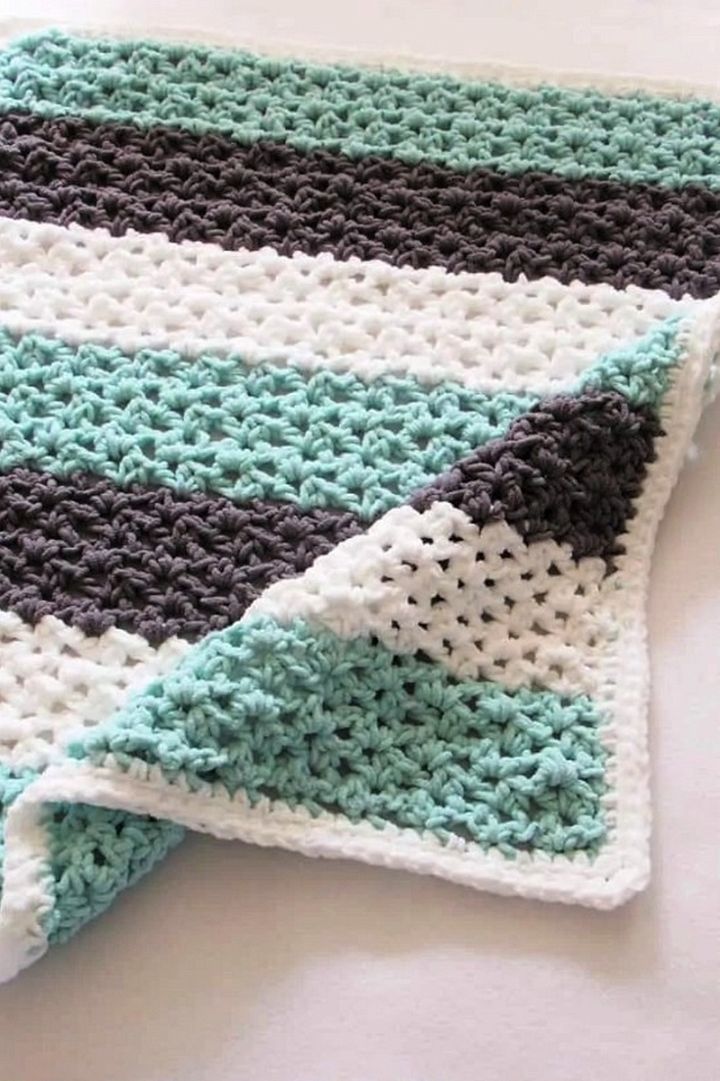 This bernet blanket afghan pattern is not only quick but also very handy for beginners. This is a pattern done with a combination of half double crochet and chains. Only three colors are used in the making of this project. The project will only take about 4 hours to complete. Tutorial
22. Quick And Easy Bernat Moss Stitch Baby Blanket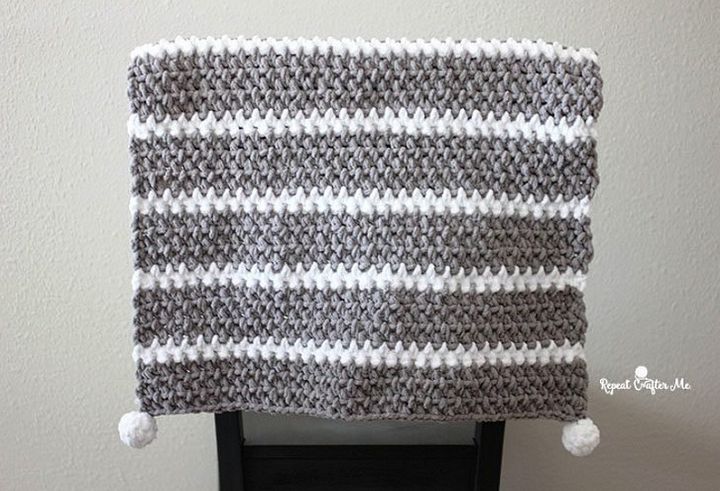 in the making of this baby blanket , moss stitch is used and it is real quick. the colors that are used are pale gray and white. size k crochet hook is used in the making. besides this large tapestry needle is also used. complete details of the pattern is are given. Tutorial
23. Free Crochet Blanket Pattern For Babies, Marshmallow Blanket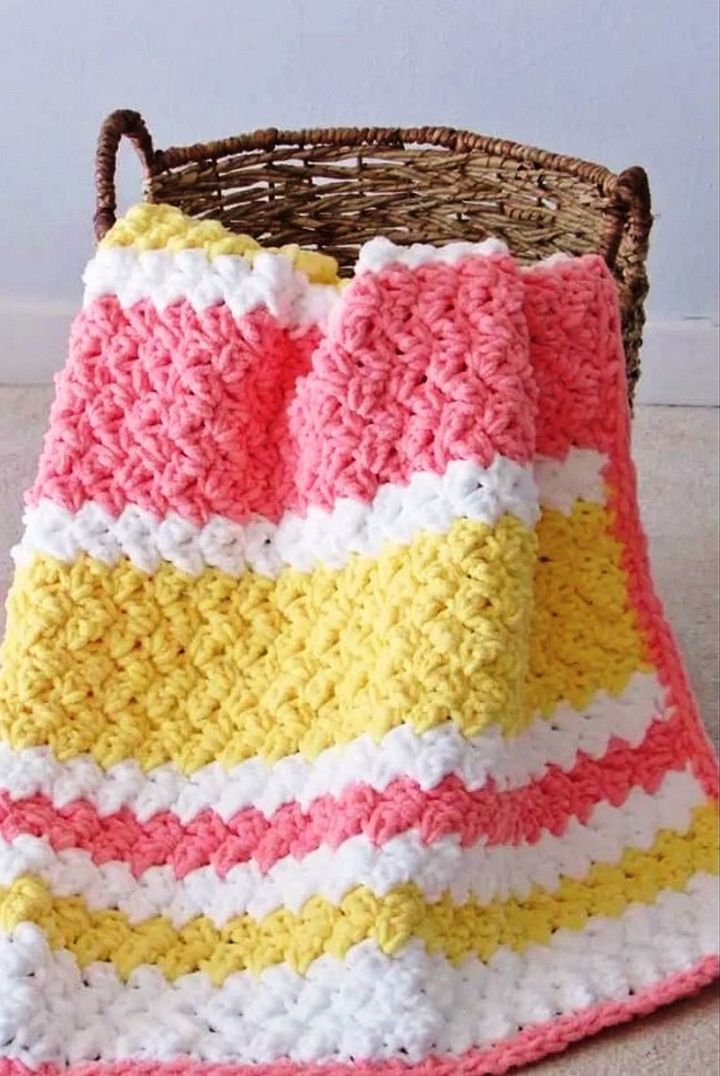 This is a marshmallow blanket for babies and you can make this all by yourself with the help of this project here. This free pattern will guide you about the complete details and you will be surprised by the results. This is a beginner friendly project and seems cool for a new born baby due to both its pattern and colors. Tutorial
24. Bernat Baby Velvet Yarn – Baby Blanket Crochet Pattern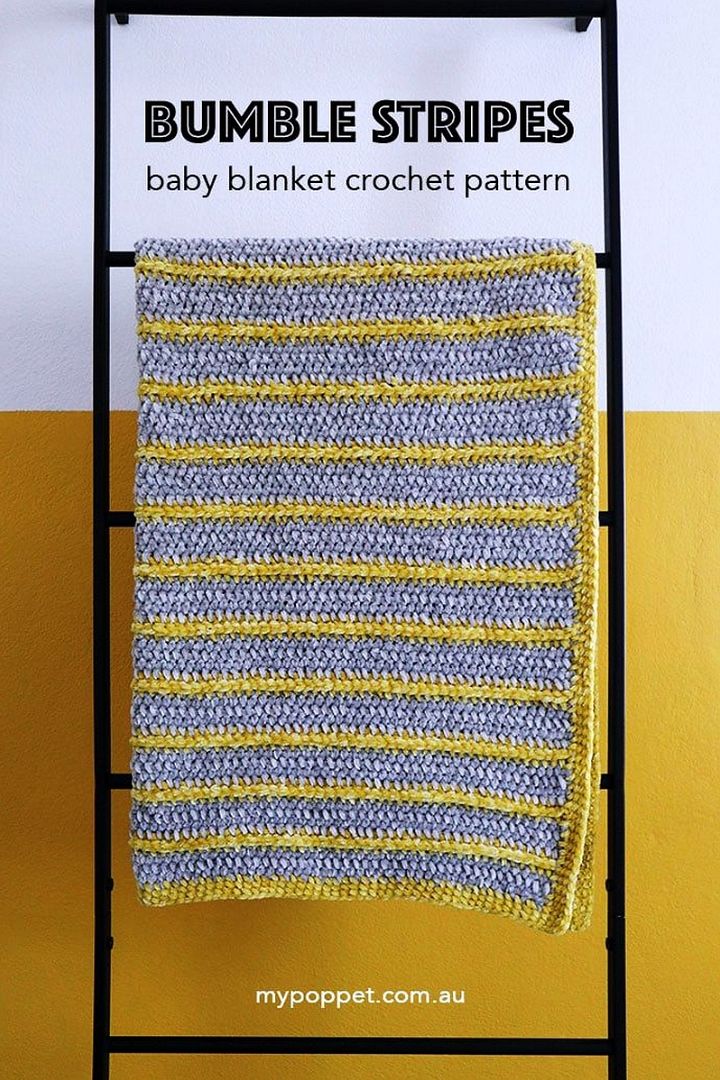 Are you also ready for this bernet baby blanket yarn? If yes then get started with this interesting and amazing mission. You will need a 5mm crochet hook for this project along with yarn needle, scissors and bernet baby velvet yarn. Grab the items and make an appealing and eye catching pattern of a blanket. Tutorial
25. Pink Lemonade Crochet Blanket Pattern Free Printable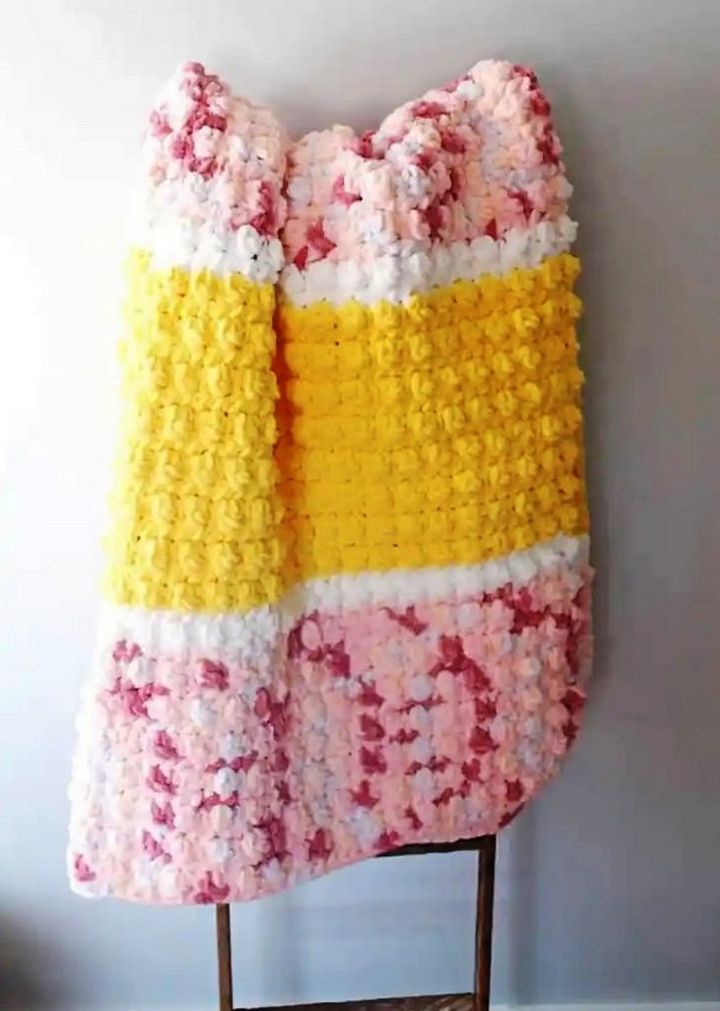 Have a look at this pink lemonade crochet pattern to make a soft chunky throw blanket. The supplies that you need are scissors, tapestry needles, 9mm crochet hook, and Bernet baby blanket yarn balls. Some very nice and warm colors like baby pink and yellow are used in the making. Tutorial
Conclusion:
Pick and choose your own favorite project from here and get started. There are many projects here that only need an hour to be completed and this will excite people who like quick projects and plans. If you are also about to make some preparations for the winter season, consider making these amazing blankets too.